Chick-Fil-A's New Sunjoy Flavor Welcomes Spring With Open Arms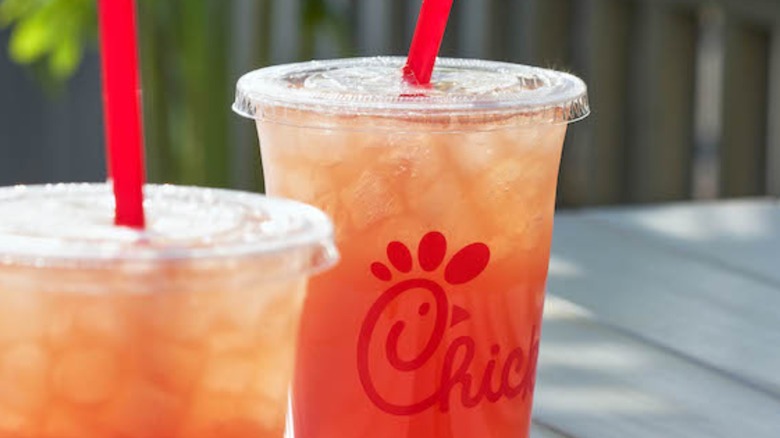 Chick-fil-A
After inhaling a meaty chicken sandwich smothered in Chick-fil-A sauce and a carton of salty waffle fries, you need something to wash it all down with. Sure, you could opt for a standard fountain soda, but Chick-fil-A's drink menu is also stacked with unique beverage options. Arguably the most famous of the bunch is its fresh-squeezed lemonade, which is made with just three ingredients: fresh lemons, water, and sugar. According to the Chick-fil-A website, the chain produces some 6.5 million gallons of its lemonade every year, which is made fresh daily in store by Chick-fil-A employees. Then there's the fresh-brewed iced tea, which you can get either sweetened or unsweetened depending on your preference. Like the lemonade, this is also made fresh every day.
If you can't decide between the two, you don't have to — you can order what Chick-fil-A has branded a Sunjoy, which is half lemonade and half iced tea (an Arnold Palmer, if you will). Now, this spring, there's a new addition coming to Chick-fil-A's beverage line-up: the Cloudberry Sunjoy. Here's what you need to know about the new menu item, including where and how you can order it for yourself in the coming weeks.
A seasonal twist on the original Sunjoy drink
Just in time for the warmer months, Chick-fil-A has announced a spring-themed version of the Sunjoy. According to a press release from Chick-fil-A, the Cloudberry Sunjoy starts with the traditional Sunjoy — a.k.a. half iced tea and half lemonade — with cloudberry and cherry blossom flavors mixed in. It will be available at select Chick-fil-A locations across the country for a limited time only starting on April 25. You can order it in a small drink size, in a 16-ounce bottle, and even by the gallon. If you're unsure of what cloudberry tastes like, Chick-fil-A describes the flavor profile as having "hints of raspberry, mango, apricot and passionfruit." You can also swap in diet lemonade or unsweetened iced tea in your drink if you're looking for a lighter alternative.
It's actually not the first time the Cloudberry Sunjoy has appeared on the drink menu at Chick-fil-A. The chain tested out the seasonal beverage in Augusta, Georgia back in the fall of 2021.