Snyder's Is Giving Away A Year Of Free Pretzels - Here's How To Enter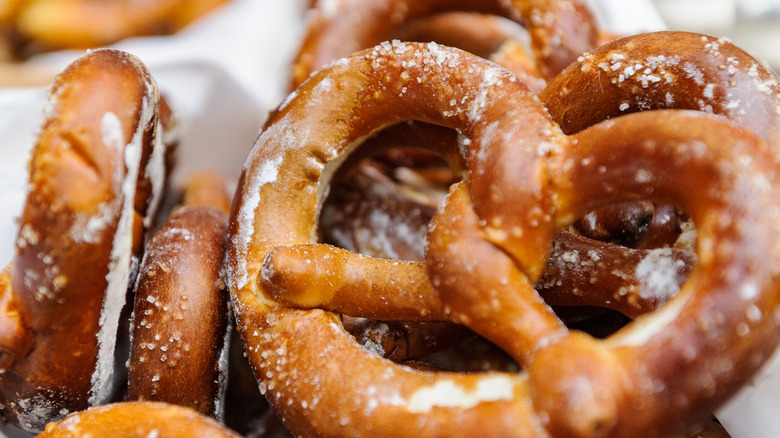 Dmitry SKilkov/Shutterstock
When you're in the mood for something salty, few snacks satisfy that craving like a pretzel. Whether it's a hot, buttery one from a vendor or out of the bag of your favorite brand, pretzels are an easy snack that anyone can enjoy. This is a snack so versatile, it can be dressed with nacho cheese, dipped in ranch, or eaten by the handful. As a matter of fact, even Aldi has cheese stuffed pretzel bites that shoppers are obsessed with.
Snyder's of Hanover is a popular brand of pretzels that offers many flavors, shapes, sizes, and even has a gluten-free line. You may have a bag sitting in your pantry right now or perhaps it's on your grocery list, but chances are you've had a Snyder's pretzel at some point.
You may not have known that National Pretzel Day is April 26, but Snyder's is on it and the brand is hosting a massive sweepstakes with the prize being a one-year supply of Pretzel Pieces. The company wrote in an Instagram post, "We're turning #NationalPretzelDay into National Pretzel Year by giving you the chance to win a year's supply of Pieces." Here are all the details.
One lucky winner gets Snyder's pretzel pieces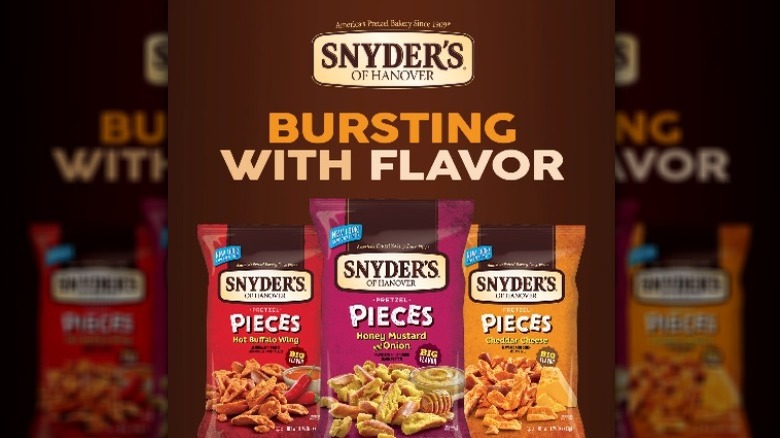 Snyder's
According to a press release obtained by Mashed, the popular snack brand Snyder's of Hanover is giving one pretzel lover the opportunity to win free pretzel pieces for a whole year. Pretzel pieces flavors include Cheddar Cheese, Honey Mustard and Onion, and Hot Buffalo Wing. The promotion runs from April 22 to 26, and entering the sweepstakes is simple — as long as you have an Instagram account.
To be eligible for the free pretzel pieces, head over to Snyder's of Hanover Instagram account, @snyders_hanover, and tag a fellow Instagram user in the comment section of the giveaway post. That's it! Per the post's disclaimer, you must be a legal U.S. resident and 18 years of age or older to enter.
Fans are on board with the possibility of free snacks, as there are more than 1,500 entries thus far, which aren't bad odds when you think about it. If you're a pretzel person, head over to the post and tag your bestie so that, if you win, you can share pretzel pieces during your next Netflix marathon. And on the off chance you don't win, try this recipe for homemade soft pretzel bites to crush your snack cravings.