The Meghan Markle Tostitos Ad You Probably Never Knew Existed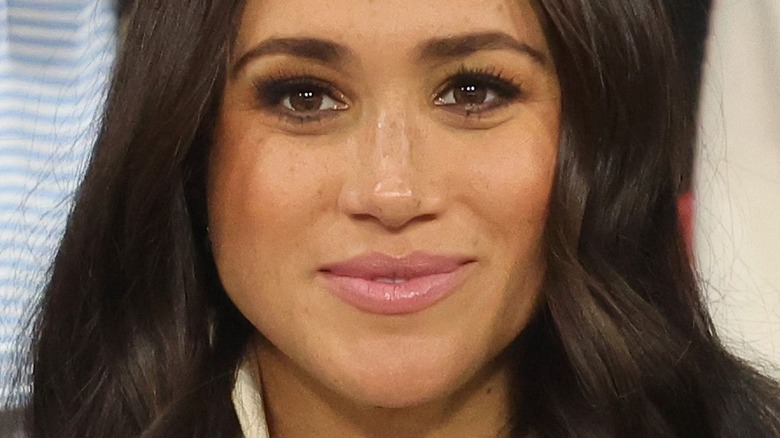 Chris Jackson/Getty Images
Before Meghan Markle married Prince Harry and entered the British royal family in 2018, she was an actress known for her role as Rachel Zane in the legal drama series "Suits," a couple of rom-com Hallmark movies, as well as minor characters Dana in "The Boys & Girls Guide to Getting Down," and Jamie the cute FedEx delivery girl in "Horrible Bosses," per IMDb. Her on-screen appearances, however, aren't limited to primetime shows and made-for-TV films. 
Markle starred in an advertisement for the beloved chip brand Tostitos a little over a decade ago — before many of us knew who she really was. According to Marie Claire, Markle's advertising cameo took place about nine years before she said, "I do" at St. George's Chapel at Windsor Castle.
In the 30-second spot, Markle plays a shopper in a grocery store examining snacks for a party she is evidently hosting. Viewers get a glimpse into her mind while she looks for the perfect munchie.
Meghan Markle appeared in a Tostitos Scoops commercial in 2009
The plot of the 2000s Tostitos ad is simple and relatable. Throughout the ad, Meghan Markle's inner monologue weighs the options of two different corn chip brands — something many consumers might do as well with all of the different options at their fingertips.
First, she picks up a brown bag of store-brand corn chips and reads the nutrition label on the back of the packaging. "Thirteen ingredients? That's more people than I invited to the party ... unless Denise brings Carrie. Ugh ... Carrie with the short shorts." Disgusted, she puts the store brand bag back on the shelf and grabs a blue bag of Tostitos Scoops, inspecting the much shorter ingredients list. "White corn, vegetable oil, and salt. Yeah, three ingredients is good," she satisfyingly ponders as she tosses the bag into her cart as the tagline "Surprisingly simple" comes into view. 
Of course, her parties may have looked a lot different after meeting her (almost literal) Prince Charming, and not just because Markle was barred from eating certain foods as a royal. As one YouTube commenter quipped in reference to the ad, "she doesn't want chips anymore ... all she wants is ginger." Regardless of whether her tastes have changed, Tostitos still has celebrities it can party with. Other famous faces who have performed in Tostitos commercials include "Saturday Night Live" comedian Kate McKinnon and "Schitt's Creek" creator and star Dan Levy.