Crispy Donkatsu Recipe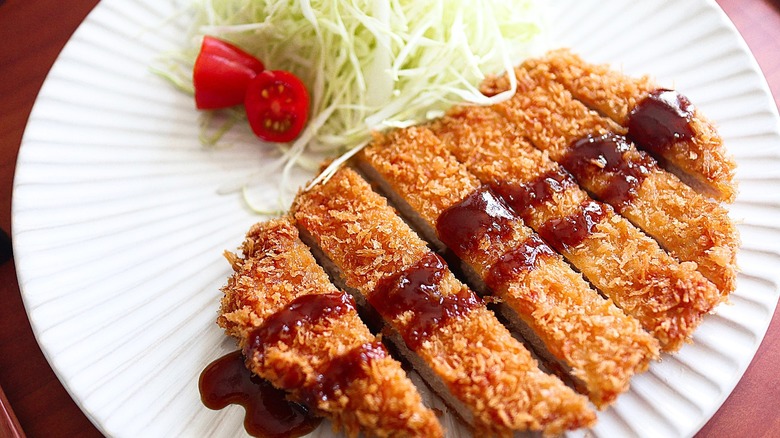 Cecilia Ryu/Mashed
Donkatsu, aka tonkatsu, is the pork version of the Japanese fried breaded cutlets collectively known as katsu. While chicken and beef katsu are also popular in Japan, donkatsu is one of the nation's favorite street foods — but you can also make it in your own kitchen. The word "don" (or "ton") is Japanese for "pork," while "katsu" means "cutlet," so in order for the dish to truly be donkatsu, pork does need to be used. Recipe developer Cecilia Ryu says any type of meat or seafood is still fine to use; if you worked with chicken cutlets, for example, you'd then have chicken katsu.
So popular is donkatsu in Japan that it even has its own dedicated sauce, something Ryu describes as "a type of Japanese barbecue sauce" with "a unique sweet and tangy flavor." The condiment, which can be found at many an Asian grocery story, is made from fruits and vegetables along with soy sauce, vinegar, and various spices. "If you cannot find donkatsu sauce," Ryu says, "you can substitute with Worcestershire sauce or barbecue sauce." She also says you could try to whip up a DIY version using ketchup, sugar, and Worcestershire sauce.
Assemble the ingredients for crispy donkatsu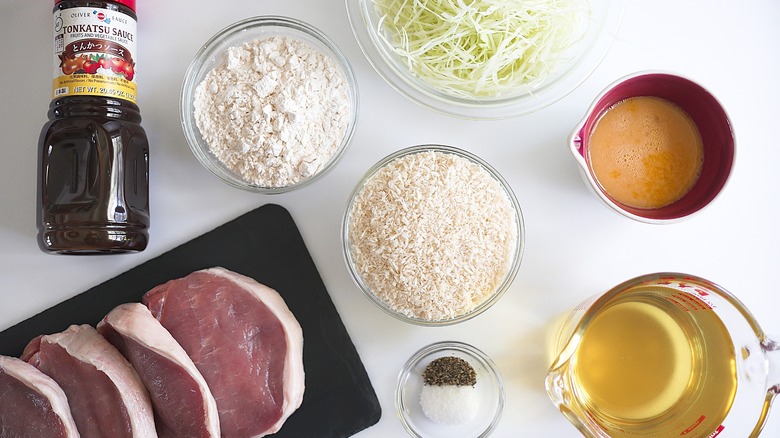 Cecilia Ryu/Mashed
To make this donkatsu, you'll need some pork loin cutlets. Season these with salt and pepper, then dip them in three separate coatings of flour, eggs, and panko breadcrumbs. Ryu prefers canola oil when frying, although any cooking oil that you'd typically use for deep frying will work as well; you want something with a neutral flavor and high smoke point. You'll also need shredded cabbage for serving along with donkatsu sauce (or other dipping sauce of your choice).
Dredge the pork cutlets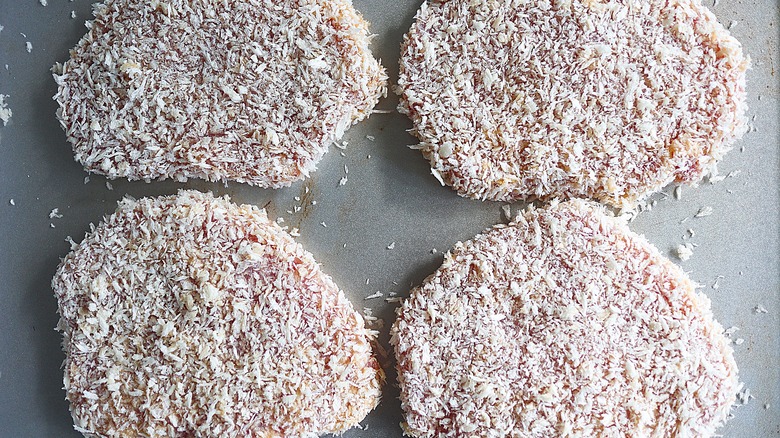 Cecilia Ryu/Mashed
If your cutlets are thicker than ½-inch, pound them with a meat mallet or other implement until they flatten out a bit. Sprinkle them with salt and pepper, then dip them in flour. Shake off the excess, then dip them into the beaten eggs. Finally, place them in the bread crumbs. Press the cutlets gently into the crumbs on both sides so they are evenly coated. This three-step process is known as a dry-wet-dry dredge
Fry the katsu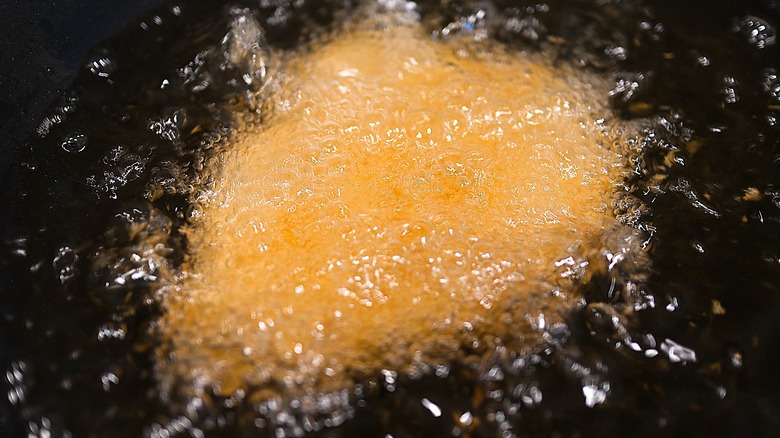 Cecilia Ryu/Mashed
Pour the oil into a skillet and heat it to 340 F –- yes, you'll need a deep fry thermometer for this. Once the oil is at the proper temperature, add one piece of pork to the pan and fry it for 3 to 4 minutes. Carefully flip it over, then cook it for 2 to 3 more minutes until it is golden brown. Let the cutlet cool on a wire rack as you cook each additional piece of pork in turn.
Slice and serve the donkatsu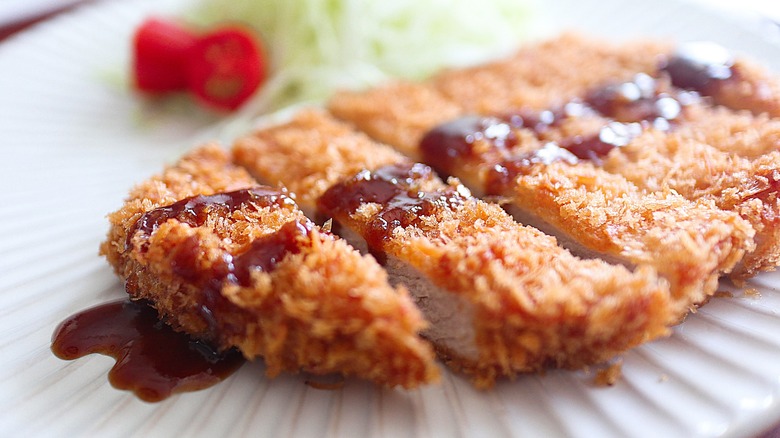 Cecilia Ryu/Mashed
Once all of the pork cutlets are cooked and cooled, cut them up. Ryu cuts hers into ½-inch slices. Ryu also suggests serving the pork pieces topped with donkatsu sauce and with a side of shredded cabbage. "The freshness of the shredded cabbage also helps cut the greasiness and aides in digesting the fried cutlet," she says, adding that rice and pickled vegetables are also common side dishes with donkatsu.
Crispy Donkatsu Recipe
Pork cutlets are delicious already, but when you bread them with panko and fry them? Even better. Find out how to make crispy donkatsu, a Japanese staple.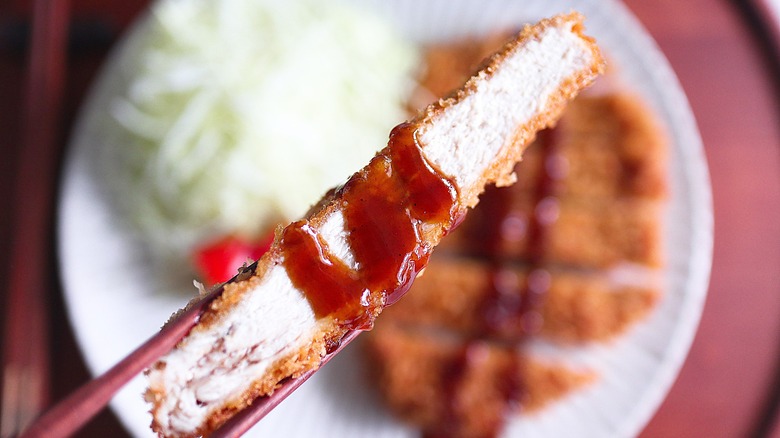 Ingredients
4 boneless pork loin cutlets
½ teaspoon salt
¼ teaspoon black pepper
½ cup flour
2 eggs, beaten
2 cups panko breadcrumbs
3 cups canola oil
2 cups shredded cabbage
Optional Ingredients
Donkatsu sauce, for serving
Directions
Prepare the pork cutlets by trimming any excess fat.
Pound the pork to a ½-inch thickness, if needed.
Season the pork with salt and pepper.
Pour the flour, beaten eggs, and panko breadcrumbs into 3 separate dishes.
Coat each cutlet with the flour, shaking off any excess.
Dip the pork into the egg mixture, then into the breadcrumbs.
Gently press the cutlet into the breadcrumbs and coat both sides evenly.
Heat the oil to 340 F over medium heat in a large pan.
Gently add one piece of pork to the pan cook for 3 to 4 minutes.
Flip the pork over and cook for another 2 to 3 minutes, until golden brown.
Cool the cutlet on a wire rack.
Use a fine mesh strainer to remove any crumbs in the oil.
Fry remaining pork cutlets, one at a time.
Cut the fried pork cutlets into ½-inch pieces.
Serve the pork with the shredded cabbage and donkatsu sauce.
Nutrition
| | |
| --- | --- |
| Calories per Serving | 1,879 |
| Total Fat | 181.4 g |
| Saturated Fat | 17.9 g |
| Trans Fat | 0.7 g |
| Cholesterol | 153.7 mg |
| | |
| --- | --- |
| Total Carbohydrates | 35.2 g |
| Dietary Fiber | 2.3 g |
| Total Sugars | 2.2 g |
| Sodium | 429.3 mg |
| Protein | 30.7 g |