Costco Shoppers Are Excited To Try Its Cauliflower Rice Bowl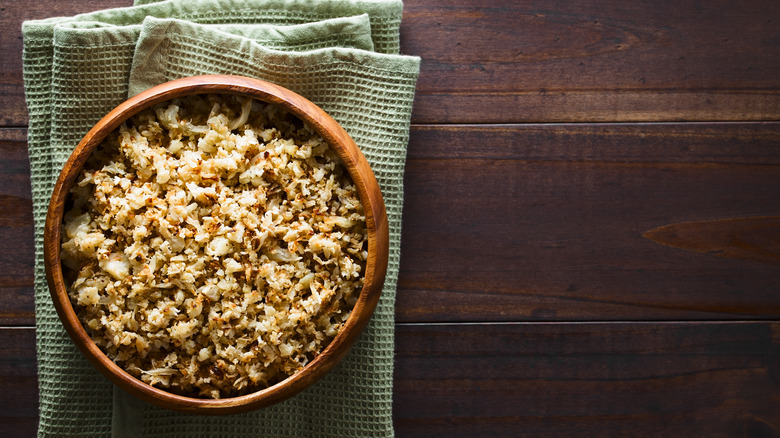 Ildi Papp/Shutterstock
Correction 4/26/22: The headline of this article has been changed to reflect that the product is riced cauliflower, not whole-grain rice.
Costco products seem to have a greater cult following than products from other stores. Think about it — you probably know about the pizza at Costco's food court, even if you've never shopped at Costco.
One main draw is that the warehouse sells in bulk. Not only do you get to browse a wide variety of products, but you also get to buy them in larger amounts to stock up at home. Chickpea puffs, organic applesauce, microwavable quinoa side dishes — you name it, Costco likely has it (per Insider).
One of Costco's latest products to go viral is the Don Lee Farms frozen riced cauliflower bowl. A Costco fan page on Instagram posted about the find, and within a matter of hours, Costco shoppers were loving on the product in the comments section, desperate to get their hands on a package or two. You might just call this dish a bowl-in-one. 
Another Costco dinner goes viral on social media
Instagram account Costco Buys posted a video of the superstore's green chili, shredded chicken, and riced cauliflower bowls. In the caption, the account clarified that the Don Lee Farms bowls are gluten-free, as well as free of any artificial ingredients. A package of four is also a steal, selling for around $12.99.
Other Costco shoppers hopped into the comments to share their thoughts. Those who'd tried the bowls had generally positive reviews. One person wrote, "These are really good. I add feta cheese on mine and put crunched tortilla chips on top." Two others, however, said they thought the bowls were just "okay" and that they "weren't a fan." A third shopper noted that her local Costco was no longer selling the bowls. While you can't order the food from Don Lee Farms directly, you may be able to order them online through Instacart.
And while this is the first time many fans have seen this frozen meal, the product isn't a new item at the warehouse. In June 2021, the Costco cauliflower rice bowl was recalled because of a "potential presence of plastic."