Instagram Is In Awe Of Martha Stewart's Cocktail Party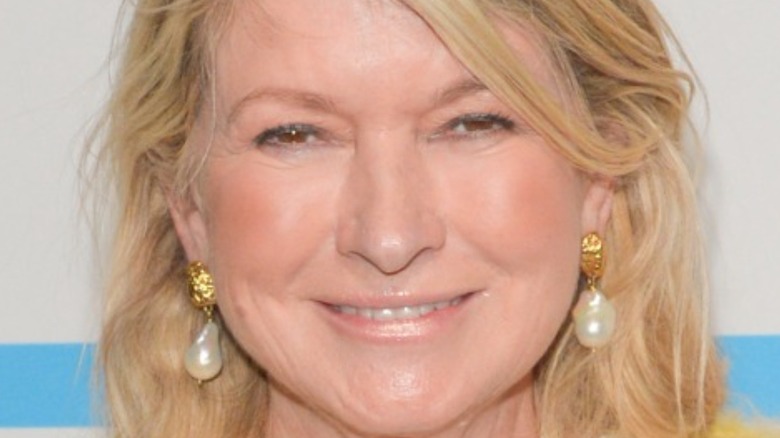 lev radin/Shutterstock
You would think that the queen of entertaining, Martha Stewart, has already hosted every type of event there is, but she recently added her first-ever tag sale to her repertoire. "The Great American Tag Sale" took place at Stewart's farm in Bedford, New York on April 23 and 24. The event reminds us that celebrities are just like us: They also have a bunch of stuff in their house that they want to get rid of. Obviously, this lifestyle guru's items are a bit more desirable than the items you might find at the average garage sale, so the tickets to attend ranged from $25 to $250, with the more expensive tickets corresponding to an earlier time slot.
Although it sounds a bit steep, all of the proceeds from the tag sale went to the Martha Stewart Center for Living at Mount Sinai Hospital, which provides "comprehensive care for older adults," according to the tag sale website. There were thousands of items to choose from, ranging from furniture to jadeite glassware to books and magazines (via CT Insider). Although the tag sale was the main event, Stewart couldn't resist hosting a cocktail party to kick things off, and Instagram was jealous of those who attended.
Ain't no party like a Martha Stewart party
Martha Stewart is indisputably a reputable source when it comes to party planning, so if there was ever an opportunity to attend one of her parties, it's safe to assume most people would jump at the chance. She recently shared photos on her Instagram from her cocktail party preceding "The Great American Tag Sale," and fans were overwhelmingly impressed by the spread. Her carousel of photos shows her very own 19 Crimes "Martha's Chard" prominently displayed on ice, perfectly garnished cocktails, delicate finger foods, freshly shucked oysters, and surprisingly giant shrimp.
"Those (shrimp emoji) where [sp] huge!!!! Biggest I have ever seen," commented designer Christopher Spitzmiller. "I'd love to know what the drink is in #5," commented one Instagrammer. Others were jealous that they did not score an invite to the event: "My invite got lost in the mail," commented cookbook author Susan Spungen. One fan took it a step further, writing, "@susanspungen ... and my invitation never even got printed! LOL." Same!