What You Didn't Know About Sammy Hagar And Food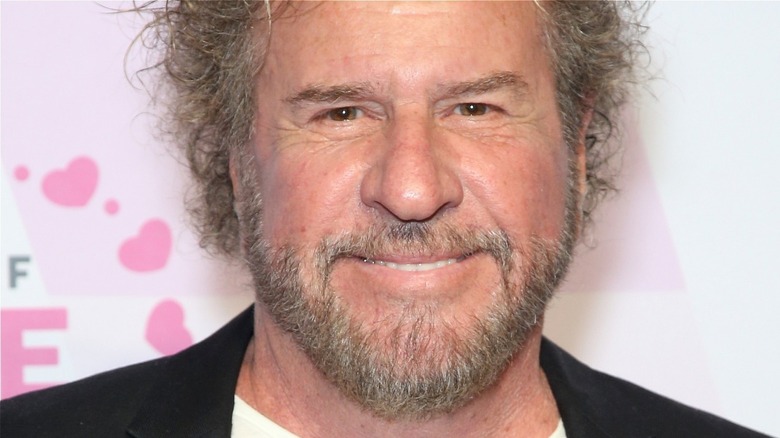 Gabe Ginsberg/Getty
Sammy Hagar is no stranger to fame. The dude who "can't drive 55" became a household name when he replaced David Lee Roth as the front man for the highly successful Van Halen. Gifted with a seriously talented set of pipes, a knack for writing songs, and an enviable mane of curly golden locks, Hagar quickly became a fan favorite in the realm of rock and roll. 
What fans may not realize is that the "Red Rocker" is about much more than music. He's a chef at heart with his love of cooking blossoming well before his love of rock. As Hagar told Edible, "I didn't rock until I was 14, but I was cooking since I was 4." Yes, Sammy Hagar is as skilled in the kitchen as he is behind the microphone. And you may be surprised to learn just how much he has accomplished in the culinary world. 
From owning restaurants and creating an alcohol you can drink straight or mixed, to teaming up with some of the biggest names in the culinary world, read on to learn about Hagar's impact on the industry.
Sammy Hagar is a successful restaurateur
In 1990, Hagar opened the Cabo Wabo Cantina, a restaurant that boasts locations in Cabo St. Lucas, Las Vegas, and Hollywood, which have been featured on MTV, VH1, and the Travel Channel (per Cabo Wabo). Musicians have been known to take to the stage at his cantinas, including Hagar, himself. He also owns Sammy's Beach Bar and Grill with restaurants in Honolulu, Maui, Las Vegas, and Cleveland. And each of these eateries has spawned a successful spirit business as well. Sammy's Beach Bar Rum was born in Hawaii, while Cabo Wabo Tequila transformed into a leading brand that earned the singer $90 million when he sold it (via Edible).
He has published a cookbook, "Are We Having Any Fun Yet?," a collection of his favorite recipes from "home, the road, and his go-to vacation spots, Cabo and Maui," coupled with some rock and roll, great stories, and celebrity chefs from all over. And, if you don't have this book, you can find some of his favorite recipes like Chorizo and Pork Loin Paella and Sammy's Veal Osso Buco in Men's Journal. Yes, Hagar has gone from penning lyrics to kitchen how-to's and proven he can do both extremely well. 
He travels in impressive culinary circles
Fans have come to expect that Sammy Hagar has some well-connected buddies in the music business. He counts some culinary heavy-hitters among his friends as well. Emeril Lagasse did the cooking for his nuptials to Kari Karte in 1995 and Tyler Florence was his partner at El Paseo in Mill Valley for several years. But it's his friendship and business partnership with Guy Fieri that stands out the most. How did these two famed personas meet? 
Hagar told the Washington Post that back before the spiky-haired chef became famous, his restaurants sold more Cabo Wabo tequila than any others, so he won a contest. The prize, a guitar, was delivered by Hagar after a performance, and Fieri casually used the back of it to serve the rock and roller sushi. That's where this three-decade-long friendship began. 
Fast forward to 2019 when Fieri and Hagar joined forces to launch a brand new tequila. Hagar explained, "Guy has always been a tequila lover and when he approached me about creating a tequila together it was perfect timing" as he had already started work on one (Food & Wine). And Santo Tequila was born.
Whether he's on the stage, in the kitchen, concocting a new spirit, or operating a restaurant, Sammy Hagar is one busy man who isn't showing signs of slowing down. And, no, he still won't drive 55.