Instagram Is In Awe Of Buddy Valastro's NFL Draft Cake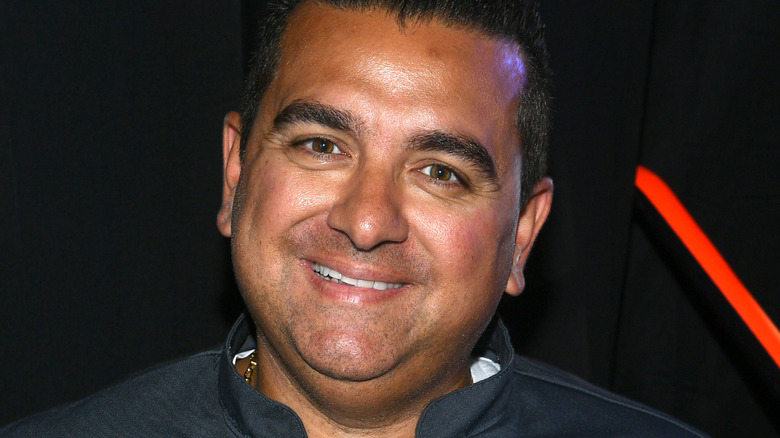 Dave Kotinsky/Getty Images
For fans of the cake industry (or, hey, desserts in general), Buddy Valastro is a household name. He's the titular "boss" on the TLC show "Cake Boss," which shines a spotlight on his New Jersey bakery, Carlo's Bakery. Valastro and his staff create all sorts of out-of-this-world cakes, and are responsible for creations as mind-boggling as a 7,000-pound Transformers cake.
Since 2009, "Cake Boss" has provided us with both the best and the worst cakes anyone could ask for. While some bakes got a standing ovation, like a masterpiece resembling the Leaning Tower of Pisa and a fish-filled aquarium cake, others were a little on the weird side, like when Valastro whipped up a life-size cake replica of his wife Lisa (via The Recipe). And don't even get us started on the ugly foot contest cake.
Fortunately, Valastro's latest confectionary creation seems to have scored big with fans. To celebrate the NFL draft this weekend, the Cake Boss and his cake crew pieced together a three-layer Vegas- and football-themed cake. 
Buddy Valastro's NFL cake scores a touchdown online
The Cake Boss kicked off the NFL draft on April 28 with another spectacular cake. Buddy Valastro posted a photo of the ESPN game day crew with the cake on Instagram, receiving more than 20,000 likes and plenty of compliments. For the event, Valastro wore a NFL jersey with the number 56, presumably to commemorate the 56th Super Bowl.
The cake features three layers, each frosted with a blue-to-purple gradient. It was decorated with playing cards, gambling chips, the NFL logo, and a tiny football. Dozens of fans lined up in the comments to shower Valastro and his creation with praise.
Although most fans responded only with clapping emojis or heart-eyes emojis, some called the cake "beautiful." One fan joked, "Wow. What a small cake," likely in reference to some of Valastro's previous and much larger cakes -– you know, like that massive dinosaur cake he constructed on "Buddy vs. Duff." Another fan wrote, "That's awesome! No surprise, though!"