TikTok Can't Get Over How Good Giada De Laurentiis' Cheesy Baked Gnocchi Looks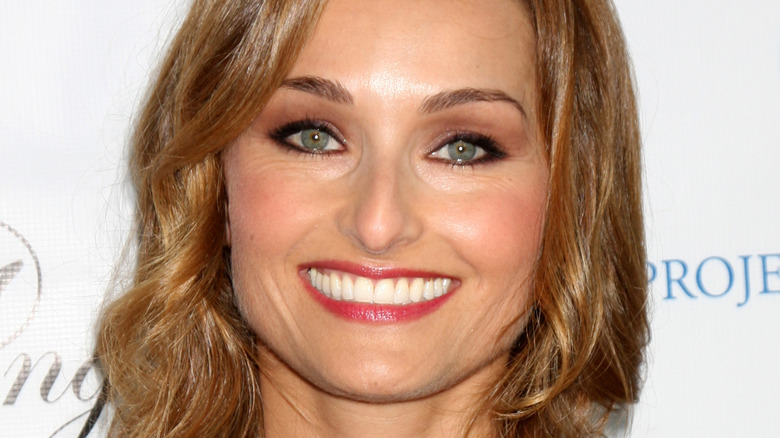 s_bukley/Shutterstock
When it comes to nailing the art of authentic Italian cooking, Giada De Laurentiis has the finesse for all the right flavors. The restaurateur, cookbook author, television personality, and Food Network star and host has embraced new platforms for sharing her love of food, as many other celebrity chefs have done. While fans used to have to turn on the TV to watch their favorite chefs demonstrate new recipes, they can now just open TikTok to learn from everyone from Gordon Ramsay to Ree Drummond.
De Laurentiis' TikTok page, of course, features a lot of pasta. Though the recipe that stands above the rest in her career serves up zingy lemony flavors with spaghetti, her recent TikTok video takes fans on a delightfully cheesy journey through the preparation of a decadent gnocchi dish. Based on reactions to the video and the enthusiastic comments section, De Laurentiis' fans are craving this kind of dinnertime inspo. For precise measurements and ingredients, find the full recipe on her lifestyle website, Giadzy.
De Laurentiis makes gnocchi dreams come true
What does it take for a recipe to get tens of thousands of views on TikTok? Apparently, a substantial amount of cheese melted into a rich pasta sauce. De Laurentiis recently tantalized her fanbase on TikTok with a decadent recipe for cheesy baked gnocchi. Her post took viewers through the process of preparing the dish from start to finish, starting with the uncooked potato dumplings and ending with a gooey, bubbling, golden brown final product.
The dish's combination of heavy cream, goat cheese, and parmesan — plus spinach for good measure — was a winner for many viewers who either plan to try this out or have already tasted the gnocchi. One commenter called De Laurentiis' recipe a "must try," and others raved about the simplicity of the dish: The sauce comes together in a single pot, while the store-bought gnocchi don't have to be boiled prior to baking, eliminating some extra work and dish-washing. "I've made this. It's wonderful," wrote one commenter on TikTok. Another said, "That's beautiful. Drooling," with a few emphatic emojis tacked onto the end. If cheesy baked gnocchi suddenly becomes a TikTok food trend, now we know why.