Instagram Is Loving Marcus Samuelsson's 2022 Met Gala Look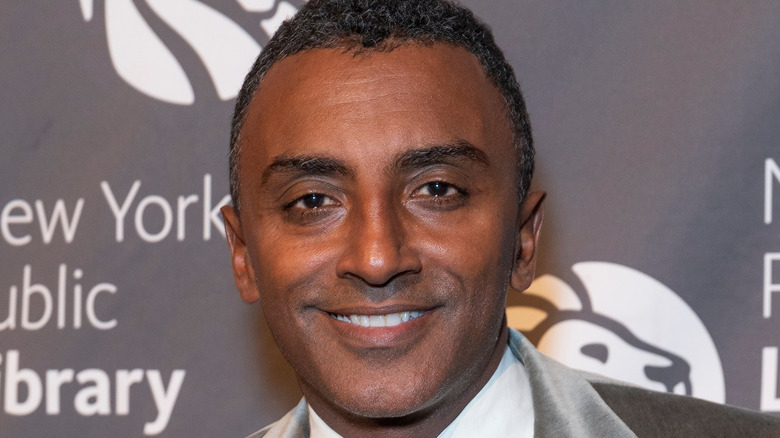 lev radin/Shutterstock
For many people, the first Monday in May is simply, well, the first Monday in May. However, as any fashionista could likely tell you, the day is so much more than the start of another work week. Per Harper's Bazaar, the first Monday in May is host to one of the most highly-anticipated nights in the fashion world: the Met Gala, which is an annual themed charity event organized by Vogue Magazine that is held at the Metropolitan Museum of Art in New York City.
Sometimes referred to as the "Oscars of fashion," this year's Met Gala on Monday, May 2 had attendees dressing in "white tie" and "gilded glamor" looks in accordance with the theme "In America: An Anthology of Fashion." The event brought out some of the biggest stars in film, music, and fashion, and even a few familiar faces from the culinary world, like Marcus Samuelsson, who took to Instagram last night to give his fans a peek at the ensembles that he and his wife Maya Haile donned for the star-studded evening.
"@mayahaile and I had so much fun collaborating with @StyledbyStaceyJordan for our "Gilded Glamour" #MetGala looks and can't wait to see all the creative interpretations by the other attendees," the chef captioned a post containing five photos and two videos of he and his wife that appeared to have been taken before the new parents-of-two hit the red carpet. "Thanks for having me, @VogueMagazine!" he added.
Marcus Samuelsson and wife Maya Haile turned heads on the red carpet
The fashion and food worlds collided at last night's Met Gala, where chef Marcus Samuelsson was dressed to impress in a hot pink suit, colorful Nike shoes, and a black cape with embroidered gold trim. Meanwhile, his wife Maya Haile looked stunning in a floor-length black cut-out cape dress accented with gold trim along the neckline and a color-studded gold and silver diamond pattern along the bottom hem. Both ensembles were curated by New York-based designer Stacey Jordan and were very well received by fans and friends of the "Chopped" judge.
"You upped the game," Bon Appétit's Editor-In-Chief Dawn Davis wrote in the comments section of Samuelsson's Instagram post, which has also been littered with dozens of flame and red-heart emojis. "Have fun!! You both look DIVINE!!!" added actress Debi Mazar. "Sharp Suit Chef. You guys look great," a third fan quipped, while a fourth declared that the husband-and-wife duo "understood the assignment."
In addition to turning heads on the red carpet, Vogue reports that Samuelsson was also in charge of the dinner menu for last night's Met Gala. The restaurateur enlisted the help of chefs Amirah Kassem, Melisa King, and Lauren Von Der Pool to curate the meal, with each chef taking on one course of the dinner. Samuelsson himself was in charge of the main entree and chose to serve "a barbecue striploin with spring carrots, crispy rice, and cornbread crumble." If the reception of his outfit is any indication, there's a good chance his dish was likewise a hit.