The Frozen Food You Should Avoid At Dollar Tree, According To Employees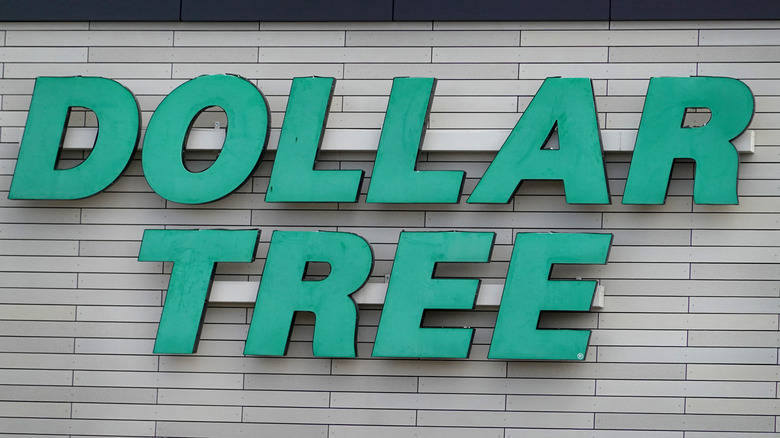 Scott Olson/Getty Images
When you think of Dollar Tree or any other dollar store, you're probably thinking of purchasing bags of candy, birthday supplies, and maybe a few plain t-shirts for a relatively low cost. You can do some grocery shopping there, of course, since most of the foodstuffs the Dollar Tree sells are pre-packaged or frozen foods. While you may be getting a grocery order for cheap, however, sometimes it's pretty obvious that you get what you pay for — and not in a good way.
Now, this isn't meant to say that Dollar Tree is a shifty business unloading junk onto an unsuspecting customer. Most Dollar Trees strive to be clean, family-friendly, and reputable places to purchase goods. Taste of Home, for example, suggests pasta, frozen fruit, coffee, and bags of snacks as pretty safe buys for a low cost. But dollar stores, for all their efforts to have a trustworthy reputation, have had some poor publicity regarding this. Green America's expose revealed that a majority of products from dollar stores — such as Dollar Tree, Dollar General, and Family Dollar — contained one or more hazardous toxins. YouTube reviewer TheWolfePit also has multiple videos criticizing the low-quality processed foods sold at the Dollar Tree, from ribs made of "fake meat" to chicken made from meat slurry. 
Now, according to some Dollar Tree employees, you may also want to skip over a certain type of frozen food.
Skip over the frozen meat and seafood
According to The U.S. Sun, a Dollar Tree employee known only as Brenda gave customers "insider's advice" on what to buy and what to skip over the next time they go shopping at their local dollar store. Although she claimed that customers love buying the frozen fruit and vegetables and that her store has "amazing cinnamon bites," Brenda advised that customers should probably pass on the frozen fish and meat, like Dollar Tree's $1 steaks. Her reason? She doesn't trust any seafood or meat product that can be sold for that low of a cost.
Brenda's claims are supported by another employee, a store manager by the name of Nate. Nate claims to have heard that steaks purchased at the Dollar Tree don't cook well, and have been described as "rubber."
Are these just baseless claims or do they have some weight behind them? WCPO in Cincinnati ran a taste test with these types of cheap steaks using firefighters as its taste-testers. The responses from each fireman ranged from being unsure of what they ate even was meat to saying that "it wasn't terrible." If you really want to look for beef, perhaps don't look for it at Dollar Tree.