How To Stop Burning Butter Forever, According To Duff Goldman
DFree/Shutterstock
While there are probably things you didn't know about Duff Goldman, we all know that he's known for creating show-stopping cakes on "Ace of Cakes," but on his new show, "Ace of Taste," he plans to share accessible meals that he makes for his family on a daily basis, both sweet and savory (via Food Network). "It's more like the regular food that I make as opposed to a big cake with lasers coming out of it, you know," Goldman said in an exclusive interview with Mashed. Since everyone has seen the sweet side of the eponymous ace of cakes, he plans to share recipes like his Texas-style chili, which has become a crowd favorite on the sets of several Food Network shows (via New York Live).
The master baker is also a new dad, so in one of the episodes of his new show, he helps out with the bake sale at a local school (via Food Network). We never thought we would be having FOMO about a school bake sale, but here we are. We especially wish we were invited to the bake sale after seeing the brown butter blondies that the Food Network star made for the occasion. In fact, he even mentioned a tip for getting the perfect golden brown butter without burning it.
Browning butter properly requires patience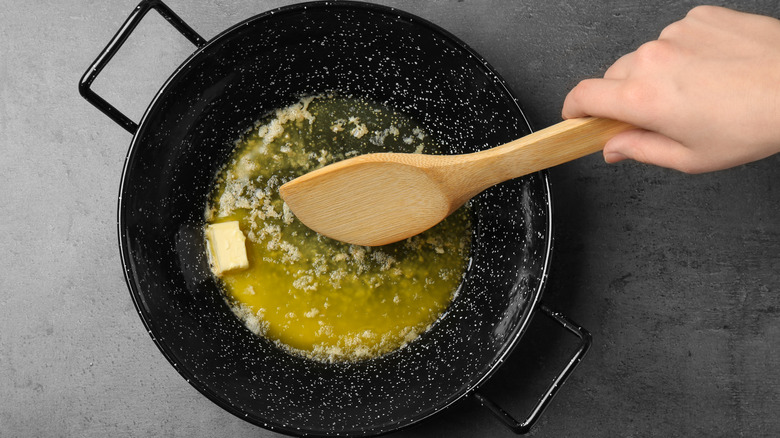 New Africa/Shutterstock
In celebration of his new show, "Ace of Taste," Duff Goldman live-tweeted Season 1 Episode 5, fielding questions from fans. He tweeted, "Y'all, these brown butter blondies are duh-licious. #AceofTaste," and several fans replied, asking questions or complimenting the show. "My sister browned butter by accident lol. I can't wait to see you do it," one fan replied. The pastry chef responded that the key to browning butter is to "melt the butter and on medium heat, gently cook it until all the water boils out and it turns golden brown."
Other fans have also struggled with browning butter. "Me [shaking my head] at all the times I threw out brown butter thinking it was ruined," replied one fan. The blondies were also a hit on Instagram. "Oh my goodness I made your brown butter blondies....I thought I died and went to heaven," commented one fan. If you want to try the nutty, buttery goodness out for yourself, you're in luck, as Food Network published the recipe on its website.