Why Spam Is 'More Popular Than Ever'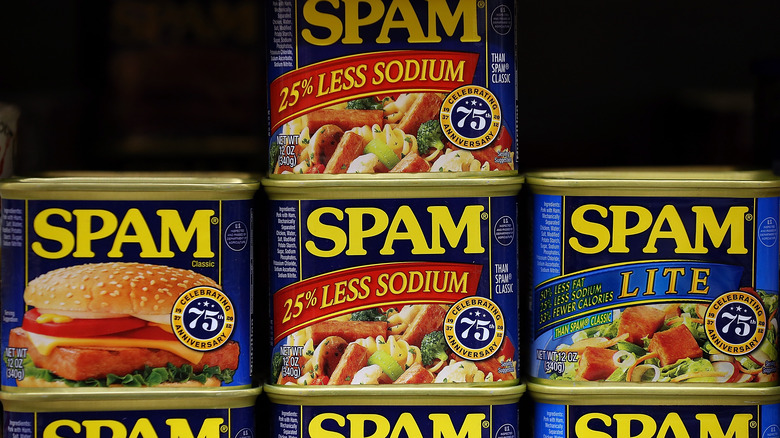 Justin Sullivan/Getty Images
You can fry it up and serve it with scrambled eggs, you can put it in grilled cheese, or you can serve it in fried rice. That's right: It's Spam! No, we're not talking about those trashy e-mails that flood your inbox. We're talking about that classic tin of processed lunchmeat. With over 100 recipes, or so Spam says, that you can make using only a hunk of Spam and a few ingredients, this meaty treat has become a cheap and delicious staple of the American dining scene.
According to Eater, Spam first appeared all the way back in 1937 as the end result of Hormel Foods' endeavor to both produce a non-perishable meat item and sell off excess pork shoulder. However, this canned meat product only began to take off during World War II and the post-war era. Of course, there were those who found Spam to be something of a joke food, from U.S. soldiers sending Hormel letters of disgust at Spam and those who considered it a "white trash food" (via The Takeout). But Spam found a market not only on the U.S. mainland but also in Hawaii, Korea, and the Philippines. In the Philippines, for example, a breakfast of spamislog consists of garlic fried rice, fried eggs, and a few slices of fried Spam (via SBS Food).
Today, Spam is getting more and more popular, from the beaches of Hawaii to the high-class halls of art museums. How can such a cheap tin of pink pork product leave such an impact?
There's even a Spam festival in Hawaii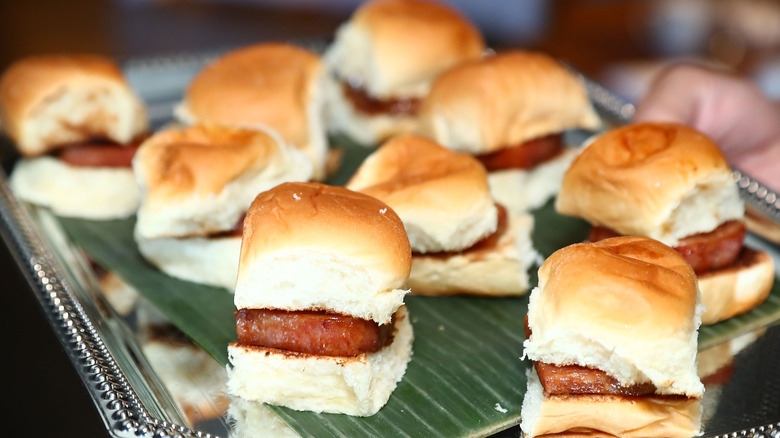 Astrid Stawiarz/Getty Images
According to PR Newswire, Hormel Foods has had seven consecutive years of record sales under its belt, all thanks to Spam. Jennesa Kinscher, the Spam brand's senior manager, even praised the food as "the food of the past, present, and future." Kinscher certainly isn't exaggerating Spam's popularity, considering there's an annual festival in Hawaii dedicated to Spam.
The Waikiki Spam Jam returned from April 22 to May 1 after a two-year hiatus due to the COVID-19 pandemic, with it celebrating the Hawaiian culture's love of the processed pork product. Participating restaurants served up exotic and unique dishes made with Spam, from Spam Fries with Guava Ketchup to Spam Bao Buns to, yes, Spam Jam Cocktails and Spam-aritas. In fact, in 2019 alone, Hawaiians consumed 7 million pounds of the canned meat (via Ke Alaka'I).
But a festival in Hawaii isn't enough for this little blue can. There's also a Spam Museum in Austin, Minnesota, where everything from animatronics to elaborate displays, including a Japanese hip-hop exhibit, sing the praises of Spam (via Roadside America).
Whatever the case may be, it's no secret that Spam, whether it's loved or hated, has certainly made an impact not just in America but across the globe. It's something to think about while you brush up on all sorts of wild and unexpected ways you can use Spam in your diet.