How Long Chick-Fil-A Sauce Really Lasts
When it comes to fast food chains and the sauces they offer up to compliment their menu items, Chick-fil-A has created one that has developed a cult-like following. Hailey Bieber may be mystified by Shake Shack's signature condiment, but Chick-fil-A's sauce is something else entirely. And while there are plenty of quick-service restaurants that like to shroud their sauce in mystery — take McDonald's Big Mac and its special sauce (via Youtube) — this fast food chain that specializes in all things chicken makes no secret about the flavors that come together to make customers sing this sauce's praises. 
In a Tweet shared back in 2012, the "Eat Mor Chikin" business wrote, "Chick-fil-A Sauce is a magical blend of Honey Mustard, Barbecue and Ranch Sauces." Sounds easy enough to make at home, and yet, you've probably found yourself grabbing a couple of extra containers of this sweet yet savory sauce to stash at home. Chick-fil-A shared on their website that in 2014 their franchises ordered 285,895,456 servings of this sauce, which represents a third of all their sauces distributed in the U.S. That nine-digit number definitely speaks to how beloved their sauce is – in 2020 the chain even began selling bottles of the stuff in grocery stores. But inquiring minds want to know how long this unique condiment lasts before it goes bad.
The sauce's freshness depends on how it's stored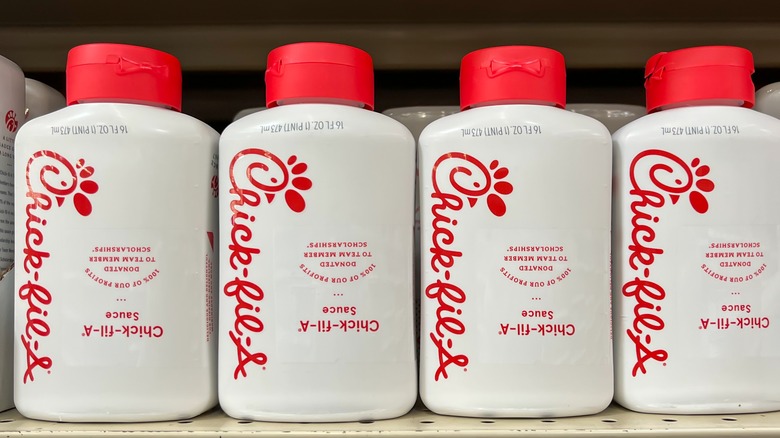 JHVEPhoto/Shutterstock
A Chick-fil-A team leader revealed on Reddit that, if you happen to grab a handful of sauce packets to save for later use, you can safely keep them for up to two months, but after that, you probably want to toss them in the trash. The Chick-fil-A leader also explained that there is no need to refrigerate these take-and-go packets. However, the blog We Want The Sauce claims that the packets can start to lose their quality after a couple of weeks, so while they are definitely safe to eat, just manage your taste buds' expectations.
And what about the shelf life of those big 16 oz squeeze containers of Chick-fil-A sauce? We Want The Sauce shares that the large-format retail bottles have a "best-before-90-days" recommendation for freshness.  While the sauce doesn't necessarily need to be stored in the fridge, you will definitely prolong its taste if you do. How can you tell if your Chick-fil-A sauce has gone bad? The blog explains that you should look at the sauce's thickness, examine its color, take a whiff, and even taste a little dab to determine if it is still good to use.