Vizzy Wants To Send Good Vibes With Its New Mercury Retrograde Kits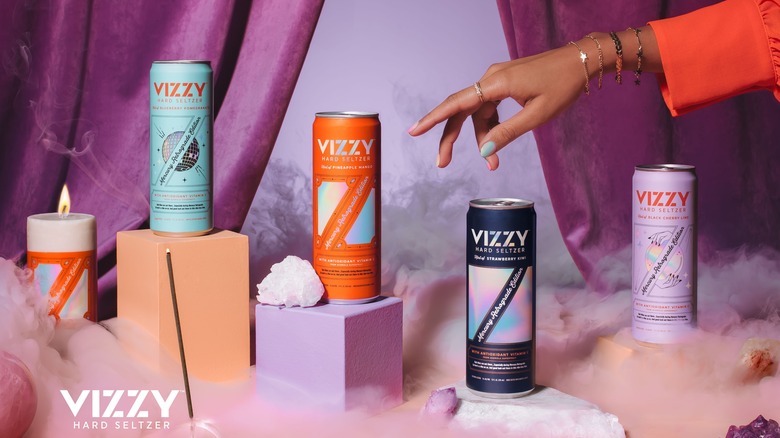 Vizzy
To stand out in the crowded spiked seltzer market, one company is taking an otherworldly approach. In a press release sent to Mashed, the vitamin C-infused hard seltzer brand Vizzy announced a new sweepstakes aimed at astrology-inclined drinkers. The giveaway will offer handy tools for dealing with one of the most trying astrological events of the year: Mercury in retrograde.
According to astrologers, Mercury in retrograde (which occurs when the position of the planets causes Mercury to appear as though it's moving backwards) can have a negative impact on communication and cause a slew of earthly woes, explains Country Living. Potential issues you might face during Mercury in retrograde include everything from delayed flights and trouble at work to general confusion and misunderstandings with friends, believers say. 
The current cycle of Mercury retrograde will last from May 10 to June 2. McDonald's has already announced plans to lend a helping hand through this troubling planetary time by offering free sandwiches to fans. Now, Vizzy is offering its own coping mechanism in the form of special-edition Mercury retrograde goods.
The seltzer brand teamed up with a professional astrologer on retrograde-inspired cans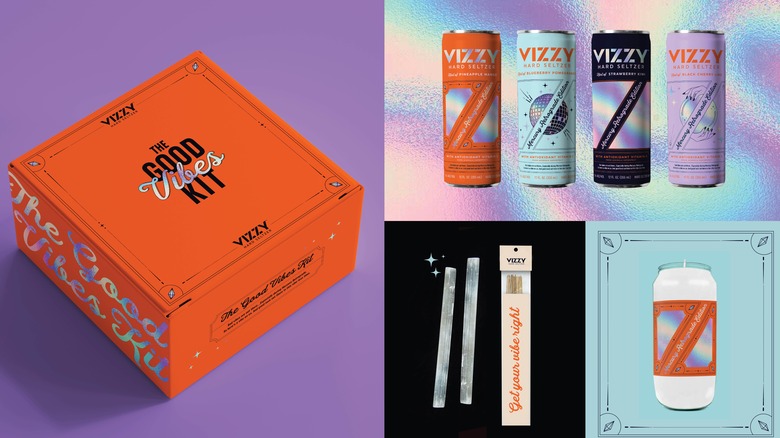 Vizzy
Per the Vizzy announcement shared with Mashed, the boozy seltzer brand has partnered with astrologer Lisa Stardust to create its limited-time Mercury Retrograde Edition cans and "good vibes kits." The boxes will be filled with "vibe-protecting charms" such as sage, incense, mystical candles, and the special cans (or a gift card to purchase them for yourself). The limited Vizzy cans, meanwhile, are complete with "celestial-inspired holographic designs" and contain seltzer flavors like pineapple mango and blueberry pomegranate.
These products won't be available in stores, as they're part of a sweepstakes deal. To enter to win the cans and kits, retrograde-despising seltzer fans need to visit the Vizzy Mercury in retrograde website beginning on May 12 and pen a short essay explaining how they have been personally impacted by the astrological occurrence in the past. 
A total of 300 winners will be randomly selected to receive one of the good vibes kits through the end of the entry period on June 2. While there's no guarantee that hard seltzer will repair all of your retrograde woes, they may be a good place to start.