Trader Joe's Shoppers Came Up With The Ideal Hack For Its Spicy Lemonade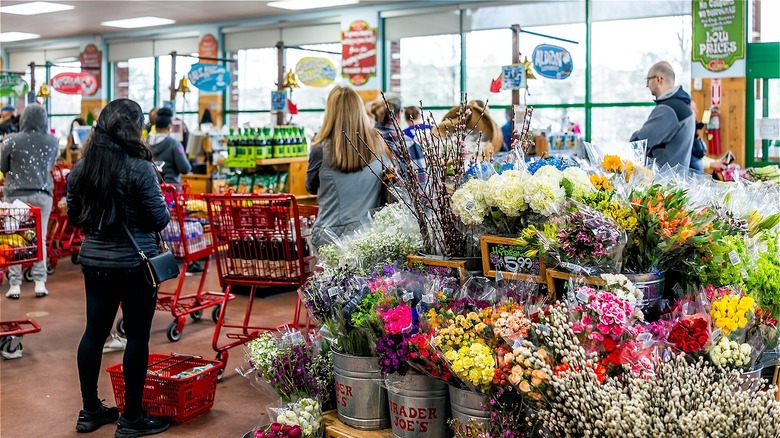 Kristi Blokhin/Shutterstock
With summer around the corner, it's time to break out recipes for summer cocktails. We've got some dangerously easy cocktail recipes, but sometimes all you need is a great mixer to get the party started. You might already be familiar with Trader Joe's spicy mango lemonade that shoppers enjoyed this drink as a mixer in cocktails and mocktails, so it's no surprise that Trader Joe's fans want to do the same with the store's jalapeño limeade. Instagram user @traderjoesreviews posted a photo of the seasonal beverage and said that this drink was perfect for spicy margaritas.
To turn this product into a margarita, just add some tequila. In the caption, the account explains that more jalapeños make the drink spicier since the beverage alone doesn't pack a lot of heat. If you prefer your drinks sweet more than spicy, then leave the extra jalapeño out since the original poster also mentions that while this limeade is delicious, it could do with a little less added sugar and more lime juice. Trader Joe's Grocery Reviews also notes that the item makes a great mixer and from comments on the post, it seems like many fans agree.
What does Instagram think of this spicy lemonade hack?
Based on the comments on @traderjoesreviews' Instagram post, plenty of other people are excited to make some spiked drinks with this jalapeño limeade. One person wrote, "I just bought it today with the thought of making margs!" Other Trader Joe's shoppers even used other products from the store to make their margaritas even tastier and add more spice, salt, and flavor. One person said to "Rim the glass with TJ's Chili Lime seasoning," and called this hack "life changing."
If you prefer your tequila strong and want to mellow out the drink over time, a Trader Joe's employee has an idea for you. This person commented, "I always tell customers I put mine in ice cube trays & pour tequila over it." You can also add these ice cubes to other drinks to add a bit of spice, or just use them to make sure the drink doesn't get too watered down.