Daphne Oz Has An Important Rule When Cutting Asparagus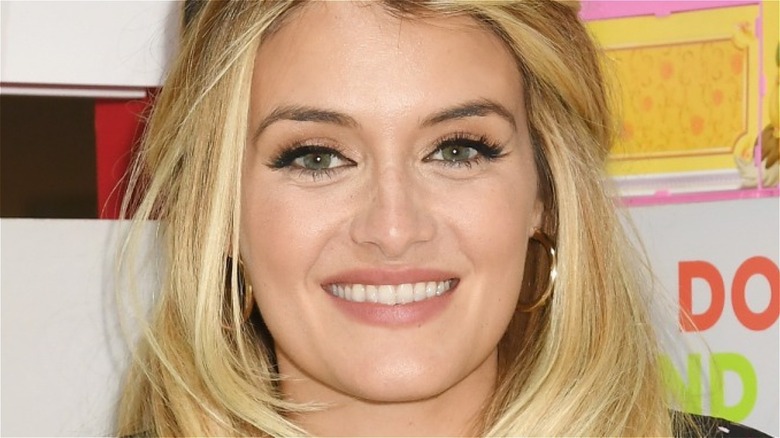 Jennifer Graylock/Getty
Spring is in full force, which means only one thing for veggie lovers: It's asparagus season. Don't fight it. We know you've been waiting, OK, pining for it all winter. As The Spruce Eats notes, asparagus is at its best from February to June, and it hits its peak in April and May. Whether you love simply roasted green asparagus or prefer to steam the white or purple variety, you may fall into the same trapping as the rest of us who are wondering just how much of this stalky vegetable is too chewy to eat. You don't want to cut off too much of the stalks and end up wasting the good part, but you also don't to waste your time cooking up those tougher, unpleasant pieces.
Enter Daphne Oz. "The Chew" co-host has a cool rule to help you take the guess work out of your asparagus preparation. Oz is definitely a fan of this vegetable and uses it to make everything from frittatas and frites to a bacon-wrapped snack. Recently, the celebrity chef took to social media to share her asparagus pro tip, but a fair warning, her video may make you want to watch "Legally Blonde."
Cut asparagus until you reach the 'woody' ends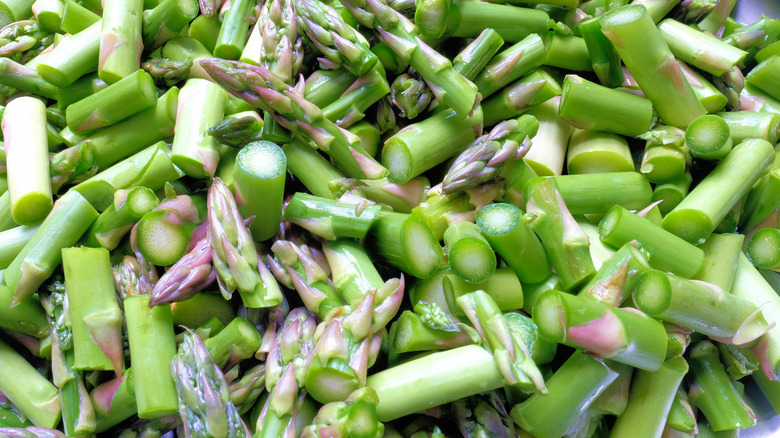 ImagenX/Shutterstock
In a TikTok video that has received over 21,000 likes, Oz shared the asparagus hack that many of us need. She explained that as a "general rule of thumb," you want to stop chopping at the point when your asparagus gets "woody." What exactly does that mean? Oz has you covered. She proceeded to demonstrate that if you were to hold a piece of asparagus in your hands horizontally and "snap" it, the fibrous portion that easily breaks off is the part you don't want to bother with. Her clever caption for the video? "Bend and snap," inspired by the iconic Elle Woods moment. This simple asparagus trimming trick is preferred by chefs because it helps avoid waste; by cutting the ends off with a knife, you could inadvertently waste some of the tender part of the stalks.
If your mind is blown, you are not alone. For followers who were able to get past the fact that this was indeed Oz and not Bebe Rexha, as several commenters gushed, the bend and snap move seems to be a new idea. One TikToker wrote, "How have I never chopped asparagus before? lol I always eat it as a whole stick," while another user said, "queen Daphne really blessing our FYP with the best salad hacks." A different in-the-know user quipped, "If you know, you know #bendandsnap." Oz's other bit of advice when chopping asparagus — which she was using for a frittata in the video — is to leave the delicate tips or "floral component" of the spears whole for a different textural experience.