Why Vegans Might Not Want To Order Veggies At Cracker Barrel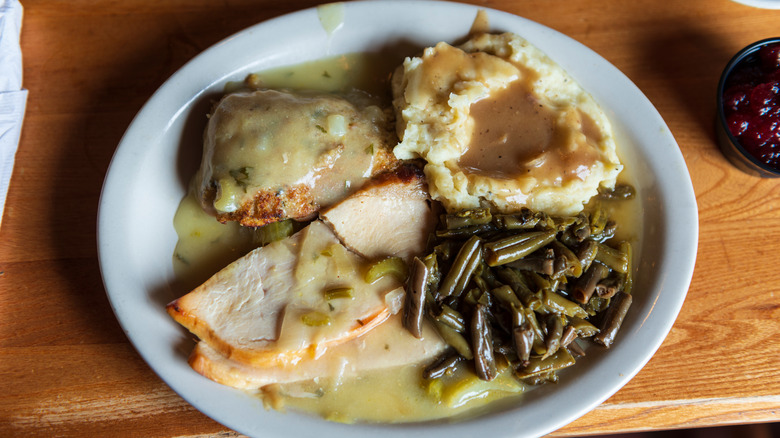 Barry Fowler/Shutterstock
Cracker Barrel is known for a lot of things. Biscuits, fried chicken, the general store-themed gift shop that sells rocking chairs, that peg game you find at every table — the list goes on. While fried chicken or meatloaf can certainly make for a perfect comfort food dinner, those types of dishes aren't exactly appealing if you're vegan.
Being a vegan means that you avoid animal meat and animal products, such as poultry, beef, milk, eggs, and fish — and Cracker Barrel, with its menu of fried foods slathered in country gravy, is made up almost exclusively of those products. But wait a moment, you might say. Cracker Barrel serves up vegetables, don't they? Couldn't someone on a vegetarian or vegan diet eat mashed potatoes and a bowl of corn?
According to Veggl, the vegetables at Cracker Barrel aren't exactly an option if you're avoiding animal products. They explain that many vegetables served at the restaurant such as the corn, green beans, carrots, pinto beans, and turnip greens are all prepared using lard. Not even the biscuits or the hashbrown casserole are safe, as the biscuits contain buttermilk and the hashbrown casserole is prepared with cheese and butter (via Sara's Veggie Kitchen).
With all these options ruled out, this raises another question: What exactly can vegans get to eat at a place that offers down-home cooking?
Vegans can eat baked apples, salads, and potatoes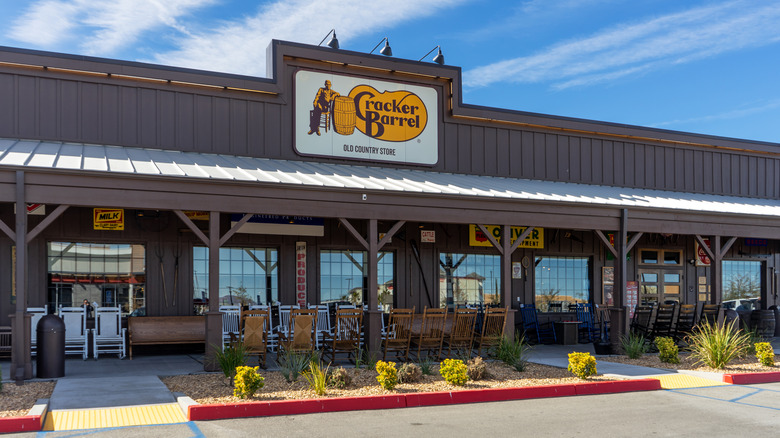 Felipe Sanchez/Shutterstock
Although Cracker Barrel isn't exactly swimming in vegan-friendly options, this doesn't mean the restaurant has nothing to offer. It just might take a bit of research to figure out exactly what that is.
Per ChoosingNutrition, you can order oatmeal or grits prepared using water instead of milk, with maple syrup added as a sweetener. You can also order a salad without cheese and croutons, tossed in a fat-free dressing or vinaigrette instead of ranch dressing.
Vegan Calm also suggests that vegans can order a plain baked potato, homestyle fries, and apple slices. Surprisingly, even the breaded and fried okra is a vegan-friendly dish.
Cracker Barrel has also begun to delve into the world of meatless options. In 2021, the company announced that it would be offering Impossible sausage, a plant-based breakfast sausage made by Impossible Foods, at select stores around the country. It's yet to be seen, however, if the chain will continue adding meatless options to its menu.