TikTok Is Cracking Up At Gordon Ramsay's Musical Reaction To Breakfast Wellington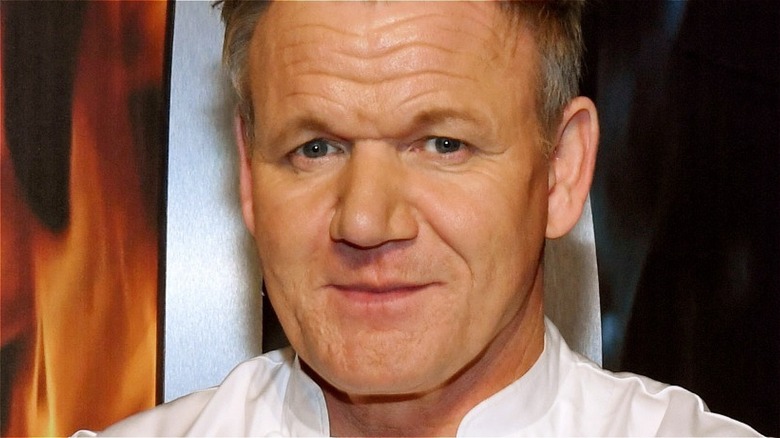 Ethan Miller/Getty
Remember the catchy Jason Mraz tune "I'm Yours" from 2008? Well, the TikTok account @elburritomonster rewrote the lyrics to accompany a bizarre breakfast take on the classic dish Beef Wellington. Gordon Ramsay had thoughts on this twist, as beef wellington is one of the signature dishes we've seen him make on shows like "MasterChef Junior" (via Facebook). In fact, Ramsay turns heads with his picture-perfect wellington each and every time he makes it. His website even has an article on the history of this decadent filet preparation, and Ramsay teaches a MasterClass on beef wellington if you're so inclined.
But breakfast wellington? It starts with a large tortilla. Then, as @elburritomonster sings to the Jason Mraz melody, "I'll add my eggs and then hashbrowns, my sausage and bacon." He proceeds to sing/narrate the addition of tomatoes, fried bread, black sausage, cheese, tomatoes, mushrooms, and more. He rolls up this massive burrito, then rolls it again in a piece of pastry dough, brushes it with butter, and bakes it. He serves it with baked beans — a strange breakfast food to Americans but common in a full English breakfast, as are tomatoes and mushrooms, per Taste Atlas.
In a split-screen video of his own, Ramsay calls out the creation by putting his own lyrics over @elburritomonster's video. "Oh no, please don't," sings Ramsay as the video plays next to his own. "Oh no, you don't ... you dumb, dumb idiot because it looks like it's fallen down a grandad's crack," the celebrity chef continues. While his songwriting skills may be questionable, Ramsay certainly left TikTok in a frenzy.
Gordon Ramsay's followers had their own reactions
Gordon Ramsay's fans had plenty of their own thoughts on his duet and brutally honest reactions to @elburritomonster's breakfast wellington. Ramsay's post has generated more than 181,000 likes and 1,300 comments at the time of writing
While some agreed with Ramsay's "nope" on this very British breakfast burrito, more fans than not came to @elburritomonster's defense. "Am I the only one or does that actually look good," asked one fan. Another added, "Mate what you mean that looks great. Breaky raps are the best." Still, another follower admonished, "Food never has to look good to taste good. Pathetic we live in a world [where] everything has to look amazing." Good point.
One of the few fans who sided with Gordon on breakfast wellington opined, "Literally do these ppl think there [sic] food looks nice, like how is shoving everything in one place appealing." Many of Ramsay's followers also commented on his singing. "Who doesnt love gordon singing?" wrote one. Another said, "We need more gordon singing."
At least one astute commenter noted that even if Gordon hated his dish, just getting Ramsay's attention is a win. They wrote, "@Elburritomonster you've made it." One sassy commenter predicted, "Plot twist it's going to be on Gordon's menu next week ... for £50 a slice." Then, one of our favorite comments came from an account called @jellycat. "Full English wrap/Maybe it's good/Maybe it's bad/Make it and see it," the user wrote.