Why Burger King's Newest Chicken Sandwiches Might Be Hard For You To Get
The fried chicken sandwich has been the game-changing menu item that ignited fast-food competition. Per Restaurant Business, the day Popeyes' chicken sandwich made its debut on the quick-service restaurant's menu was really the first shot fired across the fast-food bow. (And it sold out two weeks after it launched, according to QSR Magazine). Other brands quickly followed suit with the likes of Wendy's, KFC, Zaxby's, Shake Shack, and a cast of at least 20 fast-food chains creating their own version of this beloved sandwich and vying for the public's love and patronage. 
Some fast-food restaurants were a little slower on the draw, including Burger King. Per Food & Wine, Burger King took their sweet time before adding the Ch'King to their offerings. In a press release, Ellie Doty, chief marketing officer for Burger King North America, said at the time (via Businesswire), "We said we would create a delicious hand-breaded chicken sandwich that was worth the wait, we just didn't anticipate that it would turn out quite this good."
Not a chain to rest on their chicken laurels, Burger King has rather quietly launched another line of crispy and succulent fried chicken sandwiches and these might not be so easy to find at your local BK drive-thru.
BK Royal Chicken Sandwiches aren't everywhere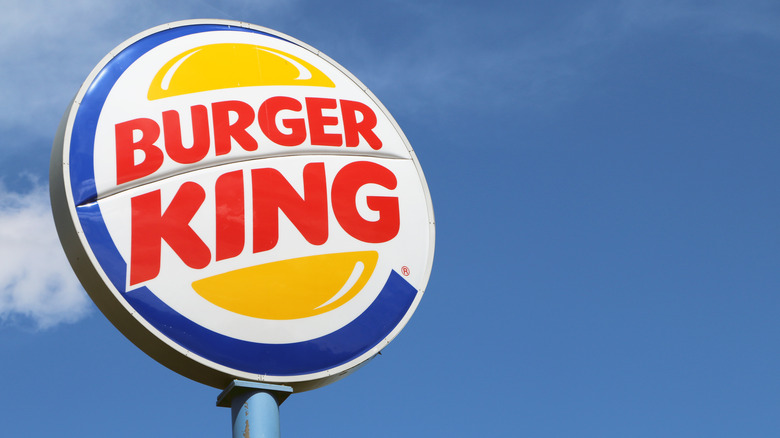 James R. Martin/Shutterstock
Per Chew Boom, Burger King's new Royal Crispy Chicken Sandwiches have made cameos on the East Coast at stores in New York City and Virginia, but they have not been seen in other states just yet. If you do an internet search, you also won't find a lot of information about this new offering, save on Burger King's website. The lack of fanfare, given the chicken sandwich popularity, is worth noting. 
So, what's different about this new line? According to Fast Food Nutrition, the ingredients of the BK Royal line of chicken sandwiches seem to be a step up. The chicken is said to be even better, and Burger King has opted to serve these new sandwiches on potato buns. There are three different sandwiches to choose from with the BK Royal Crispy Chicken Sandwich leading the line-up. This classic sandwich is followed by the BK Spicy Royal Crispy Chicken Sandwich, and the BK Bacon and Swiss Cheese Royal Crispy Chicken sandwich (as pictured up above).
All three feature a crispy white meat breast filet, savory sauce, lettuce, and tomatoes. However, the spicy version's chicken filet has been coated with a "triple pepper spicy glaze," and the third sandwich adds Swiss cheese and bacon. Sounds tasty. We don't know about you, but we are definitely going to keep our eyes and ears peeled for more info about these sandwiches.