The George Costanza-Themed Bar You Never Knew Existed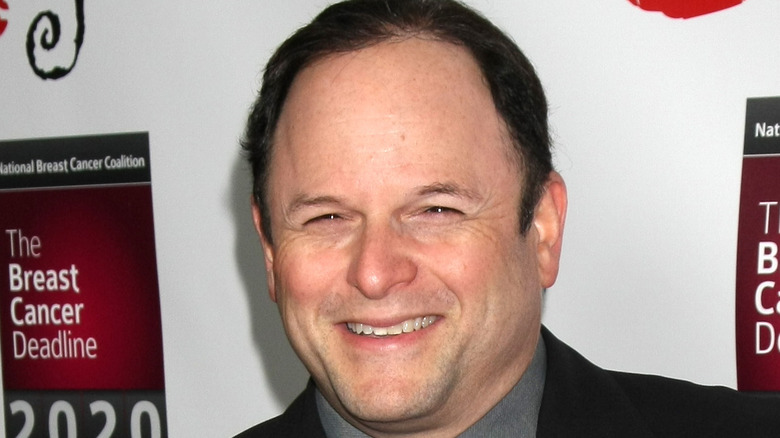 Kathy Hutchins/Shutterstock
There are some things that seem to be innately polarizing. Liver, the "man bun," cilantro, and George Costanza from "Seinfeld" are prime examples. Yes, Jason Alexander's character usually either elicits a "Can't Stand Ya" or "Co-stan-za" (sung to the "by Mennen" jingle) response, with very little in between. Whether you loved Georgie or loved to hate him, there's little doubt that he remains one of television's most memorable characters and provided "Seinfeld" fans with many of the show's funniest moments. 
The winner of a contest that labeled him the "Master of His Domain," George also gave birth to recognizable lines like, "Moops," "It's not you, it's me," and revealed that, yes, it does shrink — "like a frightened turtle." He faked his way through roleplaying as a marine biologist and architect; posed for boudoir photos; napped under his desk at work; and almost became a hand model. He even brought his boss to a traditional Festivus meal. Whether he was bedecked in a whoosh-making suit, a giant Gortex jacket, or the clothing he found in a tourist's suitcase, fans could always count on the fact that nothing ever worked out for George Costanza (per IMDb). And that's what made his character so much fun over the course of the show's nine seasons.
If you've ever wondered what it's like to walk in George Costanza's Nikes, there once was a place that enabled you to do exactly that. Yes, you could throw on your favorite velvet leisure suit and step into the wacky world of Seinfeld's little friend.
Jason Alexander was proud of this bar dedicated to George
Just before the clock ushered in the New Year of 2016, George's Bar — yes, a business bearing the name of everyone's favorite ne'er do well New Yorker — welcomed clientele for the very first time (via Eater). In response, Jason Alexander tweeted, "I may not have an Emmy, but I got me a bar in Melbourne, Australia." Clearly, the actor was thrilled with this character-themed establishment, and Aussies with a penchant for the sitcom about nothing were equally taken with it. 
Described as a "beacon for "Seinfeld" lovers," co-owner Dave Barrett told Vice that George was the one Seinfeld character who would feel right at home there with his plaid shirt wardrobe and derisive humor. And if George could be happy there, his fans would have been too. 
So what sort of Costanza-ish things might a fan have found in this pub? According to Broadsheet, George's Bar boasted a script of the show's premiere episode signed by Jason Alexander; an ample supply of pretzels (because those pretzels are bound to make you thirsty); and a retro Frogger game, of course. Eater said you could order a George-based drink aptly bearing names like "the Summer of George, Hand Model, and Marisa Tomei." And Vice added that there was even a vending machine that only dispensed Twix bars. 
This George-ish homage is now a dive bar
Unfortunately, George's has since dropped its theme and become a relaxed neighborhood dive bar (TimeOut). Sadly, there is no longer a place that celebrates the genius that was Jason Alexander's character. The Frogger machine has likely gone the way of the one George once owned. The sandwiches that were created in his honor are a thing of the past. And nobody ogles his boudoir image anymore. True to form, things simply didn't work out for George, yet again. For "Seinfeld" aficionados, this likely comes as no surprise.
All Seinfeld devotees can hope for now is that some Costanza-savvy entrepreneur is willing to create an homage to George of their own — a place where being a slightly neurotic, balding, rageaholic who drives a 1989 Chrysler LeBaron is celebrated. For now, fans will have to bond with George via streaming or on DVD, donning their softest velvet, slapping on some prescription swim goggles, grabbing a Snickers bar and a fork and knife, and turning on their favorite episode.