Are You Daring Enough To Try A BBQ Reese's Sandwich?
Baseball is widely considered to be America's pastime (via the National Baseball Hall of Fame). And when you mix beloved sporting events with good eats, it's a synergy that's hard to beat. Ballparks are known not just for their deep-rooted histories and state-of-the-art amenities, but also for their concession stand menus filled with indulgent comfort foods. From hot dogs, brats, burgers, and nachos to cotton candy, soft pretzels, and ice cream sundaes the size of your head, there are countless options of amazingly delicious meals and snacks in stadiums across the country.
Some of the most iconic ballpark foods to chow down on include classic Chicago hot dogs at Wrigley Field, apple pie nachos at Coors Field in Colorado, lobster rolls at Fenway Park in Boston, and fried cheese curds at American Family Field in Milwaukee. And if you ever find yourself cheering on the Kansas City Royals — or the opposing team — at Kauffman Stadium, keep an eye out for a sandwich that's a bizarre blend of sweet, salty, and savory.
You can nosh on a BBQ Reese's Sandwich at Kauffman Stadium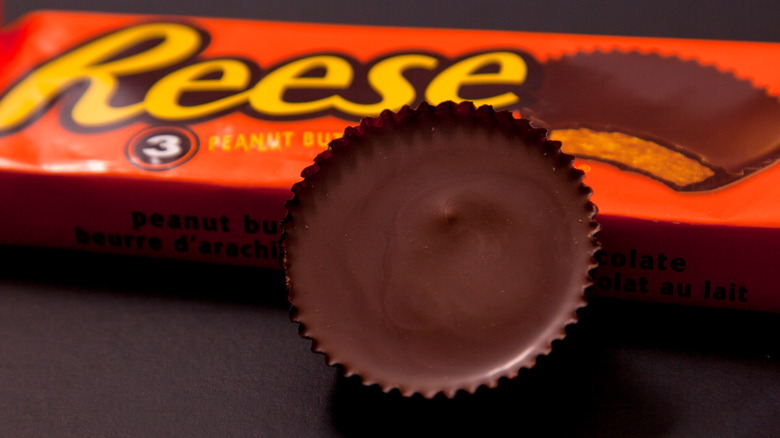 rustycanuck/Shutterstock
Reese's Peanut Butter Cups are among the most popular candies in the US, and they're even used as ingredients for a nuttier version of a s'more. But are you a big enough Reese's lover to enjoy the cult-favorite confection blended into a barbecue pork sandwich? You read that right, and it's a real offering at Royals games. So what's this head-turning, taste bud-dancing sammy all about?
To help bolster the excitement of Opening Day 2022, KMBC 9 spoke with Johnny Woychick, the head chef at Kauffman Stadium, about the origins of the outlandish handheld dish. Like many Kansas City fans, you, too, might be wondering where the idea for this recipe came from. As it turns out, back in 2016 during a bonfire with his neighbors, Woychick whimsically added peanut butter cups to some pork belly he had on hand — a medley that was met with shockingly positive reviews by him and his pals. Fast-forward several years, and Woychick developed a new "Dare to Pair" menu item inspired by the spontaneous concoction, consisting of pulled pork, Sweet Baby Ray's BBQ Sauce, Reese's Peanut Butter Cups, and bacon bits on a hamburger bun. "So far, everyone has enjoyed it, even though they're scared of it," Woychick told KMBC 9 reporter Martin Augustine. After taking a sizable bite on-air, Augustine's reaction was overtly enthusiastic, calling the sandwich "brilliant." So, go ahead ... root for the royally weird grub!