Traditional Southern Fried Apples Recipe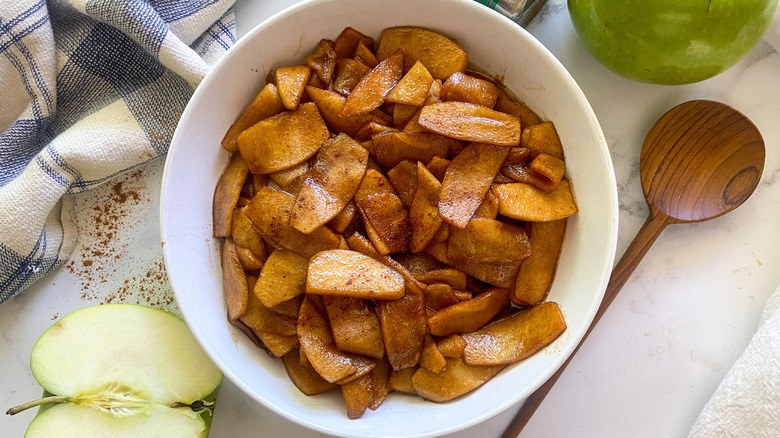 Miriam Hahn/Mashed
When it comes to dessert, most people think of ice cream or cookies as their go-to. However, some of the best desserts involve fruit, and we truly believe that desserts with fruit are highly underrated. These Southern fried apples are the perfect after-dinner treat and they have a fun history. According to Historic Union County, fried apples go way back to a time before WWII. They're popular in the South, and they would make a great ending to a good, old-fashioned Southern meal. Heck, you could even eat these for breakfast if you wanted!
Recipe developer Miriam Hahn comes up with some of the freshest and most flavorful recipes, and this one is no exception. "I love using fruit in some form for dessert..this recipe is simple yet delicious and is good on its own, or dolled up," Hahn shares. She also reveals her inspiration for this recipe. "I make apples all sorts of ways...Instant Pot, slow cooker, roasted... you name it. So this is just another version to throw in the mix," she explains.
Gather the ingredients for traditional Southern fried apples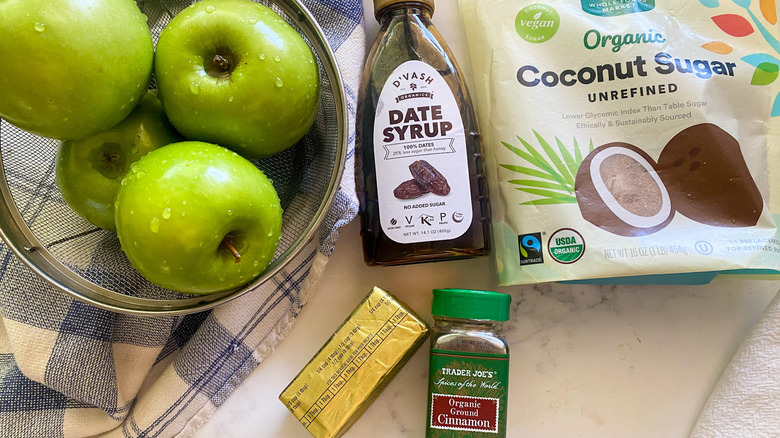 Miriam Hahn/Mashed
As with any other recipe, you will need to gather all the ingredients before beginning. Pick up Granny Smith apples, butter or margarine, coconut sugar or brown sugar, cinnamon, and date syrup.
Prepare the apples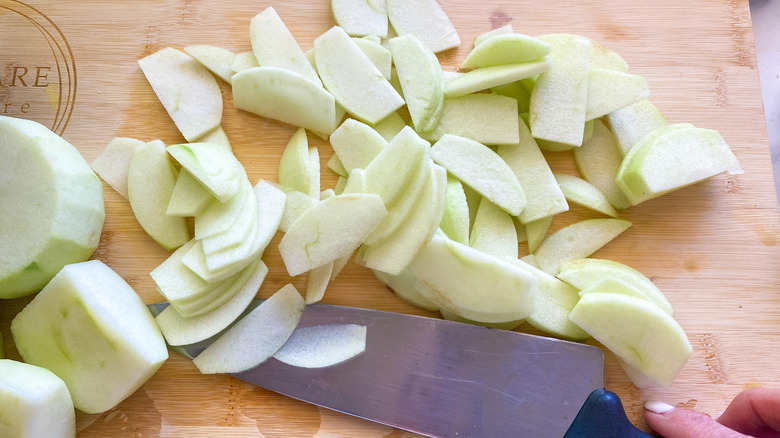 Miriam Hahn/Mashed
To begin, grab the Granny Smith apples. If you can't find any at your local grocery store, don't sweat it. "You can also make it with Honeycrisp or Fuji, but I prefer the tartness of the granny smith's best," Hahn shares. Peel the apples and remove the core from each one. Then, take out a cutting board and sharp knife and chop the apples into slices.
Heat the butter and add sugar, cinnamon, and date syrup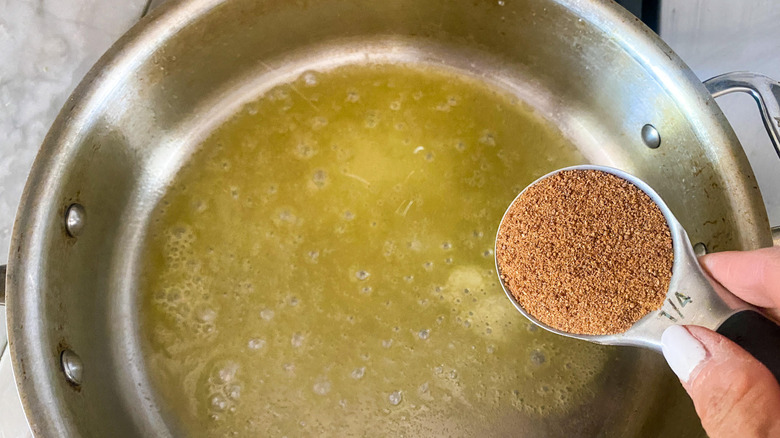 Miriam Hahn/Mashed
Place a frying pan on your stove and toss in the butter or margarine. Turn the heat up to medium and once the butter melts, you can add the sugar, cinnamon, and date syrup.
According to Hahn, the date syrup is a special ingredient that sets this dish apart from others. "It adds sweetness to anything without processed sugar and gives everything a delicious flavor," she shares. "Super easy to add in because it is smooth and pourable. Typical recipes for Southern fried apples have much more sugar, and that high amount is not needed with the addition of the date syrup."
Stir to combine the ingredients and let the mixture simmer for about 3 minutes.
Add the apples to the sauce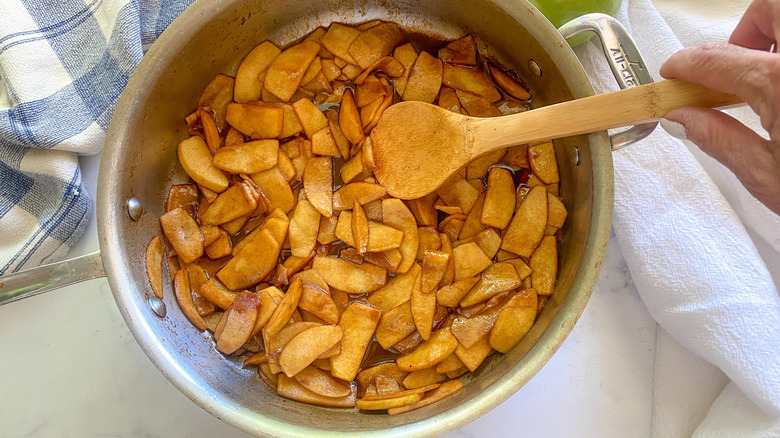 Miriam Hahn/Mashed
Go ahead and toss the apples into the sauce and stir to coat, distributing the sauce on the apples. Cook the mixture on medium heat for about 8 minutes, until the apples start to get soft. As the apples cook, be sure to stir them. 
Serve your traditional Southern fried apples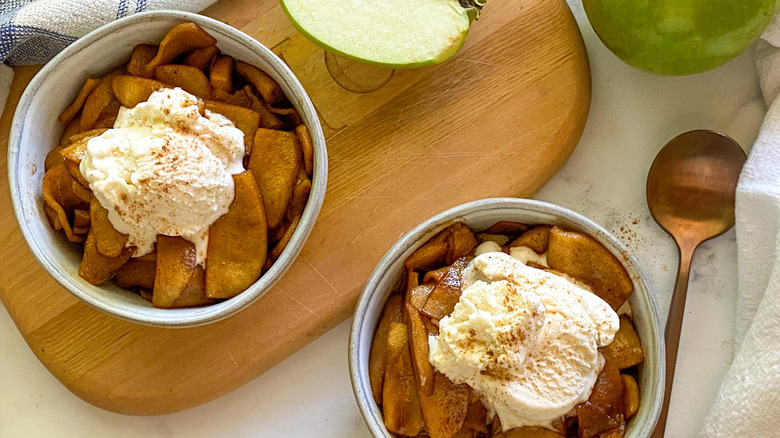 Miriam Hahn/Mashed
Remove the apples from the heat, and serve in a plate or bowl. "You can serve this plain, with ice cream, dairy-free ice cream, whipped cream, as an oatmeal topper or as a pie filling. It is super versatile and a family fave," Hahn shares.
This stuff is so good that we don't think you will have anything left, but if you do, they will last for "up to one week," Hahn shares. We hope these Southern fried apples hit the spot! 
Traditional Southern Fried Apples Recipe
These traditional Southern fried apples have the perfect hint of sweetness and cinnamon spice.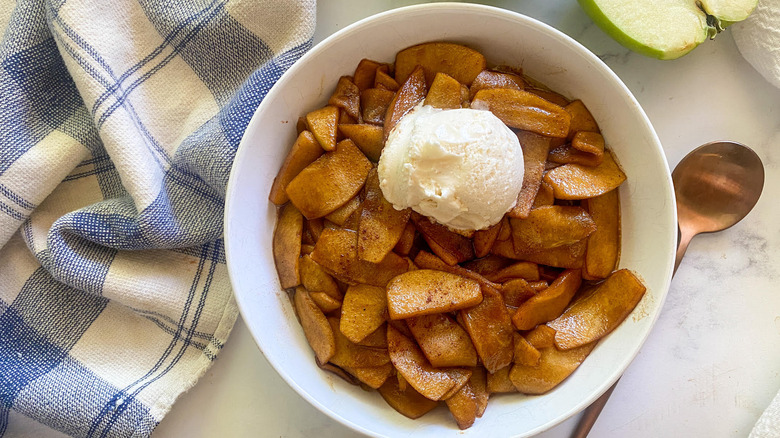 Ingredients
4 large granny smith apples
¼ cup butter or margarine
¼ cup coconut sugar or brown sugar
1 tablespoon cinnamon
2 tablespoons date syrup
Directions
Peel, core, and slice the apples
Put the butter into a large frying pan and turn to medium heat. When the butter is melted, add the sugar, cinnamon, and date syrup. Stir to combine and simmer for 3 minutes.
Add the apples and stir to coat and distribute sauce. Cook on medium for 8 minutes, stirring frequently until the apples are soft.
Ready to serve.
Nutrition
| | |
| --- | --- |
| Calories per Serving | 297 |
| Total Fat | 11.9 g |
| Saturated Fat | 7.3 g |
| Trans Fat | 0.5 g |
| Cholesterol | 30.5 mg |
| | |
| --- | --- |
| Total Carbohydrates | 48.3 g |
| Dietary Fiber | 6.8 g |
| Total Sugars | 37.9 g |
| Sodium | 11.0 mg |
| Protein | 1.1 g |