Here's Where You Can Drink Justin Bieber's New Biebs Brew Coffee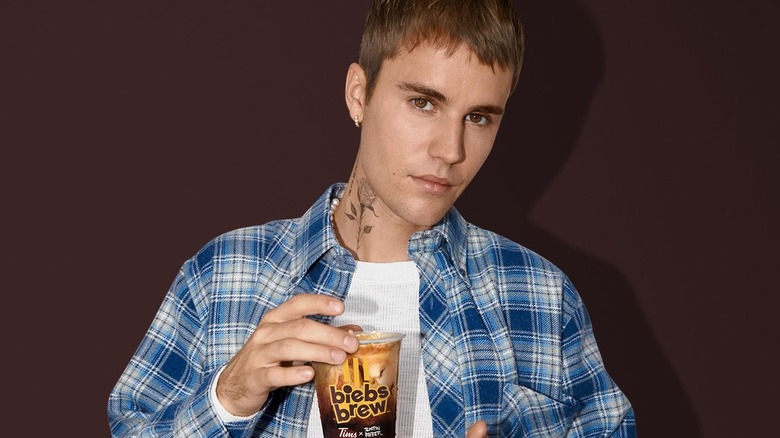 Tim Hortons
Two of Canada's most well-known exports are joining forces on a refreshing drink that will keep you caffeinated all summer long. In a press release, Tim Hortons announced the debut of its latest collaboration with popstar and notable Canadian Justin Bieber.
The Grammy-winning musician first teamed up with the Canadian coffee brand last November on a line of specialty chocolate-coated donut holes — or Timbits, as the company calls them — dubbed "Timbiebs." The popstar even appeared in a video posted to Tim Hortons' Youtube page to celebrate the extremely Canadian partnership.
After the success of their first collaboration, Bieber will soon be back on Tim Hortons' menus with a new sippable special-edition item: Biebs Brew. The specialty cold brew was a collaborative effort between the singer and the company's beverage innovation team.
The Toronto-based coffee chain recently experienced a rebound in business after experiencing a serious earnings slump in the face of the COVID-19 pandemic (via The Globe and Mail). Now, the company is hoping to continue that momentum by drawing on the fanbase of one of Canada's biggest stars.
This is the Canadian superstar's second partnership with Tim Hortons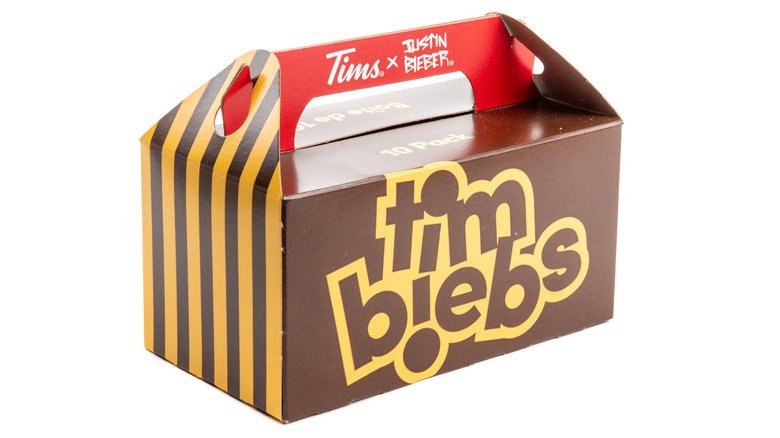 sockagphoto/Shutterstock
"Doing a Tim Hortons collab had always been a dream of mine. I grew up on Tim Hortons and it's always been something close to my heart," Justin Bieber said in a new Tim Hortons press release. For his second collab with the coffee chain, the popstar helped develop a new flavor of Tim Hortons Cold Brew featuring a creamy French Vanilla flavor inspired by the star's "love for hints of delicious vanilla flavoring in his coffee."
In addition to the Biebs Brew debut, the specialty Timbiebs donuts holes — in the flavors Chocolate White Fudge, Sour Cream Chocolate Chip, and Birthday Cake Waffle — will also be returning to Tim Hortons restaurants for a limited time. "We couldn't stop at Timbiebs, we needed a Biebs Brew too. And we are bringing both to Tims next month," Bieber said.
Hard-core Beliebers will also have the chance to snag a special-edition stainless steel Biebs Brew tumbler with a reusable straw as well as past "Timbiebs" merchandise, which will be available at select Tim Hortons locations in the U.S. for a limited time (via People). Ultimately, Bieber's cold brew and donuts will be available at Tim Hortons locations across the United States and Canada beginning on June 6. Now, once fans get their Biebs Brew, they can cook Bieber's favorite comforting food dish to connect to the star even more.