Why Reddit Applauded A Wingstop-Chick-Fil-A Combination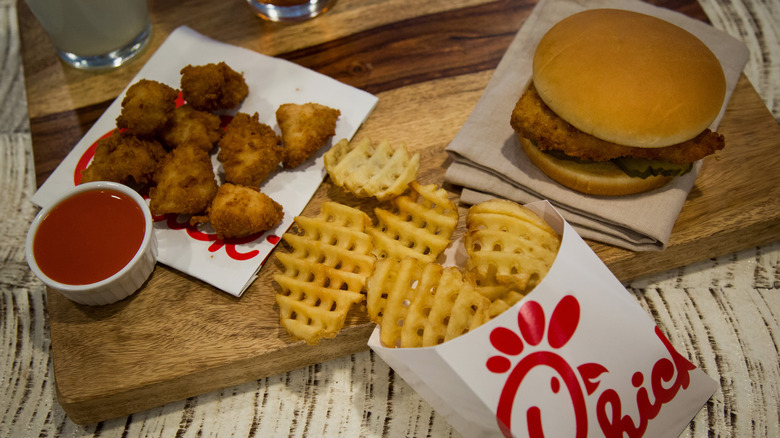 Bloomberg/Getty Images
Colloquially, Chick-fil-A is known for a few things: its sweet milkshakes, crispy waffle fries, chicken sandwiches, and flavorful dipping sauces. Whether it's the sweet and tangy taste of Polynesian sauce or the unique, creamy flavor of its signature Chick-fil-A sauce, the brand offers plenty of options to complement its food. Recognizing the popularity of the two sauces, the brand began to bottle the sauces and sell 8oz containers of its sauces in Chick-fil-A stores (via Delish).
Although Chick-fil-A doesn't share data on sauce sales, the recent expansion of stores where its 6oz bottles are sold signals it's going well for the company (via Business Insider). Alabama, Georgia, Florida, Louisiana, and Mississippi were among the first states to sell bottled sauces back in 2020. The next year, the sauces were available in an additional ten states, including Texas, Georgia, Tennessee, and more. So, while access to getting its signature condiments is expanding, some Redditors may have found another option that is just as flavorful.
Spicing things up
If you choose to stick with the traditional Chick-fil-A sauces, you can find them at favorites like Food Lion, Harris Teeter, HEB, Publix, Winn-Dixie, and Wal-Mart (via Business Insider). However, if you're looking to spice things up, the users on Reddit have a new food hack that's got fellow Reddit users' tongues wagging. They have combined Chick-fil-A's spicy chicken filet with Wingstop's signature ranch dipping sauce, and the response has been overwhelmingly positive.
"Spicy filet with Wingstop ranch 11/10," says the original poster. Other Redditors flooded the thread with comments like "Next level eating right there," "Wingstop ranch is other worldly," and "Bussin." While the spicy filet and ranch combo was the focus of this thread, nuggets and an original filet were mentioned as a substitute. With all the positive reviews this food hack received on Reddit, we can only hope for Wingstop to follow Chick-fil-A's lead and bottle their sauce.