We Finally Know Pepsi's New Mystery Product
It is not uncommon for a company to tease the release of its new products. After all, companies need to advertise their products to target audiences to make revenue. The appeal of generating buzz is nothing new, from franchises like McDonald's teasing the return of a holiday favorite to companies like Oreo exciting fans about a potential ice cream product on the horizon. And the same can be said about non-food-related teasers, like movie trailers or teasers regarding when the latest Taylor Swift album will release.
Earlier this week, Pepsi continued that trend, presenting a bold teaser of its own on its Twitter account. It put out the Batman signal, so to speak, to pizza fans, teasing a soon-to-come product that seemed to be related to pizza in some way. The tweet had fans on their toes, wondering if this somehow could indicate a pizza-flavored soda coming to shelves. Well, they didn't have to wait long for an explanation because Pepsi is ready to spill the tea, or, more accurately, the sauce.
Putting the Pep(si) in pepperoni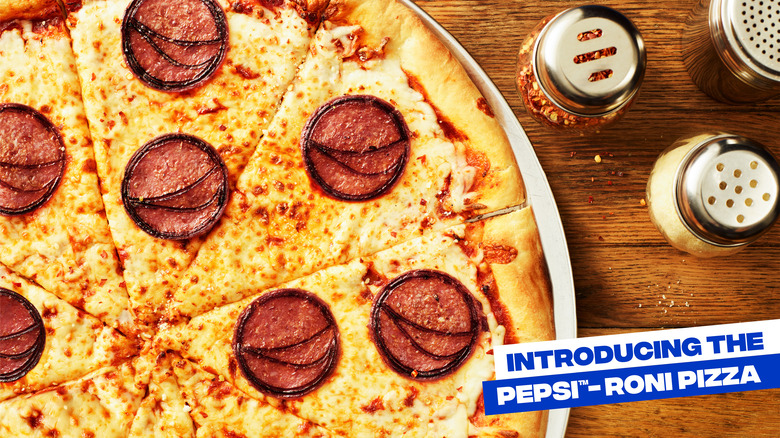 Pepsi
For National Pizza Party Day on Friday, May 20, Pepsi has partnered with the Culinary Institute of America to create a pie that celebrates the public's love for the classic Pepsi-pizza pairing. As Pepsi found in a study, "90% of people agree that Pepsi is a perfect beverage complement to pizza," and "72% of national pizza locations currently serve Pepsi (via PR Newswire).
In order to give the people what they want, Pepsi and the culinary school created the Pepsi-Roni pizza. Pepsi-Roni is a pepperoni the two companies developed in which "rich caramel notes and brown spices" in the meat are infused "with the citrusy pop of Pepsi cola" for a new form of meat that has never before been released. To add to the excitement, lovers of the flavor pairing who live in New York City have a chance to try the Pepsi-Roni pizza for themselves. For a short window of time on May 20 — that being from 11 a.m. to 3 p.m. — fans can visit Made in New York Pizza West Village for a taste. That is, until supplies run out (via Chew Boom). 
And for those who live outside of New York, Pepsi has created a contest to help fans enjoy a Pepsi-Roni-free Pepsi/pizza pairing in their own way "by getting their ice-cold Pepsi comped ... if enjoyed with pizza." How many fans saw that coming?