Best Thousand Island Dressing Recipe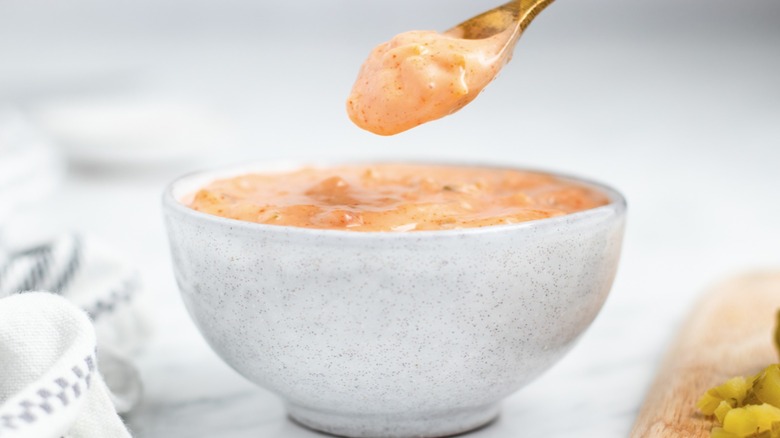 Catherine Brookes/Mashed
It's not a summer barbecue without the Thousand Island dressing. While it is super easy to purchase a store-bought version of this dressing, why would you buy this tasty condiment when you can easily make it at home with only five ingredients? This easy homemade version comes to us from recipe developer Catherine Brookes, and we think it tastes even better than what you can find in stores. There's nothing quite like the freshness of a homemade dressing.
Brookes recommends serving this Thousand Island dressing "on burgers or hotdogs, or as a salad dressing, in a sandwich or as a dip too." Thousand island dressing also happens to pair wonderfully with turkey reuben sandwiches or as a dressing for slaw in tacos. Don't let the "dressing" part fool you — sure, you can drizzle this on a salad (and it will taste delicious), but Thousand Island dressing is incredibly versatile. It's not only a dressing, but so much more, which you'll find out for yourself after you make this easy recipe.
Gather your ingredients for Thousand Island dressing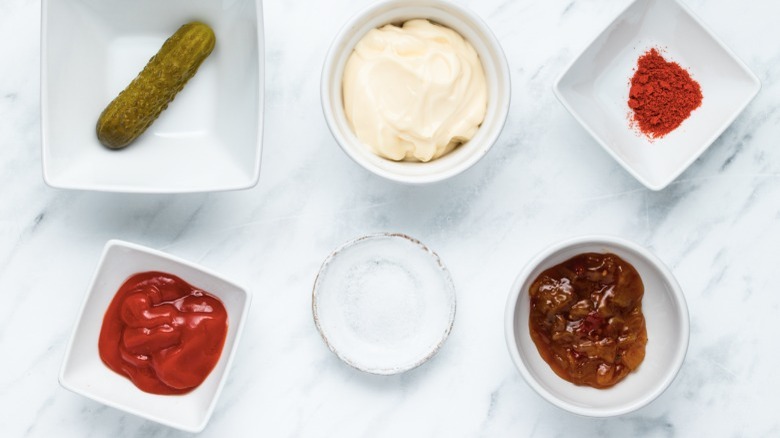 Catherine Brookes/Mashed
To make this Thousand Island dressing, you'll first want to grab the right ingredients. For this recipe, you will need mayonnaise, ketchup, paprika, sweet onion relish, a pickle, and salt.
Dice up the pickle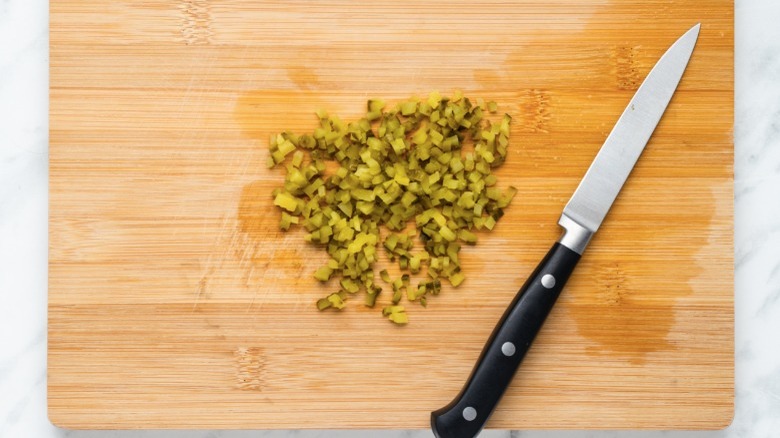 Catherine Brookes/Mashed
To start, finely dice the pickle — Brookes is using a gherkin pickle for this dressing. Notably, this recipe calls for both sweet onion relish and diced pickle. Brookes recommends using both in this recipe as the "onion relish adds more sweetness and the pickle adds some tanginess, which balances well."
Mix the ingredients in a bowl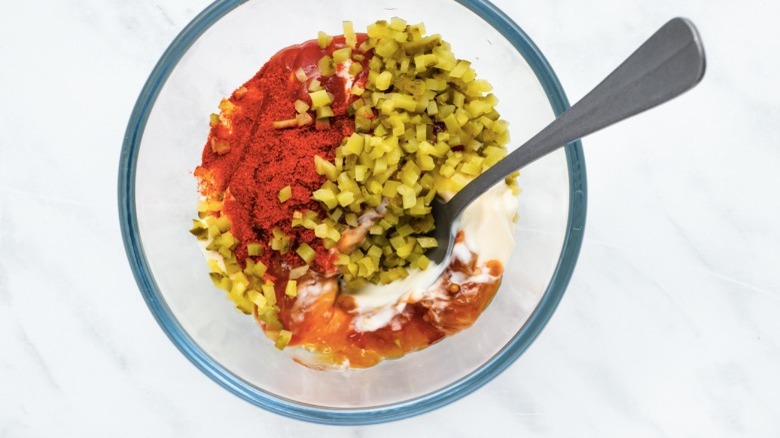 Catherine Brookes/Mashed
Next up, add all of the ingredients to a small bowl, including the mayonnaise, ketchup, paprika, sweet onion relish, and diced pickle. Using a spoon, mix well to thoroughly combine. Give it a taste, and optionally add in a little bit of salt, then stir it up again.
Serve and store your Thousand Island dressing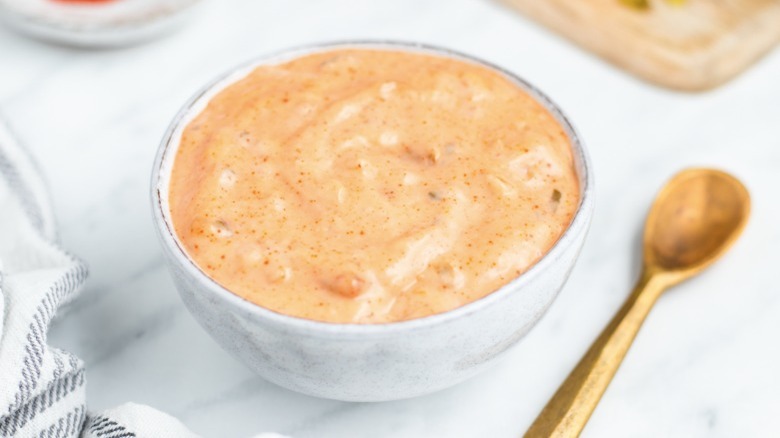 Catherine Brookes/Mashed
We told you this would be an easy one! Once all of the ingredients are combined, you're ready to either serve or store this Thousand Island dressing. As we've already discussed, there are a number of ways to serve this dressing, but don't worry if you aren't ready to use it quite yet. You can store the dressing in the fridge for up to a week, and reach for it any time you have a meal that's just begging for a tangy, creamy, subtly sweet dressing!
Best Thousand Island Dressing Recipe
This Thousand Island dressing is creamy, tangy, and just a little bit sweet — perfect on salads, burgers, or sandwiches.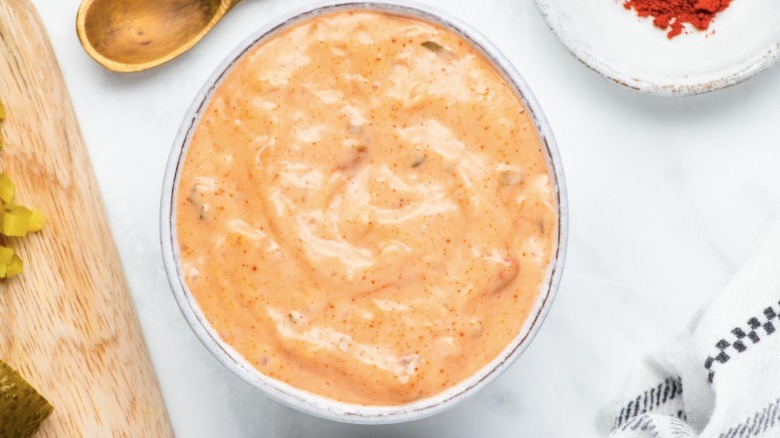 Ingredients
½ cup mayonnaise
2 tablespoons ketchup
½ teaspoon paprika
2 tablespoons sweet onion relish
1 gherkin pickle
salt, to taste
Directions
Finely dice the pickle.
Add all ingredients to a bowl and mix well.
Serve the dressing, or store in the fridge for up to a week.
Nutrition
| | |
| --- | --- |
| Calories per Serving | 110 |
| Total Fat | 11.2 g |
| Saturated Fat | 1.7 g |
| Trans Fat | 0.0 g |
| Cholesterol | 5.6 mg |
| | |
| --- | --- |
| Total Carbohydrates | 2.8 g |
| Dietary Fiber | 0.2 g |
| Total Sugars | 2.1 g |
| Sodium | 264.3 mg |
| Protein | 0.1 g |