Classic Chocolate Fondue Recipe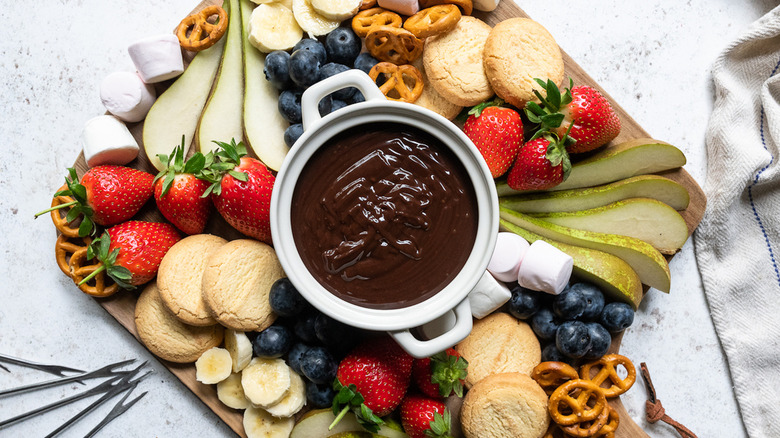 Jennine Bryant/Mashed
Fondue is one of those meals that is simultaneously luxurious yet not all that hard to make. Not only is it a meal, but fondue is a whole experience, with the endless dipping options that you can come up with. Of course, there's both cheese fondue and chocolate fondue, but this recipe is more focused on the sweeter, latter version. Recipe creator Jennine Bryant of The Marshside Pantry has made a chocolate fondue that is beautiful, decadent, fun, and perhaps best of all, easy to make. She even gives a nice list of dipping foods that really drive home this sweet delight.
"I think that the chocolate is really the stand out ingredient in this," Bryant explains. "Fondue is classically a savoury dish from Switzerland and is usually made of melted cheese. A Swiss person invented chocolate fondue as the dessert option in his fondue restaurant. I grew up in Switzerland and fondue really is a way of life out there!" Fortunately, you can enjoy a little bit of that sweet Swiss life right in your own home  — all you need to do is follow this recipe.
Gather the ingredients for chocolate fondue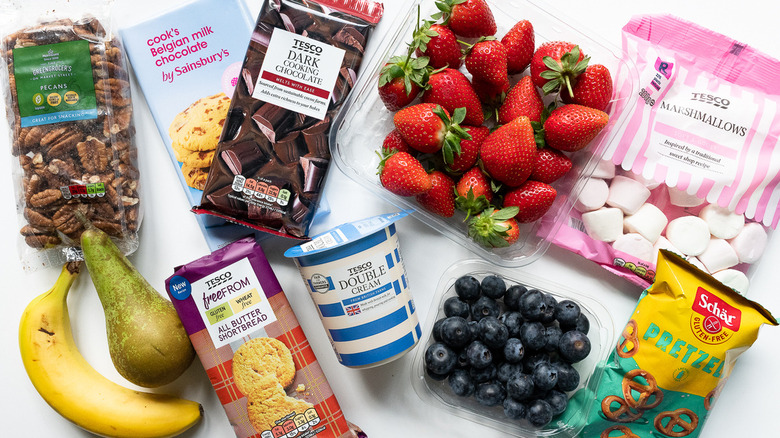 Jennine Bryant/Mashed
As Bryant already explained, the chocolate is the key to this dish, and you'll need both milk and dark chocolate. You'll also need whipping cream, which will help make the chocolate nice and creamy and smooth. As for dipping options, Bryant uses blueberries, strawberries, a pear, banana, pecans, marshmallows, biscuit cookies, and mini pretzels.
Prep the dipping foods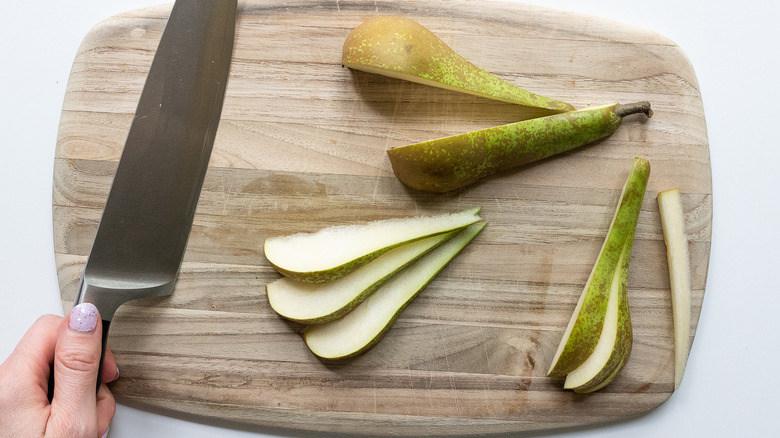 Jennine Bryant/Mashed
Start by chopping the pear and banana into thin, long slices for dipping. You can also portion out your pecans, your blueberries, strawberries, marshmallows, pretzels, and biscuits, since the main prep is heating the chocolate. Once the chocolate is hot and ready, you'll want to serve quickly so everything else should be ready to go.
Chop up the chocolate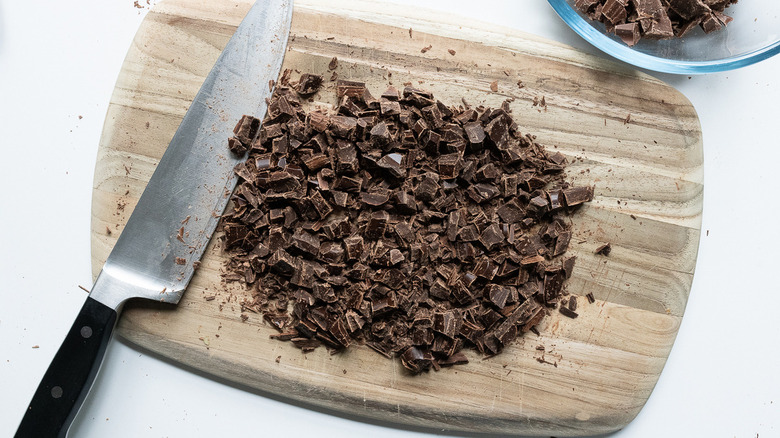 Jennine Bryant/Mashed
Chop your chocolate into small chunks. While Bryant uses baker's chocolate, you can also use pre-chopped chunks. The combination of dark and milk chocolate give a rich and creamy flavor to what will eventually be your fondue dip. Once all chopped, place the chocolate chunks in a medium-sized, heat-resistant bowl.
Heat up the whipping cream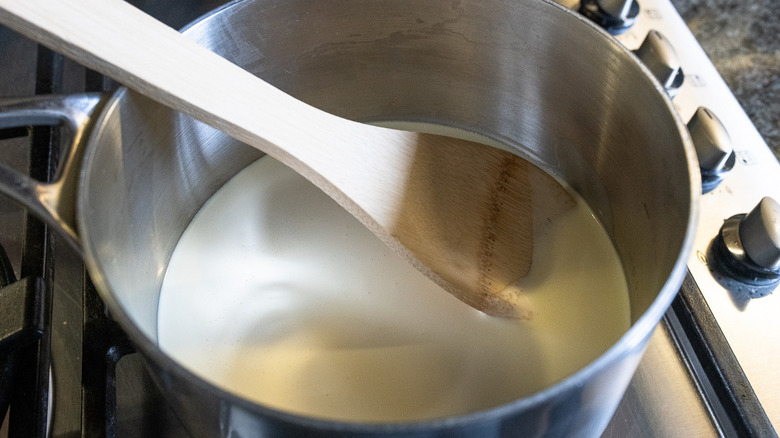 Jennine Bryant/Mashed
Spoon the whipping cream into a saucepan and gently warm it up to a temperature that could melt the chocolate. "It's important to keep the pan on a low to medium heat while warming the cream," Bryant explains. "It should get hot but not boil, and it's easier to do it slowly so you can keep an eye on the process." 
Mix the cream into the chocolate chunks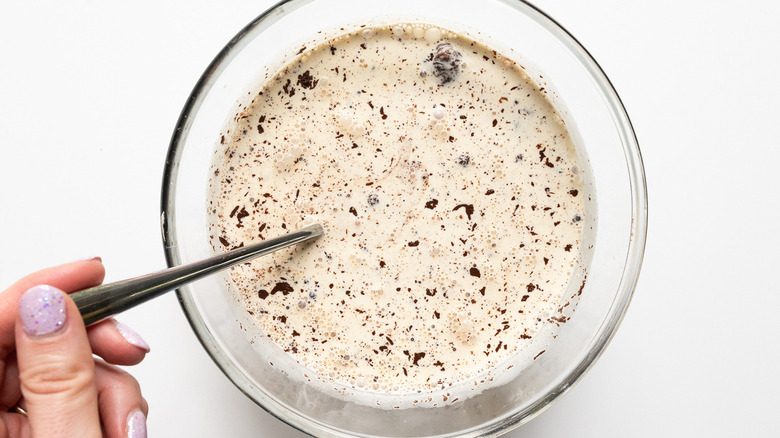 Jennine Bryant/Mashed
Once the cream is heated up enough, remove it from the stove and pour it into the bowl with the chocolate chunks. Mix this with a fork to fully melt the chocolate chunks with the cream, thus making a glossy, creamy, and decadent fondue.
Serve the chocolate fondue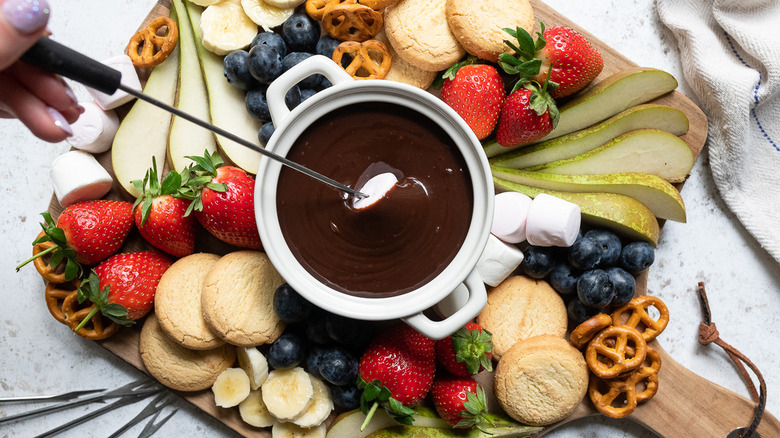 Jennine Bryant/Mashed
Fondue is definitely one of those meals where presentation adds a lot. Transfer the chocolate fondue to a clean bowl that you can place in the middle of a tray, surrounded by the dipping foods. 
"The traditional utensils for a fondue are a fondue pot (which often comes with a stand and a little candle underneath to keep the melted contents warm) and fondue forks, the thin, three pronged forks you can see in the photo," Bryant explains. "However, with chocolate fondue it's important not to overheat the mixture so it's best in a bowl that can be used for dipping rather than over a candle." Of course, you can just use your hands to dig right into the goodies, and you'll savor in the simple decadence that is this classic chocolate fondue!
Classic Chocolate Fondue Recipe
When it comes to decadent desserts, you can't go wrong with this classic chocolate fondue recipe.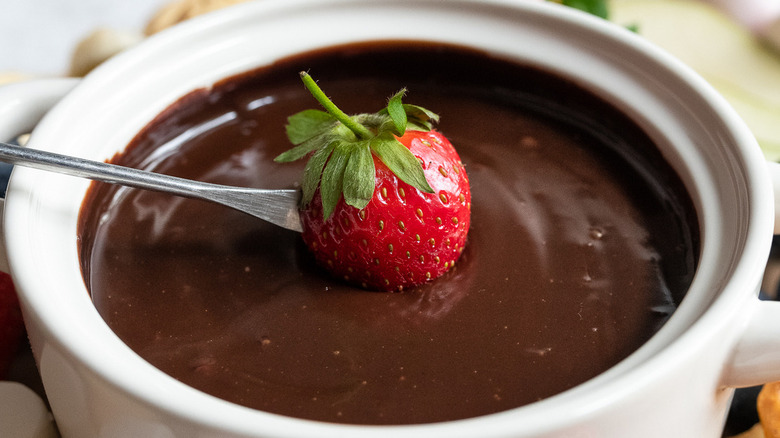 Ingredients
1 pear
1 banana
1 cup blueberries
2 cups strawberries
½ cup pecans
2 cups marshmallows
8 plain biscuits
¾ cup mini pretzels
7 ounces milk chocolate
5 ounces dark chocolate
1 ⅓ cups whipping cream
Directions
Chop up the pear and banana, and prepare any other dipping foods (including the blueberries, strawberries, pecans, marshmallows, biscuits, and mini pretzels) on a platter.
Chop up the chocolate into small chunks and place them into a medium-sized bowl.
In a saucepan, gently warm the cream until it is hot but not boiling.
Remove the pan from the stove and pour the hot cream over the chocolate in the bowl. Mix with a fork until the chocolate has fully melted and the fondue is glossy and smooth.
Transfer the chocolate fondue mixture to a clean bowl and serve straight away with the prepared dipping foods.
Nutrition
| | |
| --- | --- |
| Calories per Serving | 1,847 |
| Total Fat | 98.1 g |
| Saturated Fat | 43.0 g |
| Trans Fat | 0.0 g |
| Cholesterol | 107.0 mg |
| | |
| --- | --- |
| Total Carbohydrates | 218.9 g |
| Dietary Fiber | 15.8 g |
| Total Sugars | 72.1 g |
| Sodium | 1,787.7 mg |
| Protein | 29.5 g |