The Honey Nut Cheerios Commercial You Probably Forgot Nelly Was In
Rapper Nelly has had quite a storied career, from dominating the charts in the 2000s with chart-topping hip-hop hits like "Dilemma" and "Hot in Herre" to finding renewed chart success in the country music sphere with hits like "Cruise Control (Remix)" featuring country superstars Florida Georgia Line (via Billboard). According to Billboard magazine, Nelly ranks number 75 among the most successful artists on the Hot 100. That's a lot of hits. Despite the changes in musical trends, the superstar remained relevant 20 years after his debut album, "Country Grammar," dropped.
With such a long career, some projects inevitably tend to fade from our collective memory. Like singer Usher's forgotten Twix Commercial, Nelly was tapped by cereal giant General Mills to promote Honey Nut Cheerios. If you've forgotten all about this collaboration, don't fret, we've got you covered. Let's take a walk down memory lane to revisit this long-forgotten gem. 
Must be the honey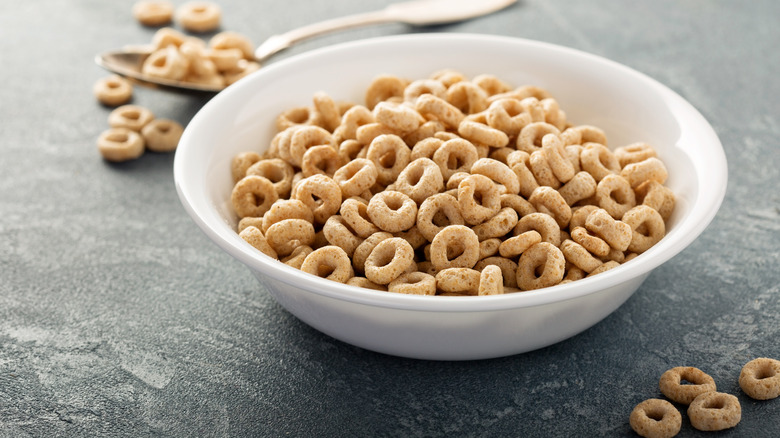 Elena Veselova/Shutterstock
In 2013, General Mills teamed up with St. Louis rapper Nelly for their "Must be the honey" campaign for Honey Nut Cheerios (via BET). The campaign's title takes inspiration from Nelly's hit song "Ride with me" from his debut album "Country Grammar." When discussing his decision to partner with the brand, Nelly said, "I've worked with some very talented artists and thought — I think it's about time I work with the Bee."
In the video, the Honey Nut Cheerios Bee dances to a rewritten version of Nelly's "Ride with Me." Backed by a troop of dancers, the Bee changes from his classic T-shirt into a black shirt with yellow stripes. He and the dancers are breaking it down inside a honeycomb. We see vivid images of Cheerios, an iced-out Cheerios cereal box, and booking speakers throughout the 30-second clip. While Nelly didn't make an appearance, the video does a great job capturing the hip-hop essence of the song. In 2021, Nelly found success again when his song "Hot in Herre," was used for Lay's Flamin' Hot potato chips campaign (via Variety). Nostalgia and Nelly appear to be a winning formula, and we can't wait to see what he has in store in the future.