Another Fan-Favorite Item Just Came Back To Taco Bell For A Limited Time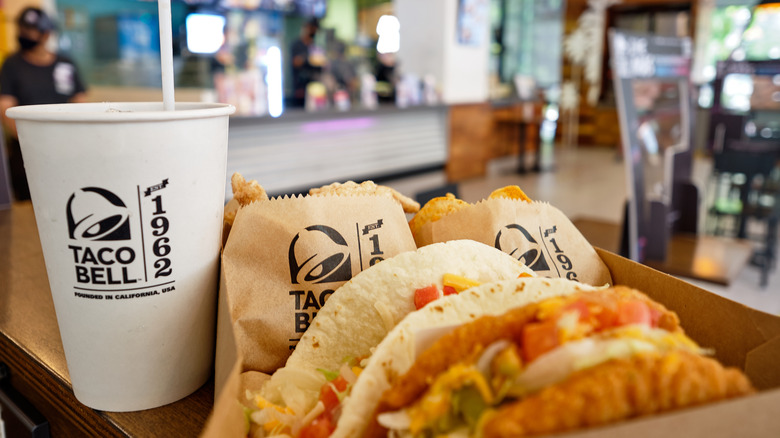 KULLAPONG PARCHERAT/Shutterstock
Taco Bell has been in the news a lot lately, starting when the company confirmed the date of the Mexican Pizza's return, and continuing when, well, the internet wasn't very impressed by the Mexican Pizza after all. There's been so much focus on the Mexican Pizza and all of the surrounding drama that Taco Bell fans might have missed the return of another fan-favorite item, one that was so missed when it was originally removed from the chain's menu that more than 1,000 fans even signed a Change.org petition begging for the restaurant to bring it back. The item in question? Taco Bell's Toasted Cheddar Chalupa. 
Taco Bell's regular chalupas are made with a crispy fried flatbread shell that's stuffed with the classic Taco Bell filling of meat, cheese, lettuce, tomatoes, and sour cream. The Toasted Cheddar Chalupa ups the ante on flavor, thanks to the toasted 6-month aged cheddar on the outside of the shell (via Taco Bell). It sort of gives the whole thing a Cheez-It Extra Toasty vibe. The Toasted Cheddar Chalupa is only back for a limited time, but there are a few different ways to enjoy it while it's here.
How to order a Toasted Cheddar Chalupa
As Chew Boom reports, Taco Bell's Toasted Cheddar Chalupa (TCC) is already back in stores. The standard TCC comes with seasoned beef inside, but you can also get it with chicken, steak, or a vegetarian version that's filled with black beans. You can order a TCC as a stand-alone item for about $4.19 (prices vary based on location), as part of a Toasted Cheddar Chalupa Box that comes with a Crunchy Taco, Cinnamon Twists, and a medium drink for $5.49, or as part of a Toasted Cheddar Chalupa Deluxe box for $7.49 that's loaded up with not one but two TCCs (one beef, one chicken), a Beefy 5-Layer Burrito, a Crunchy Taco, Chips and Nacho Cheese, and a medium drink.
Fans on the Taco Bell subreddit have been longing for the return of the Toasted Cheddar Chalupa for a while now. One Reddit post included this desperate plea: "I think about the Toasted Cheddar Chalupa almost every time I pass a Taco Bell I miss it so badly please if anyone knows when its coming back please give me the info." Now that it's finally back, the reviews are in, and they're pretty positive. "The Mexican pizza was kind of whatever but holy s**t the toasted cheddar chalupa was one of the best chalupas I've ever had from TB," raved one satisfied fan (via Reddit). Here's hoping superfans don't have another emotional crisis when this limited time offering is taken off of the Taco Bell menu yet again.