Alex Guarnaschelli's Tip For Grating Ginger Will Save You So Much Time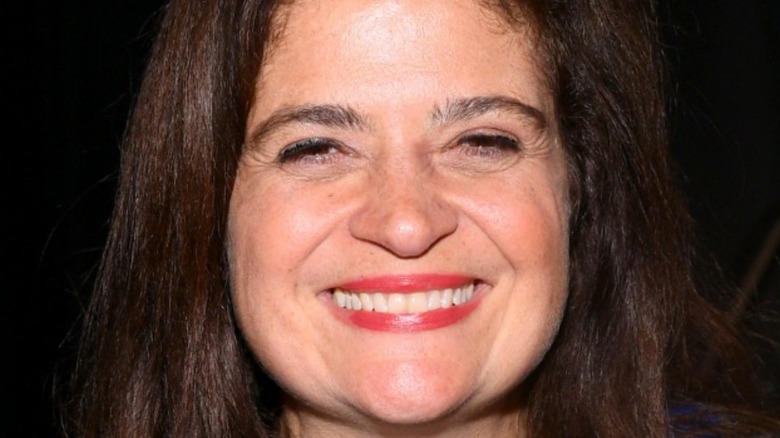 Credit: Dave Kotinsky/Getty
What would Alex make? The oh-so-knowledgeable Food Network star and Iron Chef, Alex Guarnaschelli, always surprises viewers when she challenges herself — appealing to home chefs to do the same — to make something fabulous with limited (and often strange) ingredients in a less-than-kitchen-y setting.
Unlike the chefs on Guarnaschelli's "Supermarket Stakeout," you are (most likely) making a meal in your kitchen — or a reasonable facsimile — with the appropriate equipment and ingredients. You've gathered everything you need to whip up a fabulous dish for a romantic date, dinner party, or family get-together. The recipe calls for grated ginger, so you rummage through your kitchen gadget drawer and start to panic. Oh no, you can't find the peeler.
Listen to your inner Guarnaschelli and don't sweat it. Even though the Food Network calls the "Chopped!" judge "the most feared and accomplished competition cook in America," she wants to make it easier for you to cook at home. On her TikTok channel, the owner of Butter restaurant in NYC posted a video that encourages viewers to ask questions.
One fan inquired, Do you peel ginger before grating it? And while one TikTok follower shared that the chef once encouraged peeling ginger with a spoon, it seems there comes an even easier method.
Alex Guarnaschelli shocks TikTok fans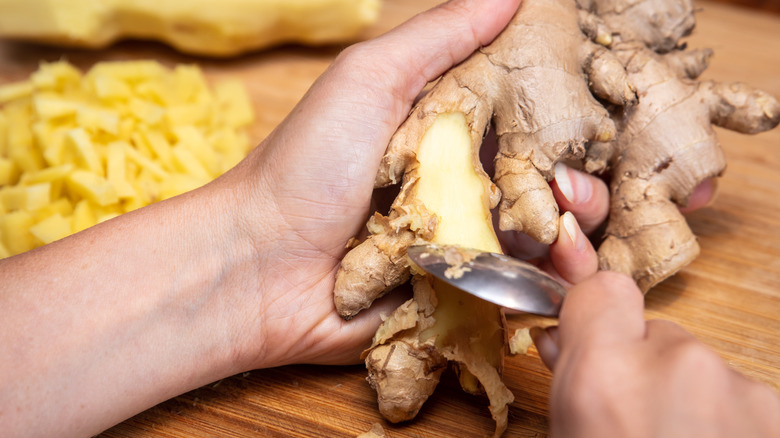 Martin Frommherz/Shutterstock
"I don't. I actually don't," answers Guarnaschelli in her 7-second TikTok video. "The skin has a lot of taste, which I like." While this generated some less-mature comments, fans mostly responded in agreement and appreciation. One user exclaims, "Wait I don't HAVE TO?? All this time I thought it might be bad for you or something because everyone says to do it lol." Another fan says, "Awesome, I hate trying to peel ginger. Not doing it anymore. Thanks!"
Below the video, Guarnaschelli writes "I just grate ginger, skin and all, on a Microplane grater or I juice it and use it in sauces, soups, salad dressings. It's one step I skip in the kitchen and I honestly think ginger tastes better when the skin is eaten with it."
Of course, some viewers have their own opinion on this, with one sharing that it's not always advisable to include the peel. Another says "It depends on context. For chai (tea), we peel ginger or else it tastes bitter."
Perhaps the celebrity chef wasn't always comfortable with eating the peel, but her more recent recipes don't mention peeling the ginger. Guarnaschelli has a great tip for peeling asparagus, though.