Trader Joe's Shoppers Are Cheering For A Fan-Favorite Dessert's Return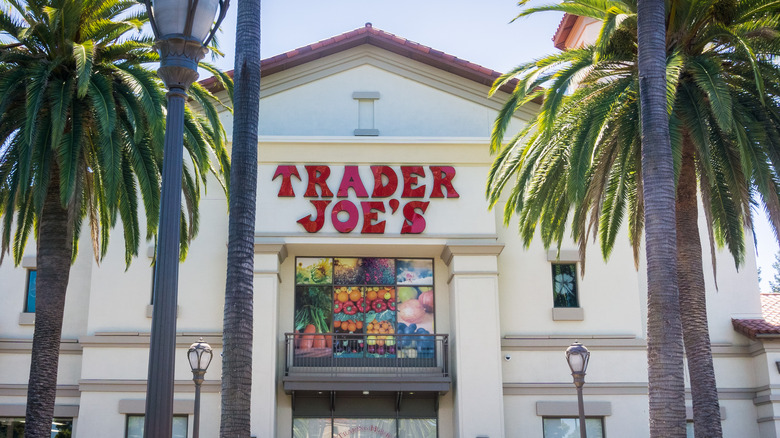 Sundry Photography/Shutterstock
Plenty of Trader Joe's food items have a cult following and for good reason. In addition to carrying a wide variety of products, says Forbes, Trader Joe's also prides itself on samples, personality, and low prices. Business Insider adds that, unlike other grocery stores, Trader Joe's appeals to both "the health-conscious" and "the penny-pinching," therefore bringing in a more diverse crowd.
Each year, Trader Joe's shoppers vote for their favorite items. According to this year's Customer Choice Awards, Trader Joe's best food is its Mandarin Orange Chicken. Other favorites include peanut butter-filled pretzel nuggets, soy chorizo, and mini ice cream cones (via Trader Joe's).
Speaking of mini ice cream cones, Trader Joe's recently brought back its fan-favorite mini cheesecake cones, just in time for summer. Once news got out about this dessert's sweet return, fans took to social media to share their excitement — and we're talking tens of thousands of fans. 
Mini cheesecake cones take the Trader Joe's world by storm
Trader Joe's List sent Instagram into a tizzy when it posted about the return of the mini cheesecake cones. The post has received more than 19,000 likes and over 400 comments (and counting) in less than 24 hours. The cones are described as "delicate" but having "the perfect crunch," as well as coated in almond bits and stuffed with cheesecake filling. A box of four sells for approximately $4.29, the post states.
Most comments about the mini cheesecake cones were ecstatic, saying things like "love these so much," "sounds great," and "omg need." Others tagged their friends and family in hopes of making a Trader Joe's run to get the dessert.
However, not everyone is loving this sweet treat. What problem could Trader Joe's fans have with its returning cheesecake cones? Well, many people feel that the cheesecake cones don't actually taste like cheesecake. One person wrote on the Instagram post, "I think these are delicious but taste nothing like cheesecake to me." Others simply said they wouldn't buy the cones again.