The Unusual Ingredient You Should Add To Beef Stew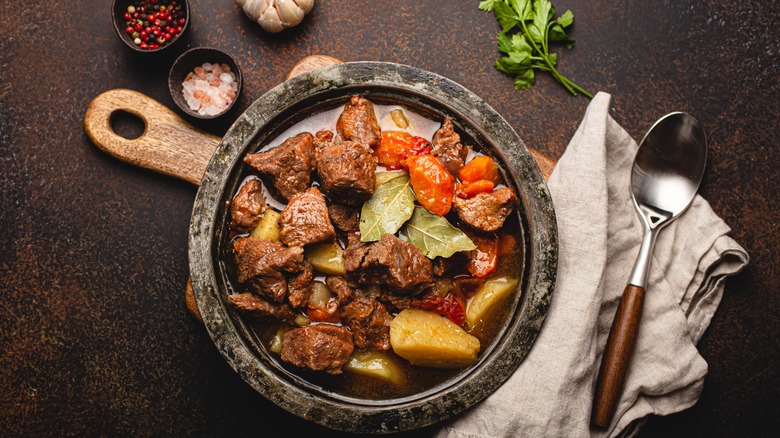 Elena Eryomenko/Shutterstock
A passionately cooked food can deliver lip-smacking flavorsome goodness and be truly satisfying pageantry. It's like poetry in motion for our taste buds. Take an example of beef stew, a hearty and comforting meal with juicy and tender meat pieces that give us heavenly joy and internal bliss — are you feeling hungry? Although there are many amazing comfort foods, there's no denying beef stew offers everything to be the go-to option when the temperature drops and your body wants internal warmth and coziness. And if that's not enough, beef stew makes delicious leftovers.
There are hundreds of ways to cook beef stew, and they all ensure the meat becomes tender and silky in an intensely-flavored savory sauce. Most importantly, its versatility enables you to experiment and try different recipes easily. For instance, this hearty beef stew recipe is one you should try at least once. 
The next time you try to cook beef stew with enthusiasm or whatever you're feeling at that moment, you might not find the right momentum from the outset. And even previous bad memories associated with cooking beef stew might haunt you (we've all been there). But with one unusual ingredient, you might be able to pull it off quite magnificently. 
This secret ingredient might surprise you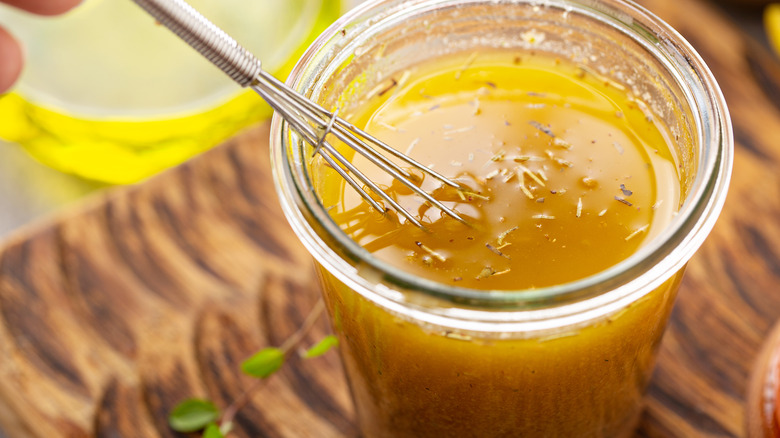 Elena Veselova/Shutterstock
Italian salad dressing uses ingredients like vinegar, lemon juice, and olive oil instead of cream, offering a variety of healthy ingredients. Moreover, it enhances the food by giving a tangy, bold taste. It would be best to go for a homemade Italian dressing recipe for a beef stew instead of a creamy Italian or a store-bought dressing. You could try our copycat Olive Garden dressing; it uses white and tarragon vinegar, garlic powder, and Romano cheese to add a strong punch of flavor. 
For your beef stew endeavor, cook the meat in Italian salad dressing until it's evenly browned. Next, add other ingredients before cooking it for a couple of hours to ensure the meat is succulent (via Food.). You can experiment with vegetables or add mushrooms for more nutritional benefits. And there is a spring version of beef stew from Martha Stewart that you should try, too. 
No matter when you cook it, you'd want to avoid some common mistakes everyone makes when cooking beef stew-like not using tough cuts of meat, overcooking the meat, or over-thickening the stew. Don't forget to turn beef stew into a memorable feast by serving it with side dishes like roasted potatoes, mashed potatoes, or creamy polenta.