Taco Bell Just Opened The Drive-Thru Of The Future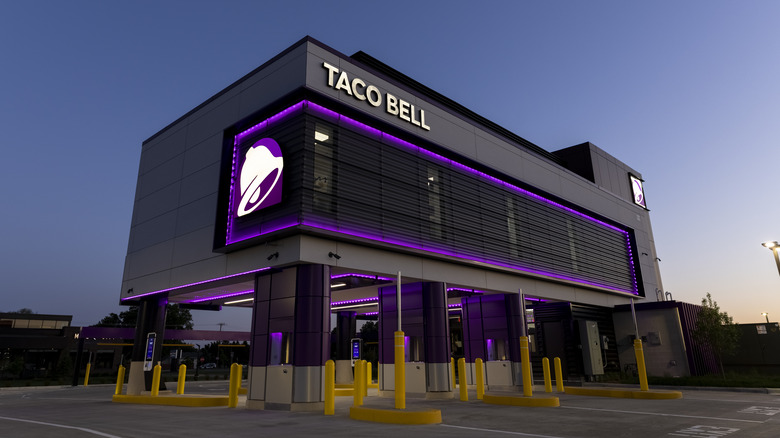 Taco Bell
After 60 years in business, the fast-casual Mexican chain Taco Bell is attempting to reinvent the age-old drive-thru process. In a press release, the company announced the opening of its most technologically advanced location yet complete with digital order screens, personalized QR codes, and a futuristic burrito delivery system. The brand first unveiled the plans for the new 3,000 square-foot location last August, teasing a "revolutionary pickup experience" that promised to be "the fastest way ever to get Taco Bell." The Brooklyn Park, Minnesota-based location — which has been dubbed 'Taco Bell Defy' — will officially open its doors (or rather, its lanes) to the public today.
The two-story futuristic Taco Bell location features four car lanes for an optimized drive-thru experience and was designed with the help of the Minneapolis-based design firm Vertical Works, which helped create and implement the company's vision for a speedy, contactless fast food delivery system. The Taco Bell Defy location is equipped with a proprietary lift that delivers orders to hungry customers via clear tubes once the customer has placed an order via the digital check-in screens. Although the futuristic lift system eliminates face-to-face interactions, customers will be able to communicate with Taco Bell workers via a two-way audio and video system.
The drive-thru only Taco Bell will feature contactless delivery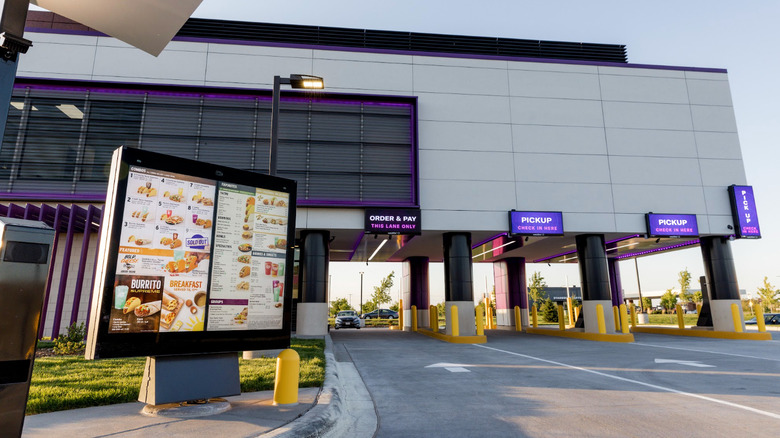 Taco Bell
This efficient ordering and delivery system was designed to cut down customer wait times as much as possible. "Taco Bell Defy aims to reduce service times to two minutes or less, all while providing fans with a fun, easy and seamless drive-thru experience," the brand said in a press release. "To do this, the restaurant model will solve many challenges of traditional drive-thrus in order to drive convenience for fans." Customers will be able to place their Crunchwrap Supreme orders via three unique methods: pre-orders through the Taco Bell app, delivery orders through third-party delivery partners, and traditional drive-up ordering on digital check-in screens.
"Taco Bell Defy is an incredible innovation for our brand, and one that's meeting our consumer in a really unique way," said Taco Bell President Mike Grams of the company's most high-tech restaurant to date. "For decades we've been committed to providing a fast, safe and friendly drive-thru experience; now with our bold goal of creating a two minute or less drive-thru experience for customers of this concept, Taco Bell Defy is the future." While the chain's latest restaurant is undoubtedly their most futuristic yet, whether or not the latest Taco Bell location will be able to supply enough Mexican Pizzas to meet the demands of hungry customers is another question altogether.