How The Denny's Grand Slam Got Its Name
Denny's has long been a staple of the American breakfast scene, offering an oasis of pancakes and hearty plates of eggs no matter how late or early it may be. The breakfast-oriented diner has been around since 1953 when it first opened as a donut shop in California, growing into what it calls "America's diner" with over 1,400 locations across the United States (via ScrapeHero).
One of the chain's most famous entrees is the Grand Slam — a veritable breakfast buffet of two buttermilk pancakes, two eggs, bacon, and sausage. While the Grand Slam has had a few variations, such as the Belgian Waffle Grand Slam or the relatively healthier Fit Slam, the classic combination of pancakes and bacon has always remained a popular favorite. But have you ever wondered how exactly the Grand Slam got its name to begin with? Is it because it's a "grand slam" of savings for breakfast lovers? Is it because Denny's is boasting its pancakes are a "grand slam" of flavor?
In the words of Terry Cashman, we're going to have start "talkin' baseball."
The Grand Slam was named for Hank Aaron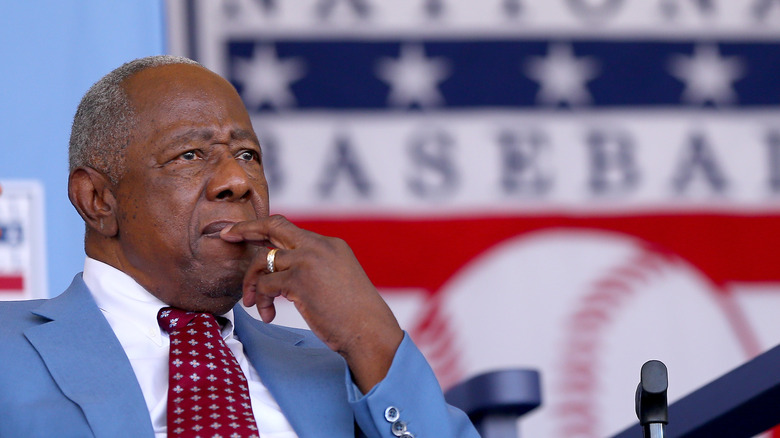 Elsa/Getty Images
Any baseball historian will tell you that there are men of near-mythic power in our national pastime, and one of those men was Hank Aaron. A right fielder in the Milwaukee Braves, the National Baseball Hall of Fame describes Aaron's achievements as something out of a book of legends. In 1957, Aaron not only accomplished a season of 44 home runs and 132 RBI, but also helped to secure a victory for the Braves in that year's World Series Championships. In 1973, Aaron drove his way into the history books yet again by achieving 715 home runs, beating the previous record of 714. That prior record was held by none other than baseball giant Babe Ruth.
While this is nothing short of impressive, you may be wondering what baseball legend Hank Aaron has to do with breakfast at Denny's. According to Thrillist, the diner introduced the Grand Slam for the first time in Atlanta all the way back in 1977 as a tribute to Aaron. "Grand slam" in baseball terms, per the MLB, refers to when all bases are loaded and the batter hits a home run. Although Denny's has yet to honor any other players with breakfast bonanzas, the diner hasn't stopped paying tribute to America's pastime. In the summer of 1991, Denny's ran a promotion involving baseball cards and free Grand Slam breakfasts (via Sports Collectors Daily).