Adrienne Bailon Houghton Has A Bizarre Tuna Salad Hack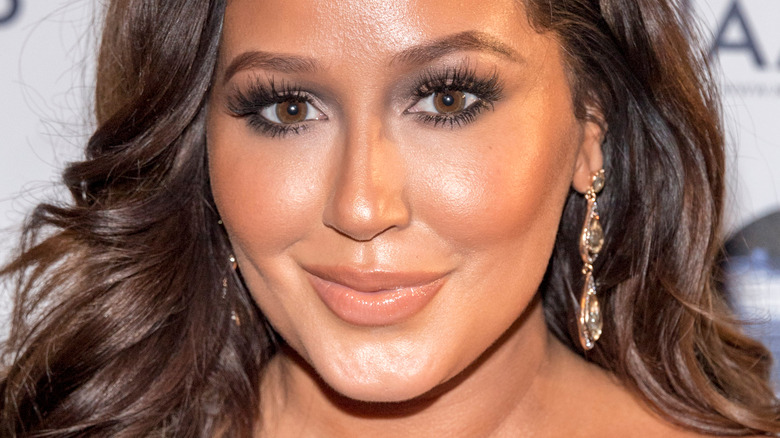 Eugene Powers/Shutterstock
When you think of tuna salad, you might picture something very different than the person next to you. Some people use oil-packed tuna for tuna salad. Others add spices to tuna salad to make each experience unique. Still, others opt for a summery seared ahi tuna salad.
All that said, there's nothing wrong with trying new ingredients. You might discover exciting new flavors or texture combinations. For example, many Redditors recommend adding crunchy chunks of apple, crispy bacon, and even cubed cheese to this dish.
Needless to say, with so many tuna salad variations in existence, there are bound to be a few recipes on the interesting side. For instance, one tuna salad recipe calls for the strange combination of curry and parmesan cheese (via All Recipes). Another recipe, per The Kitchn, brings together tuna salad and a bacon, egg, and cheese breakfast sandwich.
However, all of these unusual recipes pale in comparison to one former Disney star's favorite way of whipping up a tuna salad. 
Former Cheetah Girls star has a juicy hack for tuna salad
If you knew Adrienne Bailon Houghton as a Cheetah Girl, you can now know her as the celeb who adds fruit punch to her tuna salad. Yes, you read that correctly. After mixing up a basic tuna salad, Houghton adds "a splash" of fruit punch, according to Today.
Within the weird foods episode of her YouTube series, Houghton claims that the fruit punch gives her tuna salad "mad flavor." She goes on to explain that, as a high schooler, she had "really high-end taste buds with a really low-class budget."
Fans were understandably taken aback. One commented, "She thought the argument was gonna be about the mayo and Miracle Whip thing, acting like the fruit punch is the normal part." Others said they were on board with putting fruit punch in tuna salad until Houghton dipped her sandwich into the juice. One fan went so far as to describe their reaction: "dying on the inside and seeing life flash before my eyes."
Although fruit punch with tuna salad is definitely unconventional, it sort of makes sense. The secret ingredient you should be adding to your tuna salad is actually sugar, both for sweetness and to take the edge off the fishy flavor.