A Mountain Dew Favorite Is Returning To Stores This Summer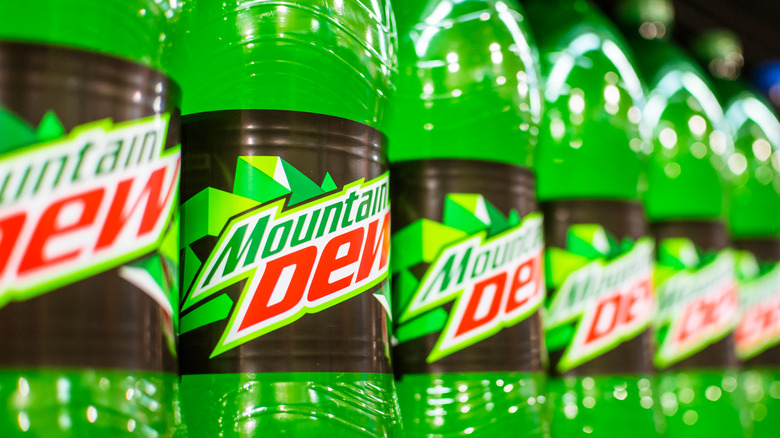 MDV Edwards/Shutterstock
When you think of refreshing summer drinks, you might imagine the perfect lemonade, tangy but sweet, or ice-cold frozen summer cocktails. What probably doesn't come to mind is Mountain Dew. While you can find regular old Mountain Dew in stores during any season, Baja Blast is a little harder to come by since it's usually only offered at Taco Bell locations. But for the summer, Baja Blast often makes a limited-time appearance in stores, and Food & Wine just reported that Baja Blast is back and on grocery store shelves.
While that alone would be exciting enough, there's a little more news that soft drink devotees will be happy to hear: Food & Wine explains that there are also new flavors of Baja Blast being released, including Mtn Dew Baja Mango Gem and Mtn Dew Baja Gold. Respectively, these drinks are mango and pineapple flavored. A zero-sugar version will also be available, along with a Baja Blast energy drink — ostensibly for those seeking extra blast.
Baja Blast fans are posting their hauls on social media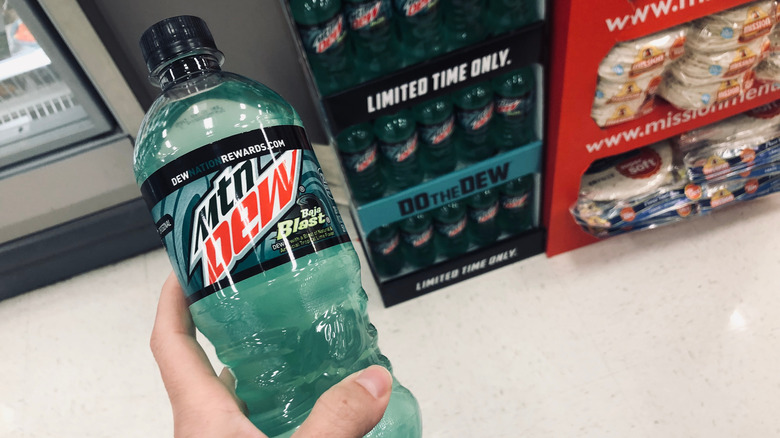 melissamn/Shutterstock
Since it's not available in stores all year, it's no surprise that avid fans of Baja Blast are already roaming about looking for cases of the stuff. On the r/mountaindew subreddit, one Baja Blast drinker posted a photo showing off a trunk full of Baja Blast — 12 cases in total. In response to a comment, the original poster, u/Benzona stated, "this will last me until next summer."
On Twitter, user @jihn_boii posted a photo of a few different flavors of Baja Blast with the caption "Baja blast haul today, still missing mango gem." And one Mountain Dew-loving user on Instagram captioned their post of a vending machine filled with the cult-favorite soda, "The Return of the King."
If you're not sure where to look for Baja Blast, Pepsi's got you covered. This is likely a fairly common question since it's on the company's FAQ page, and there's a product locator to help fans find their favorite sodas. Of course, you can also grab some Baja Blast at your nearest Taco Bell, and if you want to try making a Baja Blast drink in your own kitchen, there's a nifty copycat recipe for Taco Bell's Baja Blast Freeze.