4 Types Of Clam Chowder And What Makes Them Different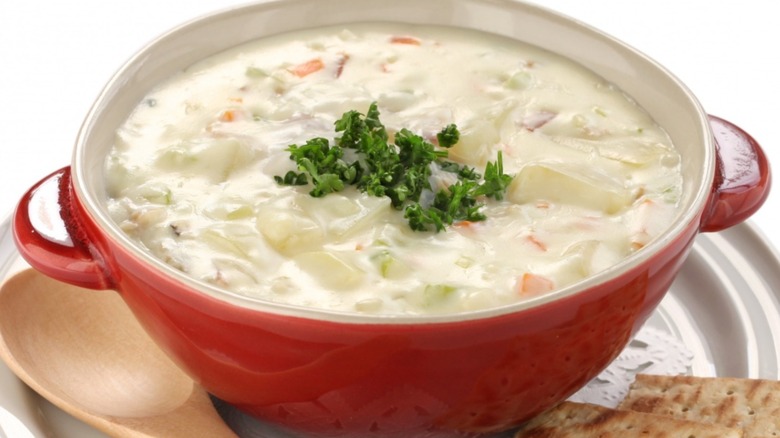 bonchan/Shutterstock
We may receive a commission on purchases made from links.
White or red? If you are a New Englander, you know this question is referring to chowder, not wine. Do you prefer a thick and creamy "chowdah" brimming with cherrystone clams and potatoes, or a flavorful red base cradling its clams with just the right spices?
Folks from the Northeastern United States have long debated the superiority and authenticity of New England and Manhattan clam chowders down to the ingredients. In fact, the states of Maine and Massachusetts were so offended by the Manhattan version's tomato base that both legislative bodies attempted to outlaw the addition of tomatoes in clam chowder in the 1930s — Massachusetts succeeded in 1939 (per WCVB 5 ABC).
Most foodies, regardless of where they are in the country, have a distinct favorite when it comes to this enduring comfort food. There are the classics, along with other versions you'll want to try. Creamy New England clam chowder is traditionally prepared with milk (or cream) and thickened with oyster crackers. Per WCVB 5 ABC, it has been served at Ye Olde Union Oyster House since 1836, according to owner Joseph Milano, who jokingly refers to Manhattan clam chowder as 'heresy.'
Manhattan clam chowder is made with tomatoes, bacon, clams, wine, potatoes, green peppers, carrots, and celery. Manhattan style is considered healthier due to its broth-y base and abundance of veggies.
The controversy can get heated in the anti-Manhattan corner. In a Reddit discussion, one reader asserts "Manhattan Clam Chowder is a sin against God and culinary decency." Even the iconic chef James Beard called the New York version 'horrendous.'
There are chowders you may not have heard of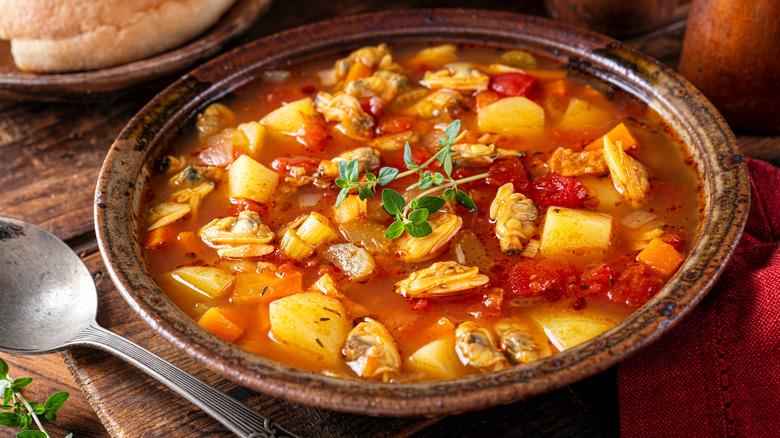 Foodio/Shutterstock
The word chowder comes from the French word chaudière for cauldron. Rhode Island chowder claims to be the original — debuting before the creamy or tomato varieties.
Rhode Island chowder is a clear broth, says David Norton Stone, food historian, and author. Traditionally, the soup is made from onions, salt pork, butter, potatoes, clams, clam juice, and water. The earliest published recipe was in 1751. "It was as plain as possible and not very attractive. It was basically cooked clams in a dishwater gray soup, but with concentrated clam flavor."
Today's Rhode Island Red, a more colorful update, has crushed tomatoes stirred in. The hue is more orange than its younger cousin, Manhattan, says Stone, a Rhode Island native. It was originally served in the 1860s at the Rocky Point Amusement Park along Naragansett Bay in Warwick, RI. The park, famous for its lobster bakes and seafood buffets, closed in the 1990s.
Long Island chowder is a sort of mediator chowder, seeing the merit in both concoctions. It's a combination of the two chowders, originating from a place on the map that sits between Manhattan and the rest of New England.
Whichever kind you prefer, if you are making your own chowder, follow the clam chowder rule Ina Garten, aka the Barefoot Contessa, never breaks. "You just can't make clam chowder without fresh clams and fresh clam juice. Well, you could probably use bottled clam juice, but it just won't be the same."