Popeyes Rolls Back Menu Prices For Its 50th Birthday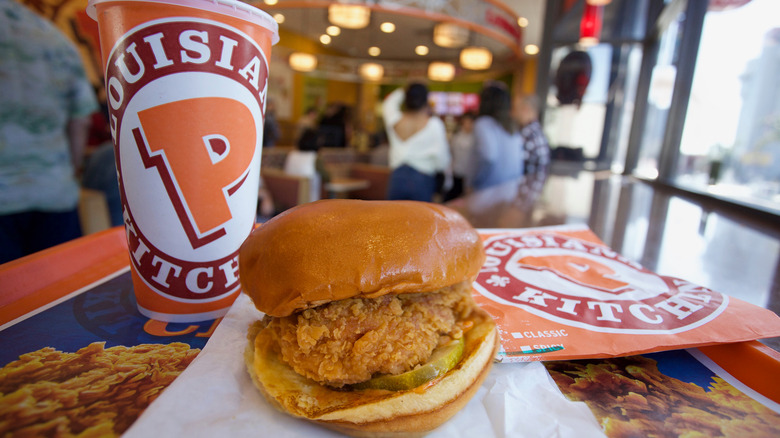 Elliott Cowand Jr/Shutterstock
Gas may be headed towards $5 a gallon with no relief in sight, per Wall Street Journal. Inflation may continue to climb to surpass the eye-popping 8.3% increase, CNBC reports, the highest it has been in over 40 years. However, the fast food chain Popeyes is giving us a reason to celebrate: This month, the fried chicken fast food chain turns 50, and to mark its golden anniversary, the quick-service restaurant with the chicken sandwich that is so delicious it launched a thousand other chicken sandwiches has a special deal in store for its loyal customers.
When Popeyes first opened its doors in 1972 in a little New Orleans suburb, it was under a different name. Alvin C. Copeland Sr. had dubbed his eatery, "Chicken on the Run" and specialized in classic Southern chicken, according to the chain's website. Patrons didn't seem to bite, which sent Copeland back to the drawing board. It didn't take him long to change over to the spicy New Orleans-style chicken the chain serves up today and now, the restaurant is revered by fried chicken lovers, per Restaurant Clicks. In honor of its 50th year in business, Popeye is bringing back an element from the 1970s that will surely inspire some high-fives between its devotees.
Popeyes fried chicken for 59 cents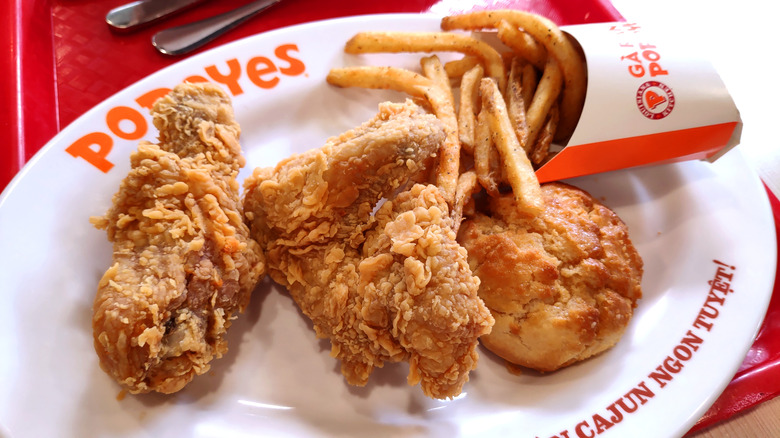 Ho Su A Bi/Shutterstock
According to Restaurant Business, Popeyes is showing you can turn back time and is offering customers a 59 cents deal for two pieices of bone-in-chicken — the same price those first fans paid in 1972. That's right, the fast food chain announced that if you spend $5 on the Popeyes app or on its website, you will be eligible for the deal. Per People, this special promotion will begin on June 12th and ends on June 19th.
If you have been planning on trying the Popeyes' new chicken sandwich with a tasty twist, the Buffalo Ranch Chicken Sandwich, now might be an economically optimal time to do so. In addition to getting the deal, you can score 150 points if you are part of the company's rewards program at participating restaurants, according to Businesswire. You can also get your fried chicken game on by watching the fun anthem the company created to remind us of all the love they put into making their fried chicken so delicious (via YouTube). People notes that Popeyes will be announcing other celebratory opportunities for what will be a month-long fete.