TikTok Wants To Know Why Apple Jacks' Mascot No Longer Has Dreads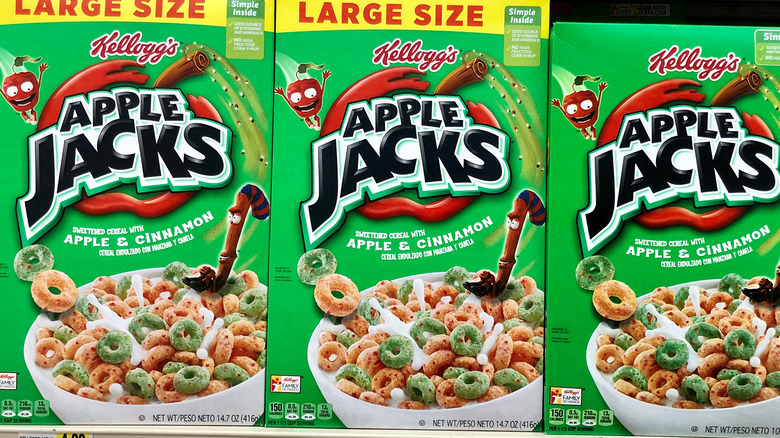 BWM Infinity/Shutterstock
An invention of marketing think-tanks, cereal mascots have long been a part of American popular culture. As CBS News explains, the world of cereal mascots has a history as colorful as the characters themselves. The cereal aisles have been home to everyone from well-known cereal giants like Tony the Tiger and Lucky the Leprechaun to the somewhat more obscure names like Klondike Pete, Big Mixx, and, interestingly, Steve Urkel.
In case you were wondering if slapping a tiger, rabbit, or cartoon sailor on your box of corn flakes can really get people to buy your product, it would seem the answer is a resounding yes. HuffPost, in a roundtable discussion on the question of what makes cereal mascots so appealing, chalked it up to the mascots being colorful, fun, and easily marketable characters. Furthermore, Cornel University reasoned that mascots appeal to the general public by having the characters make "eye contact" with the customer, which helps to build a "trust level" between the consumer and the brand.
But as successful as cereal mascots are, they've inevitably undergone changes in the many years they've been around, with varied results. One such mascot that underwent a surprising change was Apple Jacks' CinnaMon, which many noticed was missing his dreadlocks.
CinnaMon's dreadlock removal may have been done to prevent controversy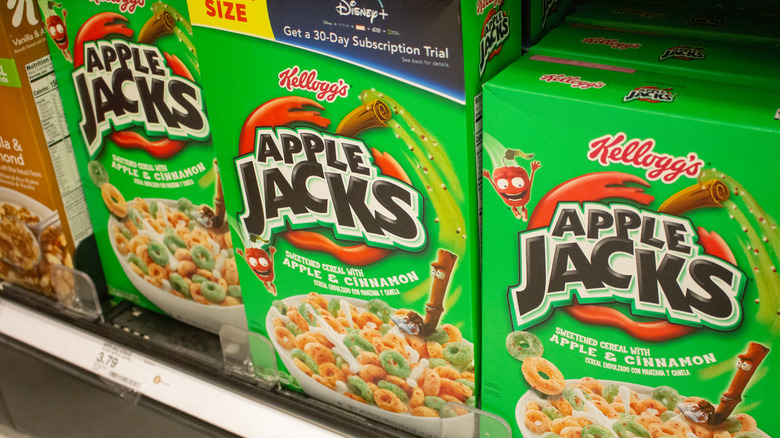 The Image Party/Shutterstock
If you need a refresher on who Apple Jack's mascots are, there are two: an apple and a cinnamon stick. The apple, known as Bad Apple, has a bad attitude and cocky demeanor, while the cinnamon stick, CinnaMon, has a laid-back attitude and a Jamaican accent. Both characters compete against each other to get to a bowl of Apple Jack's cereal using gadgets and slapstick humor.
Strangely, many users on TikTok and Reddit have noticed that CinnaMon's trademark dreadlocks have been removed. Many theorized that this change in appearance was done by Kellogg's to avoid any ideas that CinnaMon's character was built on stereotypes, with some users being rather vocal about what they saw as an unnecessary change.
"They say it's to be safe, to not be canceled," said one TikTok user, "but personally I feel like removing them did the opposite. I enjoyed the representation."
"They did it cause all the soft people would cancel it," another user said. Some, however, were less bothered about the change than others were. One Reddit user stated that Cinnamon's dreads "creeped [them] out anyways."
While Kellogg's hasn't gone on record stating any reason for this change, it's not the first time a mascot has been changed. Toucan Sam of Froot Loops, for example, underwent a major style change in 2020. Toucan Sam's new look had everyone talking, and this change from Apple Jacks does, too.