We Tried Insomnia Cookies' New State Fair-Inspired Collection. Here's How It Went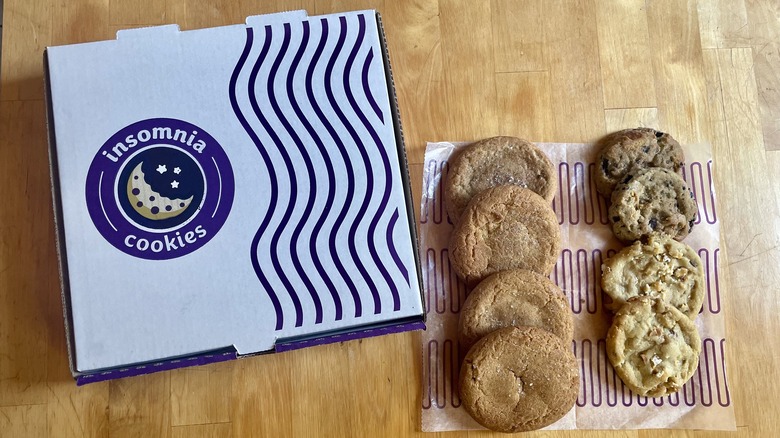 Helena Nichols/Mashed
Summer brings thoughts of carnival rides and the aroma of some classic seasonal foods. As part of that milieu, state fairs are a cornucopia of delectable goodness, from fried foods to sugary treats. Even if you've never been to a fair, books and movies bring to life the nostalgic imagery of food and fun to be had at the local carnival, lilke walking in between tents, caramel popcorn in hand, playing games, and maybe even entering a pie-eating contest. What bliss on a warm summer day! 
Sadly, not everyone can make it to the fair. But that doesn't mean you have to miss out. Insomnia Cookies is bringing a collection of state fair-inspired cookies directly to your door for a limited time.
Insomnia Cookies makes various fun and exciting cookies, some of which are better than others. Its name derives from its founding at the University of Pennsylvania as a late-night campus cookie delivery service. The company has since expanded to over 200 locations nationwide. If by some chance there isn't a location in your area, it will ship cookies directly to your door. So are these new state fair-themed cookies worth the summer anticipation? We tried them to find out.
What are in the cookies?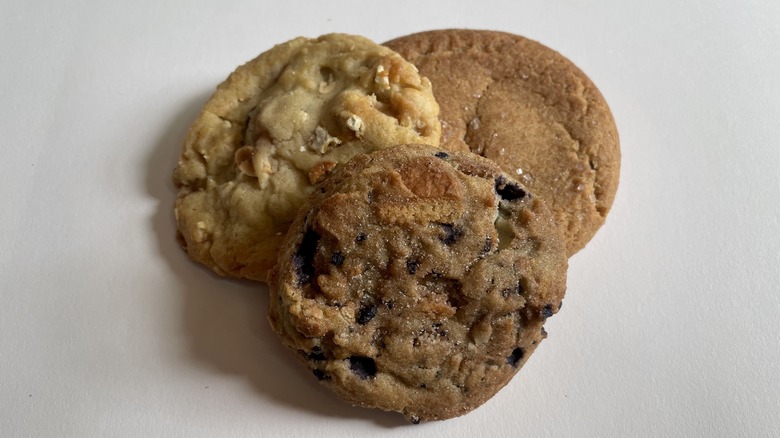 Helena Nichols/Mashed
There are three flavors in the new collection, each one filled with ingredients to send your taste buds to a happy place.
The first is Blue Ribbon Blueberry, a play on a prize-winning blueberry pie in a state fair pie contest. Baked into a sugar cookie dough, pieces of dried blueberries represent the filling, with crumbled pieces of graham crackers as the crust and oats meant to recall a crumble topping. The cookie is sprinkled with cinnamon sugar for extra pie topping goodness.
The first cookie seems downright tame when compared to the second, a Caramel Corn-inspired cookie. Yes, it does include popcorn in the mix. In fact, this cookie is filled to the brim with caramel popcorn, roasted peanuts, and extra caramel nuts. However, Insomnia Cookies does note that the Caramel Corn cookie is not suitable for those with nut allergies.
The third and final cookie in the collection is based on a deep-fried favorite, the churro. The Deluxe Filled Churro cookie is made from a churro-based dough covered in cinnamon sugar. The outside resembles a snickerdoodle, but looks can be deceiving. The inside of this cookie features a layer of chocolate cookie butter, making the broken-open cookie resemble a sandwich.
How much do the cookies cost?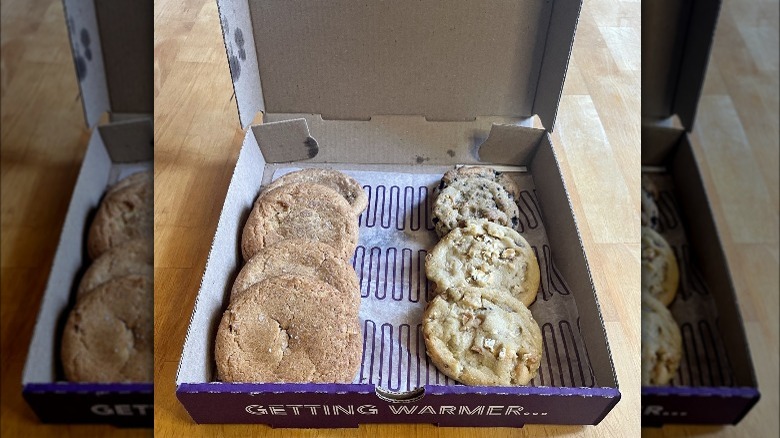 Helena Nichols/Mashed
Insomnia Cookies are not cheap when purchased individually. The Blue Ribbon Blueberry and the Caramel Corn are part of its classic cookie collection and individually run $2.25 per cookie. The Deluxe Filled Churro cookie is from their series of Deluxe cookies, which are bigger, arguably better, and definitely more expensive than the others. The Deluxe cookies run $4.00 per cookie.
If you want to kick it up a notch further, all three cookies are available through Insomnia Cookies as ice cream sandwiches or a "cookie'wich," as they call them. For this option, the Churro Filled cookie'wich is still the most expensive, coming in at $10.75. The Caramel Corn is $7.00 and the Blue Ribbon Blueberry is $8.25.
If this seems out of your price range, don't fret. Insomnia Cookies regularly runs special deals, which bring the cost down. It cirrentlt offers the State Fair 4+4 pack of cookies, which includes four Deluxe Filled Churro cookies, two Caramel Corn cookies, and two Blue Ribbon Blueberry cookies. The box costs $22.00, which saves you a few bucks over buying them individually.
Where can you get the cookies?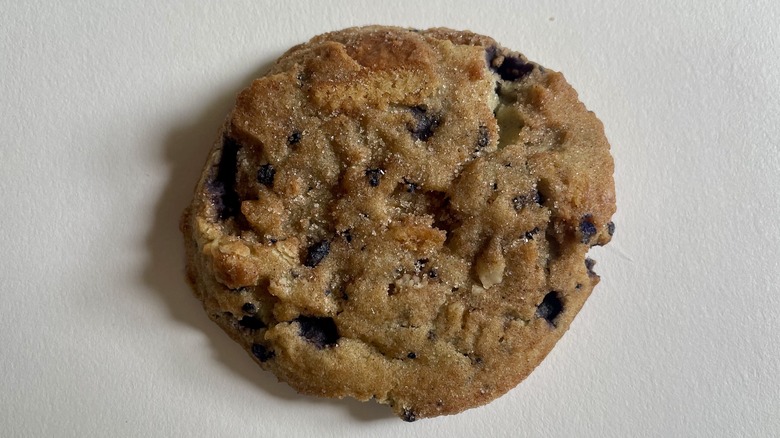 Helena Nichols/Mashed
The state fair-inspired collection of Insomnia Cookies is available as of May 31, 2022. With the summer just starting, many might be tempted to hold off a bit to get these treats at the height of the season instead. With Insomnia Cookies, however, this is not a good idea. The cookies' release period is incredibly specific, especially considering that Insomnia Cookies is known for its limited edition runs. To that end, the state fair collection of cookies is only available through June 26th, 2022. Blink and you'll miss them.
Luckily though, there are a number of ways to get the collection without ever leaving the comfort of your couch. The cookies are available nationally through individual stores and on the Insomnia Cookies website. If you live in an area without an Insomnia Cookies storefront, you can head to its website and have the cookies shipped directly to your door. If you are lucky enough to live in a city with Insomnia Cookies, you can either head to their retail location to order in person or have them delivered to your house hot and fresh.
How do they compare to similar cookies?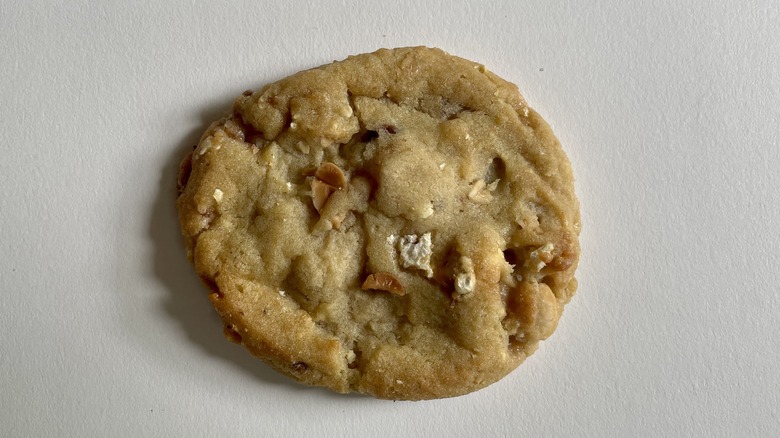 Helena Nichols/Mashed
Insomnia Cookies is no stranger to wacky flavor choices. Amongst its regular collection, it has classics such as chocolate chunk and snickerdoodle, but also an array of out-there flavors like confetti and s'mores cookies. Compared to these, adding popcorn and chocolate cookie butter to a treat doesn't seem so out of the ordinary.
The company also has a long history of releasing new and interesting cookie flavors. In spring 2022, it offered Hibiscus Berry and Lemon Poppy Seed. It has also introduced varieties such as Red Velvet and Hot Cinnamon Whiskey. The sky's apparently the limit at Insomnia Cookies.
Initially, we were concerned that the Churro, with its cinnamon-sugar topping, would feel too similar to a snickerdoodle to live up to the hype. Once we tried it, however, we could easily put that fear aside. Similarly, Insomnia Cookies has a history of producing dried fruit-based cookies such as Oatmeal Raisin and Berries N' Cream. Despite close ingredients, though, we were happy to see that the Blue Ribbon Blueberry does not bear too much similarity to those choices. Rather, Blue Ribbon Blueberry was very much its own cookie.
What is the nutritional content?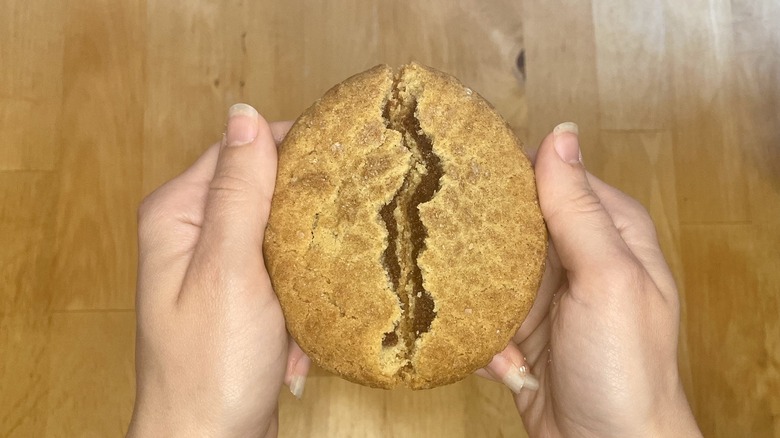 Helena Nichols/Mashed
For most of its cookie line, Insomnia Cookies provides a complete nutritional breakdown that includes all of the ingredients and nutritional information for the cookies. However, we couldn't find this information for the state fair collection. We get it, as these are very limited edition and available only once a month, but it still would have been nice to have those details.
We can assume that there is a lot of sugar in these cookies, given that they are cookies, after all. We certainly know we aren't going in to this experience looking for all of our vitamins and minerals. 
The classic cookies for Insomnia Cookies range from about 200-300 calories per cookie, about the equivalent of a Starbucks latte, whereas the larger Deluxe cookies come in over 500 calories making them closer to a Frappuccino. The sugar, too, varies considerably. If we keep with our Starbucks analogy, the sugar content follows suit as well, with the smaller cookies continuing similar amounts what you might find in their respective drinks. So, while no one will argue they are healthy, they could be worse.
The final verdict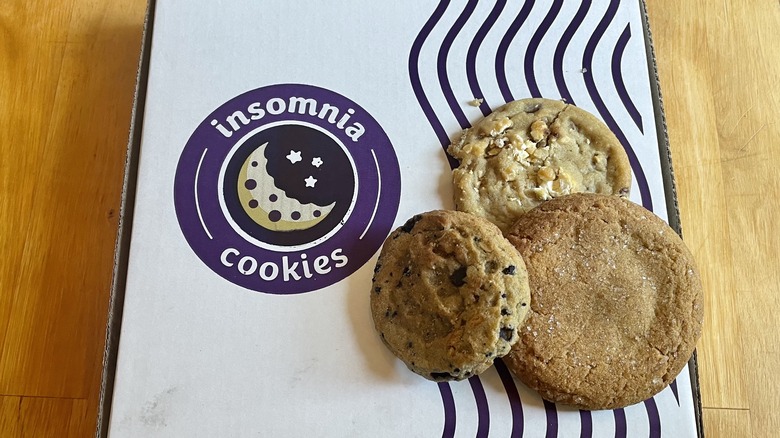 Helena Nichols/Mashed
Are these cookies the nostalgic delight we were looking for? All told, these were some seriously satisfying treats from Insomnia Cookies. The Blue Ribbon Blueberry was a solid confection. If you are a fan of oatmeal raisin cookies, we imagine you would like this one. It wasn't as reminiscent of a blueberry pie as we may have hoped, but it was delicious nontheless. The dried fruit and the oats added a nice crunch and texture, while the graham cracker and cinnamon sugar added a bit of spice.
As for the Caramel Corn, the sugar cookie dough seems to act as a bit of a blank slate or vessel for other ingredients, but we weren't mad about it. This cookie has everything, from salty and sweet flavors to a satisfying crunch.
The true standout, though, was the Filled Deluxe Churro. Texturally, you get a burst of cookie butter when you bite into the cookie. Even with warmed cookies, the cookie butter was gooey but not annoyingly melted. It made the cookie easy to eat and meant we got a taste of chocolate cookie butter in every bite. It complemented the churro dough and cinnamon sugar well, with all ingredients coming together to provide layers of flavor. This was easily our favorite and we'd love to see it find its way back onto the menu someday. For now, be sure to order them before the limited edition ends on June 26th.