Giada De Laurentiis Announced A Challenge For 'Spaghetti Slurpers'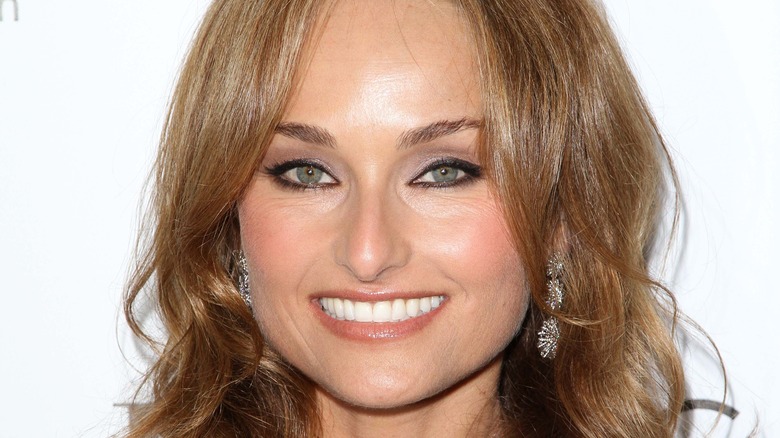 s_bukley/Shutterstock
Giada De Laurentiis knows her way around a pot of spaghetti. Whether she is making up a plate of her famous and beautifully simple Lemon Spaghetti or blowing our minds by boiling up those long noodles in a pot with Chianti for a vibrant red dish, De Laurentiis has got us covered (via Youtube). In fact, to make our lives a little easier when it comes to this Italian staple, the cookbook author shared her do's and dont's for cooking pasta on Giadzy.
From salting the water to using the right size pot so your pasta has room to cook, De Laurentiis' tips are definitely worth a glance or two, especially when it comes to spaghetti. The "Everyday Italian" host is an advocate for not breaking your spaghetti strands to make them fit in your pot of boiling water. Instead, she suggests patience beuase after a short wait you will be able to push it down into the pot, unbroken. And if you want to participate in the spaghetti slurping challenge De Laurentiis recently threw down on TikTok, then you are about to realize this rule is mission-critical. Long spaghetti noodles are a requirement. What exactly is this challenge?
She will share her favorites
In an Instagram video that has received over 33K likes, De Laurentiis wrote, "Calling all spaghetti slurpers, I've got a challenge for u! Join me & Jade by posting a video to TikTok to see how fast you can slurp spaghetti, and tag your video with #GiadzyPastaChallenge. Bonus points if you invite a friend and see who wins! I will duet my favorites — you might just get featured on my page!" The video of the chef and her daughter slurping up super long threads of spaghetti was also posted to TikTok. The vibe of this mom-daughter challenge screams "Lady and the Tramp" fun, even if Jade isn't able to keep up with how quickly her mom can slurp up that pasta. 
If you are curious where you can buy the uber-long pasta De Laurentiis and Jade are enjoying, you are not alone. But don't worry, the celebrity chef was quick to share you can purchase a package on Giadzy. For $15.50, you get 2.2 pounds of Pastificio Setaro spaghetti. De Laurentiis also notes it looks like "ancient pasta" that used to be hung on a clothesline to dry. Still, as the two slurped up the noodles, this pasta had De Laurentiis' followers wondering, "Why does it not look cooked when you are eating it?" Others couldn't believe the "pasta queen" didn't let Jade win. Either way, the challenge seems perfect for anyone who wants to eat spaghetti like a true Italian.