Does Aldi Have Pre-Made Tuna Salad?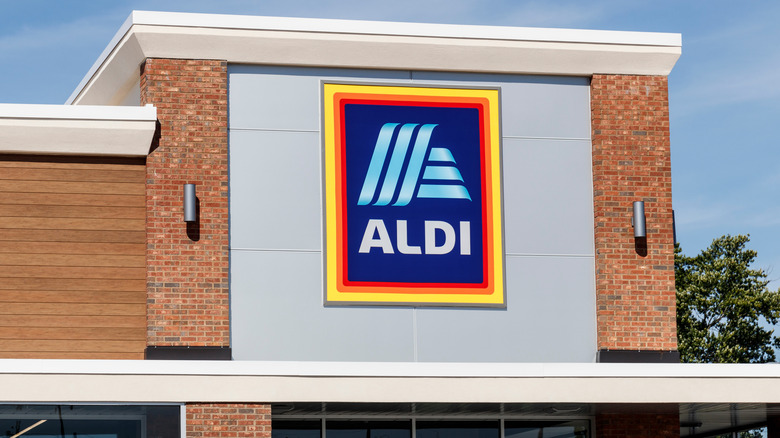 Jonathan Weiss/Shutterstock
Tuna salad is a delicious blend made up of mostly tuna and mayonnaise. Per Food Network, mustard, celery, and onions are also factored in to create the crunchy mouth feel that consumers know and love. Consumed with crackers or simply with a fork, tuna salad serves as a snack, a side item, and even as a main course. Happy Muncher offers tons of suggestions by way of pairing tuna salad. It suggests fried green tomatoes, roasted cauliflower, baked beans, and slaw among other options to suit your palate.
Like many other grocery stores, Aldi has been hopping on the ready-to-eat food trend. According to Grand View Research, these types of foods are becoming more popular due to convenience and the ability to transport them anywhere.In 2020, Aldi introduced a pre-made charcuterie board just in time for Thanksgiving, as stated by She Knows. Per Business Insider, the grocery chain started offering pre-made mango mimosas in 2019. The trend of ready-to-eat food isn't only seasonal, as many options are now becoming available.
Did tuna salad make the cut?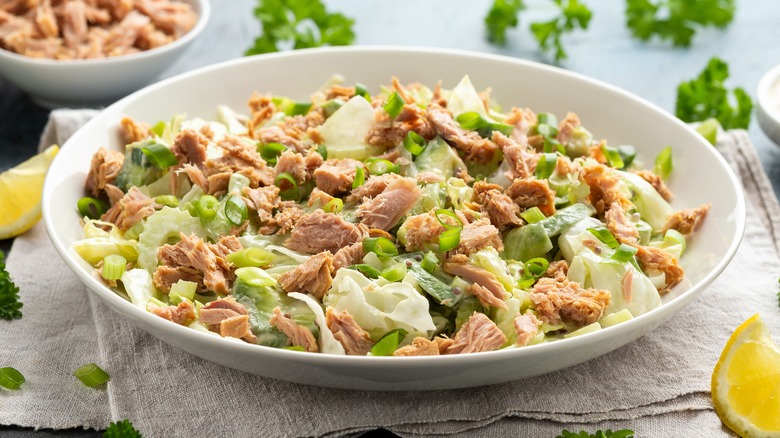 DronG/Shutterstock
Lovers of tuna salad will be delighted to know that along with many other pre-made solutions, this popular dish is being offered in a ready-to-eat form by Aldi. Fit & Active fat free tuna salad includes wheat crackers and a spoon for scooping, so it can be brought to work, the park, and or the airport for a simple tuna salad fix. Aldi Reviewer reveals that this product is dolphin-safe and made with skipjack tuna. A product of the US, it was caught in the Pacific Ocean using a purse seine. Per NOAA Fisheries, this method of fishing involves a large net that purses to seal the bottom, effectively trapping fish.
Common allergens include egg, soy, and fish in the tuna salad itself, and milk, soy, and wheat in the crackers. This product may also contain bones. This shelf-stable option is great for people on the go, but if you want to create your own tuna salad, check out this tuna salad recipe.