Why Sunny Anderson Had 'So Many Questions' About Bobby Flay's Crab Feast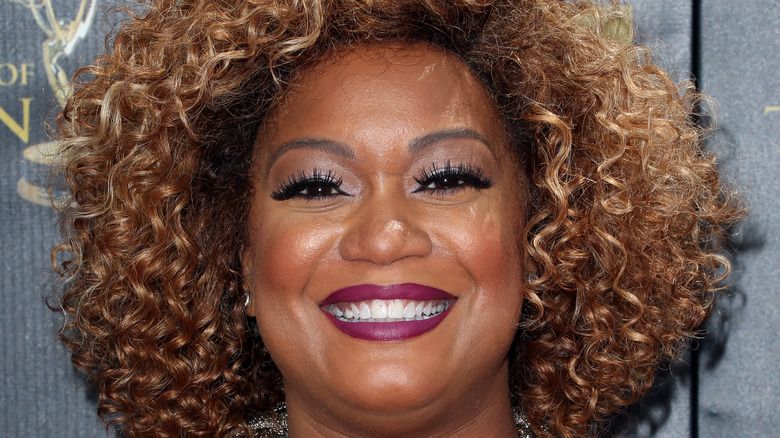 Frederick M. Brown/Getty Images
Sunny Anderson and Bobby Flay have quite the vibe on social media. Anderson is more than happy to use her Instagram to wish her best buddy a happy birthday in the most adorable way possible. But she isn't above throwing a little shade Flay's way or talking a little smack about him either. "The Kitchen" co-host's followers loved when she gave her BFF a good ribbing over a hat he wore by posting a meme of Flay, which features the chef alongside "The Adventures of Fat Albert" character, Rudy Davis, with the caption: "Who wore it better?"
And of course, Anderson isn't afraid to take these friendly banters to Flay's turf. Yep, Anderson heads straight over to the "Throwdown" star's social media channel and joins in with comments from Flay's followers. Case in point, Flay took to his Instagram account to share a rather supersized platter of Maryland crabs, writing, "The 3rd Saturday in May is always the @preaknessstakes in #Baltimore. It's a weekend of fast horses, the best party of the year @pimlicorc and platters of crabs. Thank you @belindastronach for a great time and @bobrooks restaurant for the fantastic hospitality and delicious hard shells." The crabs definitely looked delicious, but the post left Anderson with lots of questions, and Flay's fans are loving it.
Flay has yet to answer
Sunny Anderson cheekily responded to Bobby Flay's crabby Instagram post by relentlessly quizzing Flay about the experience, writing, "I need to see if you are a bibber or you just let the seasonin and juices drip all over your gabardine? Do you hunch? Are your elbows on the table? Pinky up, or nah? Beer or a fancy mixed drink? So many questions ..." And, naturally, inquiring minds want to know if Flay did, indeed, let loose. One IGer pleaded, "@bobbyflay please answer @sunnyanderson. We all need to know!" The post has received more than 10,000 likes, but sadly, Flay has yet to answer any of Anderson's pressing queries.
Still, the Maryland locals were happy to hear Flay enjoyed his meal, with one offering, "Food of my childhood, growing up in MD, fishing and crabbing with my father. He steamed a mean bushel of crabs. So happy you like them, too!" Another quipping, "Gosh do I miss those Blue Crabs!!!"
This is not the first time Anderson has given Flay a hard time about being uptight. In a post to promote "Lil Jon Wants To Do WHAT?", the celebrity chef photoshopped a suit-wearing Flay and his cat Nachos into a photo with her and Lil Jon, and further trolled Flay with the question, "Bobby ... did you miss the cool kid memo?" Lil Jon liked the post, as did Nachos Flay, but no word on whether the Iron Chef was laughing too.