The Frasier Cookbook You Never Knew Existed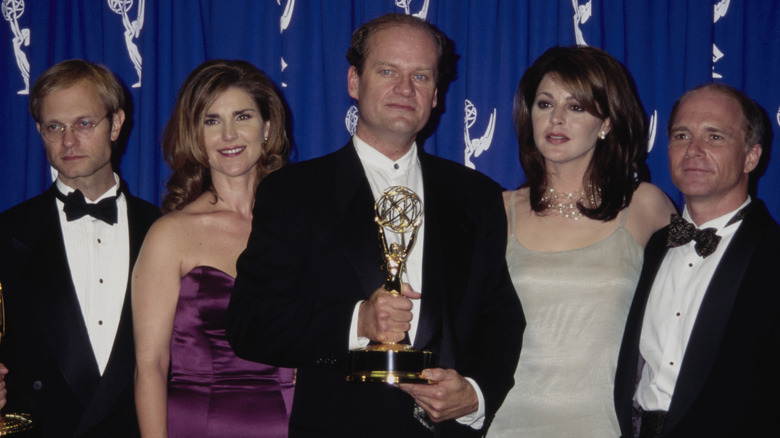 Michael Ochs Archives/Getty Images
We may receive a commission on purchases made from links.
Frasier Crane spent many years on American television screens. Boasting 11 seasons on "Cheers" and another 11 on "Frasier," this pompous-yet-lovable character worked his way into the hearts of millions (via IMDb). Yes, despite his penchant for all-things-snooty — a replica of Coco Chanel's sofa, artwork by Robert Rauschenberg, and a baby grand piano (per Scene Therapy) — fans came to adore the radio psychiatrist and his extended family. 
With its clever wordplay, erudite characters, and high-brow cultural references, this comedy appealed to an audience with diverse interests. And, thanks to the significant role of food in the series, foodies loved it too. Whether viewers were laughing at the brothers' attempts to get their coffee orders prepared to scientific perfection; snickering over the Crane boys' endeavor to land a sizable quantity of underground caviar, or rolling their eyes as Frasier and Niles competed to be the Cork Master at their wine club, this hoity-toity duo enjoyed the world of fine-dining. On the flip side, Martin preferred a can of Ballantine beer and the Timber Mill, a steakhouse where you could choose your own slab of beef from a cart. This sitcom even featured a guest appearance by Wolfgang Puck. Yes, "Frasier" adeptly showcased the upscale and the mainstream culinary worlds, which makes the following discovery all the more exciting. 
It turns out that there is actually a cookbook dedicated to this popular sitcom, its lovable characters, and diverse foods. 
The cookbook claims to be written by the Crane brothers
Yes, this highly collectible book of recipes is perfect for both "Frasier" fans and those who want to cook great meals. This offering claims to be written by Frasier and Niles Crane and actually opens with a verbal exchange between the two reminiscent of the pair's failed attempt to author a book together on the show. Niles quipping, "I could type the Magna Carta just waiting for you to get to the point" is a prime example of the banter you'll find in the Crane's "Café Nervosa: The Connoisseur's Cookbook" — a book that actually made it past the first paragraph. 
Divided into four categories entitled Man Can Live By Bread Alone, Let's Do Lunch, Just Bring Two Forks, and Some Like It Hot, The Takeout bemoans the fact that the authors have left out a dinner section and that they haven't included anything that would resemble the fare at Le Cigare Volant. What they have included is plenty of baked items like Daphne Moon-Style Muffins, Coconut Biscuits a la Crane, and Cranberry Scones with a Skosh of Cloves. It doesn't get more Dr. Crane than "skosh." For lunch, cooks can prepare Quiche for the Fine-Boned and Bulldog's Big BLT Croissants. Desserts include Frasier's Baked Fudge with Kahlua and Martin's Ice Cream and Candy Bar Concoction, while Roz's Velvet Punch and Martin's Mud Slide Malts are a few of the beverage recipes (The Bearded Miniaturist). 
This book boasts four stars on Goodreads and Amazon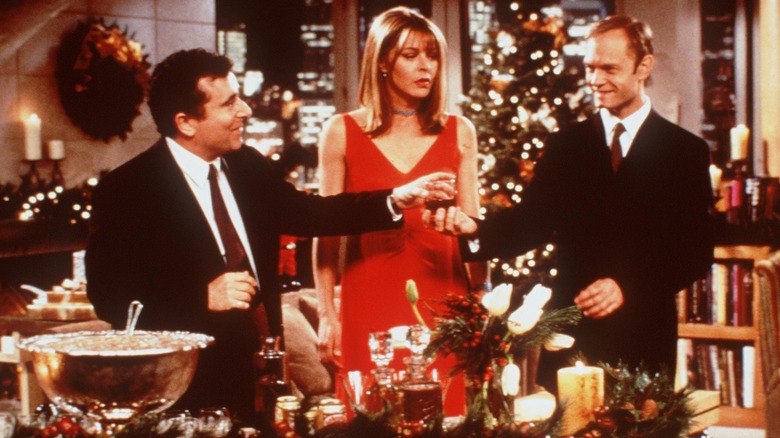 Getty Images/Getty Images
As a show based in Seattle, this cookbook is bound to feature a few recipes for concocting specialty coffees. After all, the Crane boys spend much of their time chatting in their beloved Cafe Nervosa. The Takeout tested a few of these recipes and had mixed results. The Harvest coffee, an apple pie spice creation, "turned out great," but the Cardamom coffee "tasted like a prankster had poured half a bottle of orange bitters into my mug when I wasn't looking." But don't let that put you completely off. Goodreads users rated this cookbook a solid four stars, while Amazon gave it 4.6.
If you miss the brothers' witty barbs, the romance between Daphne and Niles, or Martin and his beloved Eddie, perhaps this collection will help you step into the Elliot Bay Towers, apartment 1901, and have a sherry (or a Ballantine) with the Cranes. Just remember, Martin has the comfiest chair in the house, always use a coaster, and don't engage Eddie in a staring contest. He always wins.