The California Winery With An Unlikely Connection To America's Pastime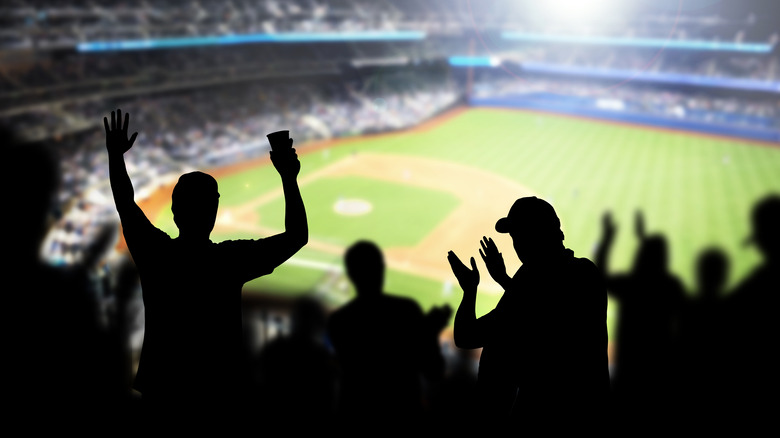 Tero Vesalainen/Shutterstock
When you think of baseball and alcohol a few ideas probably come to mind. Is it drinking a can of Bud Light out of a cooler at a neighborhood baseball game? Is it spending a small fortune on some Miller at a big-name MLB stadium? Whichever it may be, foul balls, home runs, and booze have always gone together. At one California vineyard, however, the American pastime is alive and well in more ways than one.
Visitors to California's Balletto Vineyards can come across a perfectly maintained baseball diamond. hidden behind rows of twisting grape vines. According to Balletto Vineyards' account, the baseball diamond was born from a simple problem. An employee of the vineyards was a player on a community baseball team and the team was having trouble finding a good place to practice. The employee went to the vineyard owner, John Balletto, asking for help. In "true Balletto fashion", according to Balletto Vineyards, John set to work clearing four unused acres of the vineyard to create a full baseball diamond — aided by his baseball-loving employees, of course.
According to VinePair, the field works surprisingly well inside the vineyard. "Reclaimed water" from the vineyard's day-to-day operations, as well as water from a nearby reservoir, is used to water the field and keep it in healthy condition, as well. But if the vineyard has and maintains a field, that must mean a team uses it, right?
The vineyard is open for practice.
Realizing that a perfectly green baseball field nestled in a jungle of grape vines isn't just good eye candy, Balletto Vineyards has invited local baseball teams to come and play ball in their hidden baseball oasis.
According to the MLB, the vineyard is used by teams such as "Los Uveros", or when translated, "The Grapers," who use the baseball diamond to practice with other community teams every so often. Family members of the teams can also join in on the practices. In case you were wondering if you could join in on an impromptu game of catch, however, Sonoma Magazine explains that visitors are unable to use the field for "insurance purposes."
Visitors are, however, welcome to make themselves comfortable on the nearby bleachers and enjoy the game. If visitors are particularly lucky, they may even catch a foul ball whizzing under the clear California sky before it smashes into a Pinot Noir vine.
While you won't see the spirits of any famous baseball giants emerge from the vineyard (that is, unless you've sampled too much wine), it's still an impressive sight to see if you're making a summer trip to the California coast. If you're not into wine at a baseball game, you can also read up on some of the best snacks the MLB has to offer.