Costco Shoppers Are So Excited About Its New Cheesecake Flavor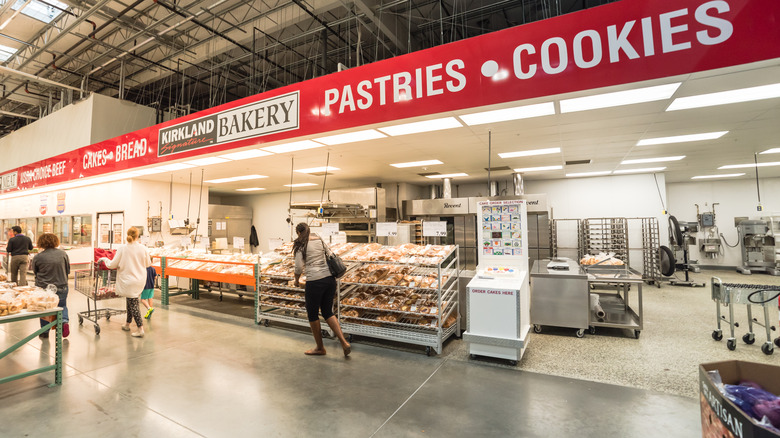 Trong Nguyen/Shutterstock
When you're on the hunt for a delicious dessert to serve at your next event, you can never go wrong with perusing the Costco bakery. The warehouse giant offers an impressive selection of fresh baked goods that are big enough to feed a crowd and satisfy nearly every kind of sweet tooth. Are you a sucker for all-things cocoa? The All-American chocolate mini cakes should hit the spot. Looking for something more traditional? The brand's classic New York cheesecake is a certifiable crowd-pleaser. 
And if you're looking to get the best of both worlds, we have great news for you. Per a post shared by the popular Instagram account @costcobuys, the store now offers a massive chocolate-flavored cheesecake that looks like it was designed to deliver a combination of tangy, rich, and sweet. "Chocolate cheesecake is new at Costco and I'm ALL about it," they wrote in a caption over a video showing off the new dessert in store. "This dangerously delectable dessert is made with a chocolate cookie crust, chocolate cheesecake, and chocolate mousse...you can never have too much chocolate!"
It seems the user's followers would agree with that last statement because, in less than 24 hours, their post has racked up just under 5,000 likes, with several users tagging friends and family in the comment section to alert them of their plans (and demands) to get their hands on the new cheesecake flavor.
Costco's new cheesecake is a chocolate lovers' dream come true
With a layer of chocolate mousse and a tangy chocolate cheesecake base, the dessert seems ideal for anyone who doesn't mind their sweets on the richer side. Better yet, per the Instagram post, the entire 70-ounce cake retails for just $19.99, a bargain if you consider how much time and effort it takes to make a regular cheesecake, let alone one infused with cocoa.
As such, Costco fans can't contain their excitement over the new dessert. "Amen sisters and brothers!" proclaimed one user alongside a row of heart-faced emojis in the comments on the video, while another declared, "Need this cake in my life now!" A few users who were lucky enough to try it already chimed in to give their seal of approval."Tried it already and it's DELICIOUS!" raved one user. Fellow Instagram foodie @Costcohotfinds agreed, posting that the cake is "over four pounds of chocolate perfection."
However, while many agree the dessert looks delicious, some shoppers think the bakery went overboard with the cocoa, such as one who stated "good but too much chocolate." Food reviewer Frugal Hotspot agreed, noting that while the new cheesecake is tasty, it could use "more notes of flavor," and recommended topping it with vanilla whipped cream, caramel, and chopped peanuts to add balance.
But if you're a firm believer, like one commenter who emphatically declared "there is no such thing as too much chocolate," then perhaps you'll enjoy this dessert straight out of the box.