The Chef Gordon Ramsay Sent To Culinary School Is Back In A Big Way
Dia Dipasupil/Getty
Anyone who hasn't been living under a rock knows that it's close to impossible to escape Gordon Ramsay. The well-known celebrity chef stays in the limelight for all sorts of reasons, from fiery temper and unnecessary use of profanity to feuds with other chefs and scandals. Although Ramsay has a long list of haters, there's no denying the legendary chef has a massive fan following. So when Ramsay does something in the culinary world, especially in "MasterChef," his fans sit up and take notice.  
Remember the time when Ramsay sent Gabriel Lewis, a contestant on Season 8 of "MasterChef," to culinary school. While Lewis was eliminated early from the show and finished in the top 7, his cooking prowess and innocence stole the hearts of viewers. Even the hard-to-impress Ramsay was taken aback by the raw talent of Lewis, and he offered to pay for the young contestant's continuing education, per The Oklahoman. Some may debatably argue that it was better than winning the competition. One user on Twitter believes it was a life-changing opportunity for Lewis. @Joshua Ayers said, "When @GordonRamsay sends you to culinary school he's setting you up for success! Let's go Gabriel!!" 
Also, chef Aaron Sanchez offered Gabriel Lewis a job when he graduated, per Meaww, but the Covid-19 pandemic happened, and Lewis could not take the job. However, Lewis got creative during the pandemic and used social media platforms to showcase his skills. The great news is that Lewis has returned for "MasterChef" Season 12.  
The return of Gabriel Lewis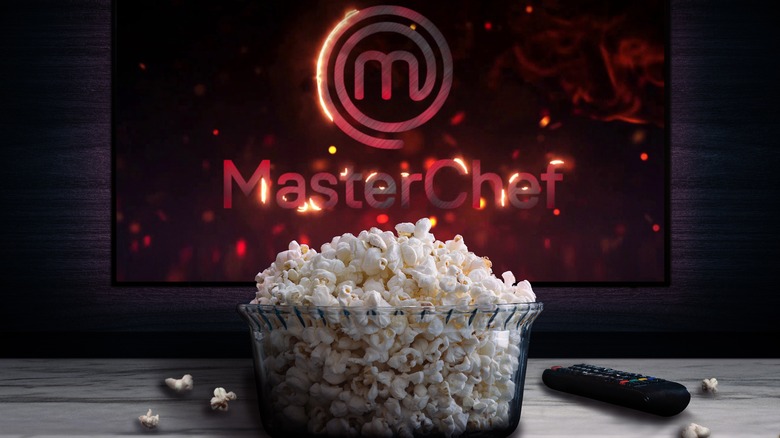 JOCA_PH/Shutterstock
The highly anticipated "MasterChef: Back to Win" has returned with 20 talented contestants from previous seasons. The shy and quiet Gabriel Lewis of Season 8 has made a comeback with eyes on winning the "MasterChef" title and massive $250,000 prize money. And he has got off on the right foot. Lewis had to battle for the last apron against Sheetal from Season 1, Malcolm from Season 4, and Shelly from Season 6. He decided to go with port wine glazed pork chop with Southern-style greens and Chipotle corn purée. The judge who personally funded Lewis' culinary education praised the dish as "textbook" (via Meaww). 
With six spots remaining out of 20, viewers of the new edition of the Fox show were super excited to see Lewis winning the last white apron. It was meant to happen since Gordon Ramsay had already predicted it in a 2017 interview with ET Canada. "If that guy (Lewis) can be that good without training, do you have any idea what he's gonna become when he trains," Ramsay told the interviewer.
Lewis has since graduated culinary school and went on to win an award for the best chef in Oklahoma from So6ix Magazine in 2019, per Chef Gabe Online. We can see that the ambitious chef is on the right path to follow his passion and prove to Ramsay that he is living up to what he expected of him.