The Fascinating Origin Of Smoothies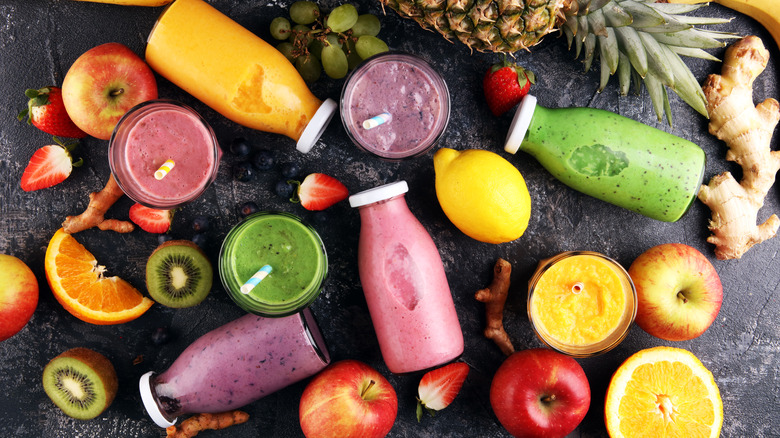 beats1/Shutterstock
Sipping on a refreshing smoothie is one of the most satisfying sensations. The creamy, viscous, chilled meal-in-a-cup, typically made with a combination of fruits, veggies, ice, milk, juice, yogurt, sweeteners, and supplements, is a convenient, healthy, and affordable option for folks who are constantly on-the-go or just want to enjoy a simple, flavorful treat anywhere at any time. The global smoothie market was valued at nearly $15 billion in 2021 and is estimated to exceed $20 billion by 2027, according to IMARC Group. And with countless recipes that suit all types of palates, smoothies are a true crowd-pleaser. As WebMD explains, the perceived health factor of a smoothie depends on the essential nutrients found in the ingredients. Smoothies are, for the most part, a great way to achieve the United States Department of Agriculture (USDA)'s recommended daily fiber intake, which often falls short in a normal day's worth of meals for many people.
So, when did smoothies become such a sought-after form of sustenance? Where did the concept of pulverizing ice cubes and fruit chunks and drinking the end result come from? There are a couple of now-common kitchen appliances that helped make smoothies a culinary mainstay. Furthermore, some major shifts in consumer mindsets and behaviors are to thank for this tasty invention.
Smoothies became popular with the rise of blenders, refrigerators, and health-forward menus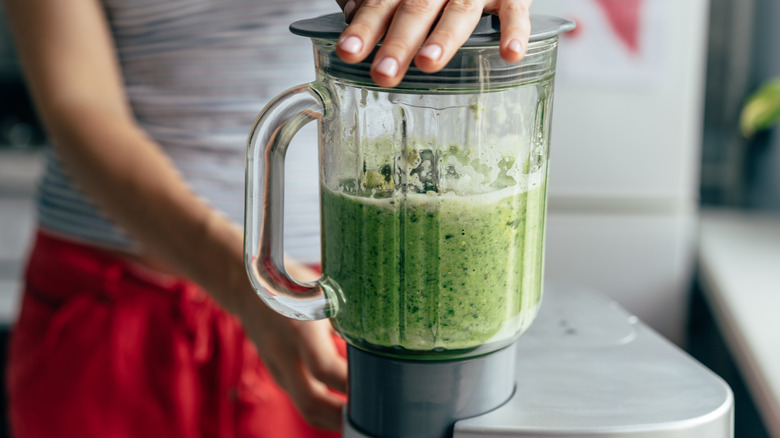 Ilona Kozhevnikova/Shutterstock
As the saying goes, good things take time. Smoothies — or at least a similar product — have actually been around since ancient times. Crushing fruits into pulp and mixing them with juices isn't a new concept, as records show this technique has been practiced by South American, Eastern, and Mediterranean civilizations for ages. Since their debut, smoothies have paved the way for the beverage industry over the past several centuries. According to Smoothie King, when modern refrigeration was introduced in the early 20th century, people were suddenly able to store perishable foods for longer periods of time, thereby boosting the fruits and veggies market. Then came the blender, marketed as the "miracle mixer," in 1938 — a revolutionary, portable tool that mashed ingredients together at a hyperspeed rate. The health food movement of the 1960s also played a huge role in the smoothie boom. To satisfy consumers' needs, smoothie shops and juice bars began popping up across America.
Clearly, smoothies weren't a flash-in-the-pan diet fad. Smoothies continue to be all the rage among folks of all ages and socioeconomic statuses. Today, brands such as Jamba Juice, Smoothie King, Bolthouse Farms, and Naked Juice make consuming smoothies a fun, easy experience with their grab-and-go products. Nevertheless, one of the best aspects of smoothies is their versatility and customizability. There's truly nothing like collecting the ingredients of your choice and whipping up your own homemade smoothie to enjoy.