The Unexpected Food Clark Gable Couldn't Get Enough Of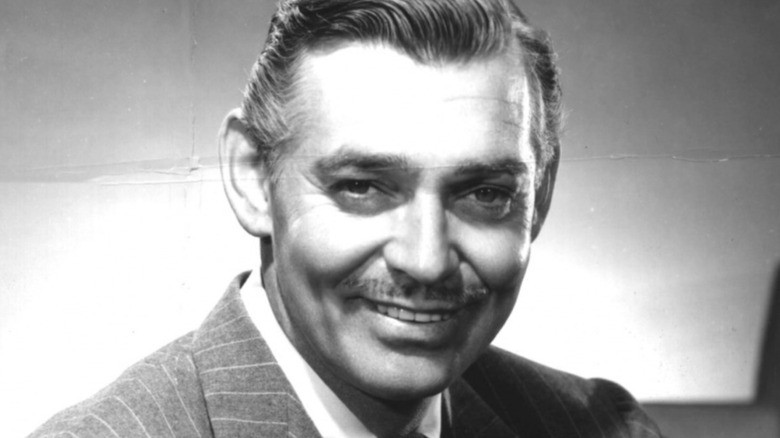 Apic/Getty
Clark Gable may be from an era that is "Gone With The Wind" but the Hollywood star of the 1930s used to cause the same type of chitter-chatter from fans. Just as social media goes bonkers over Hailey Bieber being mystified by a Shake Shack sauce condiment, Gable fans also got excited when they learned little tidbits about the star and his eating habits. The "It Happened One Night" actor was essentially the George Clooney or Chris Hemsworth of his generation. Dubbed the "King of Hollywood," Gable starred in over 60 films alongside the most popular and talented actors like Grace Kelly, Vivien Leigh, Ava Gardner, and Marilyn Monroe (via INSP.com).
But there is something very Brad Pitt-esque when it comes to Gable, or at the very least, the characters portrayed by Pitt who is always eating in his movies. Gable also liked to eat, only he did his noshing offscreen. In fact, per a post from blogger DEARMRGABLE.com, the actor's second wife, Ria Langham, gave an interview to "The Modern Hostess" magazine in 1934 where she dished on some of Gable's favorite meals and recipes. 
Gable ate like your average Joe — no Keto or Paleo diets for him. He enjoyed a slice of chocolate cake and didn't think twice about it. Langham said he also was a fan of "steak, baked beans, sauerkraut, and potato salad." But the one unexpected food that, frankly, made this movie star give a damn is one that will have breakfast lovers rejoicing.
Clark Gable loved a stack of golden pancakes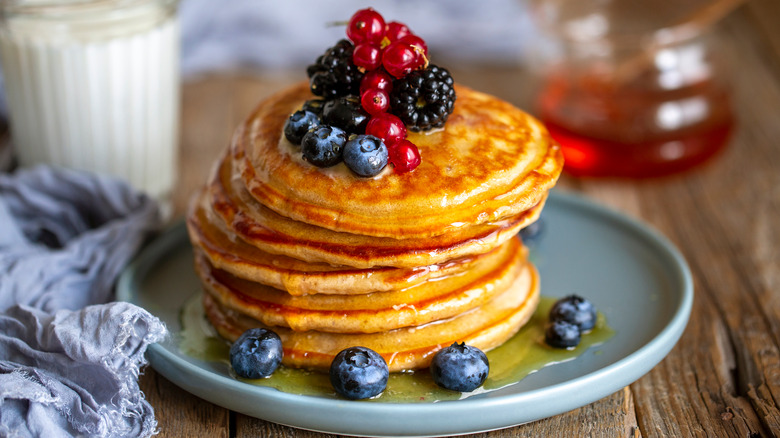 Vlada Tikhonova/Shutterstock
According to DEARMRGABLE.com, the cinematic legend was a fan of pancakes. Ria Langham told "The Modern Hostess," that when it came to "Gable's gastronomic" desires, basic homemade pancakes could satiate his appetite on Sunday mornings. She said, "If you expect me to tell you that Clark likes truffles and caviar you are going to be disappointed. He is, after all, just a person, you know. Give Clark golden pancakes with little pig sausages for breakfast." That's right, the celebrity icon may have lived life in the limelight, but he ate like the rest of us. He even enjoyed a "Bermuda onion sandwich thick with mustard" for lunch.
The recipe for Gable's favorite pancakes can be found on a myriad of sites including All Recipes. What's interesting about this recipe is how much baking powder it calls for. According to All Recipes, you need to use two tablespoons; however, DEARMRGABLE.com calls for three teaspoons, which equals one tablespoon. We are not certain which one is correct, but it's definitely a lot. And both sites proclaim Gable's pancakes to be fluffy and delish.
Hollywood's leading men of the 1930s shared a love for the popular breakfast food, such as "High Noon" heartthrob, Gary Cooper, who loved a plate of buttermilk griddle cakes (per PBS). And according to Twitter, crooner Frank Sinatra enjoyed a tall stack from time to time, too.